Welcome back to my travel series where I'm sharing five posts full of tips and tricks for traveling with kids. In my last post in the series, I shared 6 Things to Do on Mackinac Island With Kids and today I'm going to share 7 things to do in New Orleans with kids.
This series is brought to you courtesy of my friends at Radius Bank who are committed to helping families save – and grow – their money. If you haven't seen my video collaboration with Radius Bank, please check out the video (and my adorable kiddos) on YouTube.
Now, some long time readers might know this but if you're new here, I grew up about 30 minutes away from New Orleans. So, my parents would often take my siblings and me to New Orleans on the weekends to stroll along the Riverwalk, eat salt water taffy, and in general, enjoy the scenery.
New Orleans is a great city packed with culture and amazing food. It's a wonderful destination for kids and families. Here are some of our favorite things to do there:
Check Out Jackson Square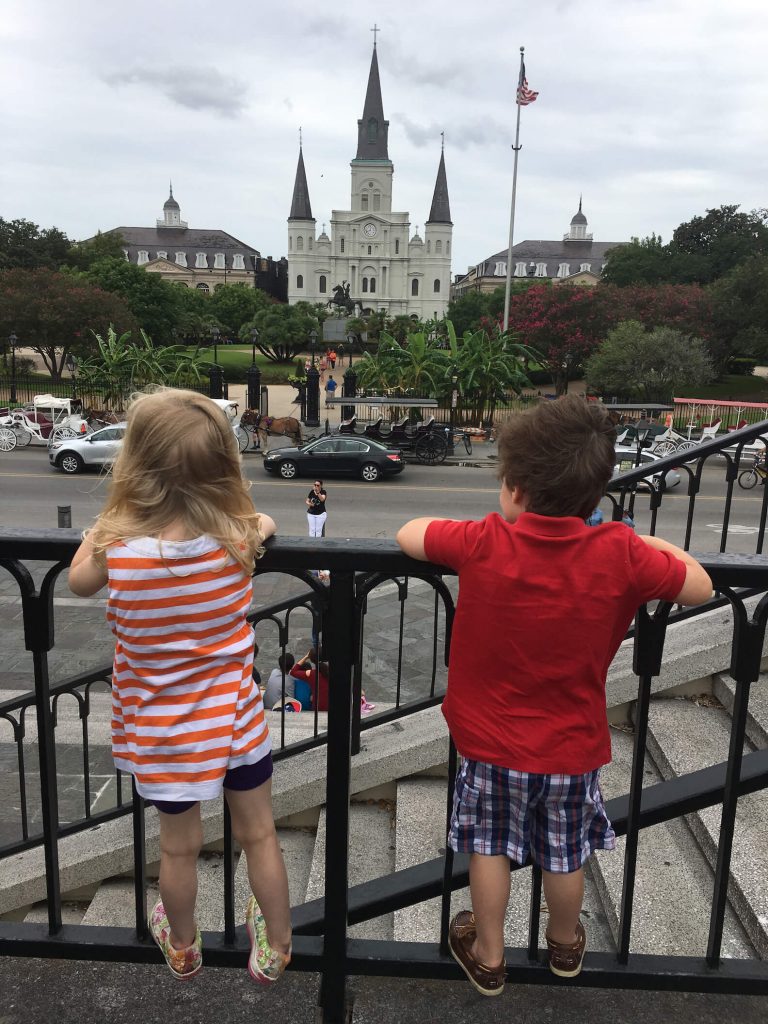 Jackson Square is the heart of the French Quarter. It's where St. Louis Cathedral is located, and I love walking into the cathedral and around the square, where local artists prop up their art for sale.
There is usually spontaneous jazz music from street musicians, lots of cute shops, and mimes. There is a lot to look at, and it's perfectly safe to walk around during the day with your kids. I've been going since I was little.
Have a Muffaletta on the Riverfront
New Orleans is called the Crescent City due to the bend in the Mississippi River that you can see when you stand on the Riverwalk. You can park in many different public parking locations in the French Quarter and take a stroll.
When you're in New Orleans, you have to try the classic Italian sandwich known as a muffaletta. The best place to get them is in a little hole in the wall called Central Grocery, which has been there since 1906. My grandfather used to take my dad there as a kid to get muffalettas and my dad always took us too.
Muffalettas are enormous sandwiches so you can order a half a muffaletta and that is enough for two adults. You can take the muffalettas in a bag with some Zapps potato chips, and then go sit on a bench on the Riverfront and eat them while you watch the riverboats roll by.
Go to the Audubon Zoo
I'll be honest; the aquarium in New Orleans is just so-so. I would recommend taking your kids to the Audubon Zoo instead. The most iconic exhibit in the zoo is the white alligator. I used to visit the white alligator as a kid and they continue to have white alligators at the zoo now.
Ride the Streetcar
Another fun thing to do is ride the streetcar. It's very inexpensive to do so. You can hop on the streetcar in the French Quarter and ride up St. Charles Ave. to look at all the beautiful, historic mansions.
The St. Charles line streetcar is the oldest operating streetcar in the U.S. and it's only $1.50 to ride it (you'll need exact change).
Indulge in Beignets
Beignets are french doughnuts covered in powder sugar, and they are a New Orleans rite of passage. I've tried just about every beignet shop in the New Orleans area, and there is a reason Cafe du Monde continues to be in business since 1862.
We took our twins here the last time we were home, and they absolutely loved it.
Listen to Live Jazz
You just can't beat the incredible jazz musicians in New Orleans. If you want more after hearing it on the streets of the French Quarter all day, head to Preservation Hall for an intimate jazz show.
Preservation Hall is an iconic location. It's small, cozy, and dark with the perfect ambiance for a jazz band.
The last time I went there, I was pregnant with my twins, and my husband and I went on a mini vacation and stayed in New Orleans for two nights around the holidays. We went to listen to Christmas jazz music, and the babies jumped around in my belly the whole time. They really loved the music!
Eat Charbroiled Oysters
No list can be complete without me mentioning my favorite New Orleans restaurant: Dragos. Dragos now has two locations. They opened a restaurant in the French Quarter a few years ago, so now it's a bit easier to get to.
I've converted many a non-seafood eater to oyster lover by getting them to try Drago's charbroiled oysters. They're the best. My husband and I will stop and eat oysters here before seeing any family when we go home. They're that good, and I highly encourage you to stop by and order a dozen. You won't regret it.
Tips for Affording a New Orleans Vacation
If you'd like to go to New Orleans, here are a few tips for affording it:
Travel Off Peak – In New Orleans, off-peak travel times are different than other parts of the country. Try to avoid traveling during Mardi Gras, the Sugar Bowl, Saints games, and Jazz Fest. Late March to early April is a good time to go both weather-wise and to avoid everything mentioned above!
Eat at Holes in the Wall – New Orleans has a long list of absolutely incredible five star restaurants by renowned chefs. You can easily spend a thousand dollars on meals alone and barely scratch the surface of the incredible cuisine. However, there are also many smaller restaurants that are affordable and equally as divine. Do your research to find different restaurants where you can try an affordable cup of gumbo or a plate of jambalaya. It's hard to be disappointed when it comes to food in New Orleans.
Save in a Hybrid Checking Account – I always save for my vacations in a separate account for a few months before traveling. Regular savings accounts only let you have 6 transactions a month but you can try a hybrid savings account, like the ones offered at Radius Bank. These allow you to have the interest rate of a high yield savings account with the convenience of a checking account. That way, there won't be a limit your transactions, and you can pay for everything on your trip right from your vacation account.
Of course, I've really only scratched the surface of things to do in New Orleans with kids. There are tons of museums, attractions, restaurants, and exhibits you can visit.
I've listed some easy, inexpensive activities above as well as a few pricier options like the zoo and Dragos. I enjoyed all of them as a child myself, and I'm now sharing them with my own kids. I hope you enjoy them too!
Have you ever been to New Orleans? What's your favorite part?