For centuries, beach goers have been collecting seashells. They make gorgeous décor, and you can't beat the fact that they are free.  I remember many fond trips to the beach with my family where I came home with a jar of shells and of course, tons of sand in every crevice of my bag. But, here in Grenada, the free shells are only the beginning. You might remember that when I visited my hubby here for a weekend, I blogged about sea glass and subsequently did
a sea glass giveaway
. Well, I found something even better on the beach recently. Something DIY-ers covet. And that, my friends, is broken tile.
It started with a trip to what people call the "conch shell graveyard" which is a stretch of beach near the airport where fishermen throw the empty conch shells after collecting the little creature inside. It's a bit of an unusual stroll that parallels the runway.
But, the path opens onto a very quiet, serene little beach…
A little ways down is the conch shell graveyard, where you can have your pick of these pretty shells:
But, almost as soon as I got there, my desire for conch shells flew out the window. Why, you ask? Well, I found one piece of tile, then another, and then another. Soon, we had a few girls tile hunting, and eventually, I accumulated this little stash:
And the best piece I found? This guy (or gal?):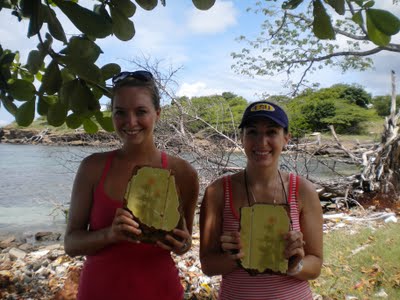 Isn't it awesome? Don't you just love treasure hunting?
For right now, that big piece of gorgeous tile is making a pretty nice door stop. It's hard to see in the picture, but it's almost a lime green.
I can't do much except admire my treasure here. But, the local Grenadians definitely appreciate broken tile. The pathway leading to my apartment is full of it. To see what I mean, check out the floor where the hubs is standing in this picture (Isn't he sweet for helping me with the laundry that one time? ;))
Suffice to say, Grenada is still full of surprises, and I can't wait to tell you more about it.
Anyone else find good treasure lately? Dumpster diving? Good thrift store find? Spill it. 🙂