As y'all know, the hubs and I saw the sites in Richmond before we moved. We ran out of time to do all the things we wanted to do though! We couldn't believe we spent so much time living in Virginia (4 years) and missed out on some of the most important sites. Had we stay-cationed more (that is, taken off of work to "vacation" locally), we would have seen all that and more.
Recently, I took a day trip to New Orleans with my two sisters-in-law. We were showing around one of their boyfriends who hails from Australia. Throughout the day, we enjoyed numerous low cost activities, which led me to write this post in praise of stay-cationing. Here are some tips I thought of to make it a memorable experience.
1.Travel, But Not Too Far. Lots of people scoff at the idea of staying at home for a vacation. I mean, why should you (A) take off work to (B) rat around in your own city? Instead of staying in your own town, look for the nearest big city or a quaint small town nearby. Consider driving up to two hours. This cuts down on gas for far away locations, and you can enjoy one long day before coming back home. New Orleans is about an hour and a half from where we live. We enjoyed the ride, enjoyed the scenery, and enjoyed time with family. Sometimes, just stopping to smell the roses Café du Monde coffee is just the trick to get your mind off of work and other responsibilities.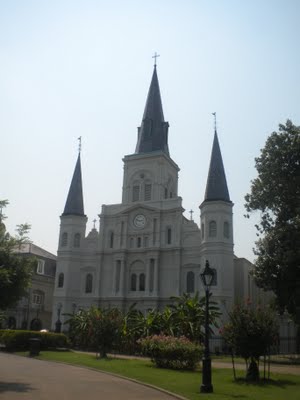 2.   Cheap Hotel/Fabulous Food. You could also think about staying in a hotel on your stay-cation, especially if you think that staying inside your own house will give you the same old distractions and stresses of laundry and other chores. My sisters and I didn't stay overnight this time, but I might with the hubs when he gets home in a few short weeks. My advice for a hotel? It's a pretty easy model actually: Cheap hotel/Fabulous food. Why pay a lot for a hotel? Pay enough to make sure you are in a safe location but then get up and go see the sites. You can always dress up and have tea at the Four Seasons if you want. In fact, you can go inside any beautiful hotel for a drink at the bar or dessert. So, don't think that by staying in a cheap hotel, you are robbing yourself of that experience. On any vacation, I'd much rather have a few nice dinners than a few fancy bars of soap. But, that's just me!
3.  
Look for Freebies, Baby! Who said you had to spend any money for entertainment? Depending on what you like to do, there could be a wealth of free opportunities right there in nearby towns. Many cities have free art walks once a month or free (or very low admission) museums. There are also live bands, free wine tastings, or festivals all over many states. Our Australian friend was interested in purchasing some Louisiana art. He ended up contacting
Cath Wilson
, a New Orleans artist who (in true Louisiana fashion) invited us over to her house to look at all her stuff! We had a blast going through all of Cath's super cool rooms, and I personally was totally envious of her self-made lifestyle. We did end up purchasing a few things. I loved this print of oysters, and I know the hubs will too.
Another example of fun, free activities in New Orleans is walking around Jackson Square, which is the best place to look at art in the French Quarter in my humble opinion.
And this one that depicted Hurricane Katrina (artist unknown).
Basically, these tips show that there are tons of free or low cost opportunities in your own cities. While I realize New Orleans is a super cool city, don't underestimate your own town! Look in the papers, google around the internet, etc. Heck, just spend a day window shopping at some antique stores to get ideas and get refreshed before facing real life again! Either way, you're saving money and doing something outside of your normal routine while still enjoying your family. What's not to love?
Got any other ideas or suggestions on how to make the most of a stay-cation? If so, I'd love to hear about it!