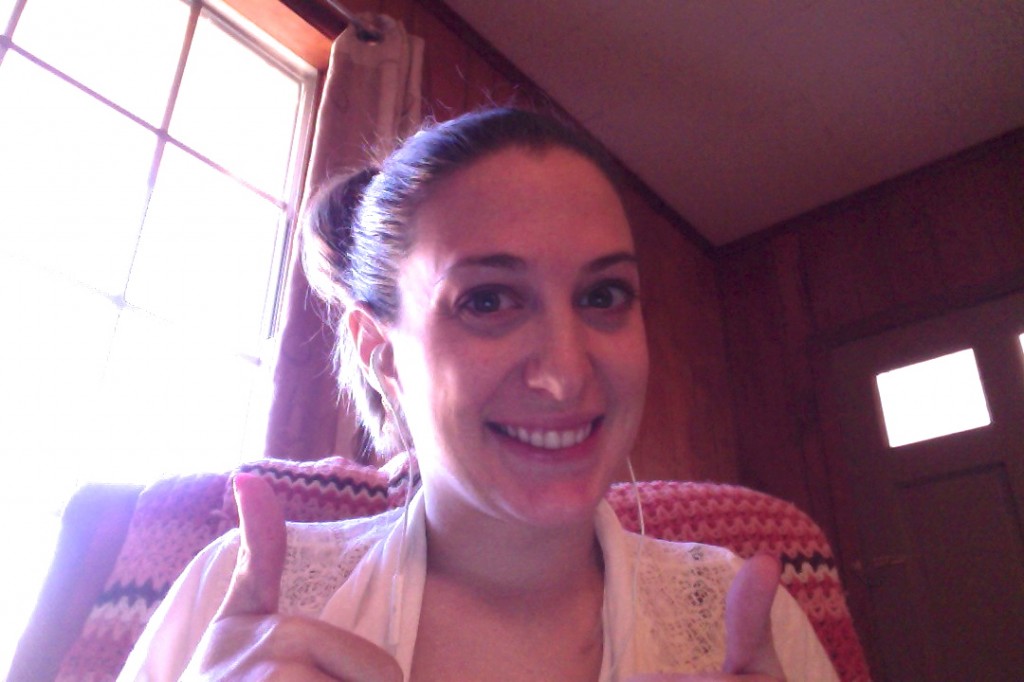 A lot of you have asked about my transition to self-employment, and I've been really excited to share all the deets with you!
I've been working 100% for myself for 15 whole days now, and it's definitely been an interesting journey so far.
Like any other post, I'm going to be 100% honest and tell you the truth about self employment and what it feels like to completely break out on your own.
Of course, you have to take my personality into account with all this. Maybe some people can just quit their jobs and go about their self employment days free as a bird, but I tend to be a little intense so my story might look a little different than others.
Here's how the transition started:
November 2013 – Feeling Incredibly Grateful
I got really lucky to have an amazing day job the past two years. I worked as a university instructor at my husband's medical school, and I had two incredible bosses. When I found out I was pregnant with the twins and wanted to move back to the U.S. early, my bosses really, really supported me when I asked if I could work from home in November and December.
They agreed to let me finish out my contract from 3,000 miles away, which made me feel very, very grateful. Seriously, I won't ever be able to repay them for their generosity and for trusting me to do my work remotely.
This arrangement gave me the opportunity to mix my day job and my online work. Like always, I was working a lot of hours every week between the two gigs, but without the structure of the 9-5 schedule, I was able to handle some blog stuff earlier in the day and then do my research for the university in the evenings when the Internet was quieter. This was a total flip flop from what I'd been doing the last year, which was doing my blog work at night.
So, this helped me to establish a schedule that carried over to now all while still getting paid my salary from the university.
December 2013 – Feeling Incredibly Excited
When I turned in my last project to the university, I felt really excited and accomplished. I was finally doing it – switching to self employment! I went to bed that night really, really happy, not because I didn't like the day job I had, but because I was finally doing something that I've been working towards for a really, really long time.
Of course, everyone warns you that self employment isn't for the faint of heart. It's a very turbulent thing, and anything can break at any moment. Still, I had 6 months of very steady blog income with a big list of clients, and I knew I was ready!
January 2014 – Feeling Incredibly Terrified
On one of my very first days of self employment, I woke up to some bad news waiting in my inbox.
One of my regular clients decided to shut down their blog and said they would not need my writing services anymore. Then, right behind it, I had another e-mail about a dumb mistake I made on project from last year, and it cost me a pretty penny. It's extremely rare that I have issues like this, but they all piled up on the same day and right at the beginning of this self-employment journey to boot.
Basically, after 6 months of awesome blog income, steady clients, and very positive feedback, I lost about $500 in one day. To make it worse, I was waiting on PayPal payments from about 4 people who were late, and so I basically spent the first few days of self-employment wondering if it was the worst idea in the history of ideas.
Getting the Support I Needed
I realized quickly that I couldn't just sit at my desk and quietly freak out all on my own, but I couldn't help but panic. As many of you know, my husband is a medical school student, and so for now, this blog that you are reading is providing the only income for my family.
I called my dad literally crying and basically saying, "Dad, I don't know if I can do this! The pressure is unreal! Every single bill has to be paid from income from my blog! Every grocery purchase has to be made by my blog income! OMG I'm pregnant with twins. My family is going to starve."
Obviously, my mind was seriously wandering. I was legitimately wondering how I was going to pay for my health insurance or my moving costs or be able to find a nice home or decent home insurance one day if I was the sole provider.
My dad was just like, "Catherine, if you keep thinking things like that, you're going to cause yourself to jump off a bridge. You're not going to starve. Just take one thing at a time."
Of course, the hubs was extra supportive too. He was all, "We have tons of savings. You have had a steady income for 6 months. You can do it! We will be fine!"
From Paralysis to Punching Fear in the Face
Honestly, I was really surprised at how quickly the fear set in. I thought that I would feel super confident and ready to go in terms of self employment since all the numbers pointed to success. But, when everything wasn't going perfectly those first few days, my mind really started to wander.
I even spent a whole day last week unable to do any work at all. It was like I was completely paralyzed.
I e-mailed my friend John, who many of you know, and I was like, "I'm paralyzed with fear! What do I do?" His suggestion was to take the fear and turn it on it's side and use it to kick some ass. I might be paraphrasing a bit. But, his suggestion gave me a little bit of a pick me up, a sense of power, a knowing that of course I can do this. It's my business! I made it! I can make it work!
Things Are Great Now
A few days ago, I finally got a few payments I was waiting on. I set up some advertising for January. I got an e-mail from someone new who was looking for a writer. A friend asked me to guest post on their blog. Then, I got an e-mail from someone who asked me to be their mentor and help them become a freelance writer. That made me realize that I do have some valuable knowledge and skills and that I really can do this. In fact, I've been doing this for months now. Self employment has just given me the time to do an even better job at it.
I want everyone who is interested in doing the same thing to know that I didn't pick self employment lightly. I had good work ethic, a lot of savings, and an idea of how to move forward. I am a planner, and I would never risk the well being of my family if I didn't think it would work.

Yeah, as evidenced by this post, it's scary, and yeah I had a rough start earlier this month, but what a difference a few days can make! I always tell people that's the fun thing about blogging – you never know who you'll meet and you never know what fun projects will come your way.
You also don't know when your server will crash etc. but every business has bad days. It's just a matter of having the experience and the willingness to push through it to get to the good stuff. At least, that's what I've realized in my 15 days of self employment wisdom. 🙂
So, all in all, I still feel like I made the right decision, and I'm working on just taking things day by day and jumping over the hurdles as they come. I really appreciate all of you following along on the journey, and I'll definitely keep you updated as things happen along the way!
Is anyone else thinking of making the switch? Spill it!