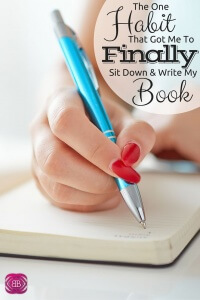 Today we have a lovely guest post from blogger and author, Stephanie Halligan. Enjoy!
"When are you going to write a book, Steph?"
I used to wince at that question. Everyone who knew me knew how much I wanted to write a book. Everyone knew how badly I wanted to write and illustrate an honest-to-God published book.
It's been a dream of mine since I could walk and talk and doodle. A dream of mine that I put it off… and put it off… for almost two decades.
When someone would asked me when I was going to write a book, I used to answer with a sheepish shrug. But now? I can smile, take out the copy I carry around in my purse, and say, "Would you like an autographed copy or would you like to just order the paperback in Amazon?"
So how did I finally beat back the years of procrastination? One simple habit, every morning, for 30 minutes. And in less than a year, I had a book that virtually wrote (and drew) itself.
Let's Start at the Beginning…
As a child, I knew I was natural cartoonist and a storyteller. I cartooned my way through grade school, creating characters and illustrated stories whenever inspiration struck. But as I grew up, my childhood passion began to fade. I had decided that I couldn't "make it" in the arts, so I pursued more practical, lucrative lines of work.
I headed off to college, where I hopped between majors, searching for a career path with purpose and a great paycheck. After graduation, I spent the first few years of my adult working life still searching for "my thing" while bringing home a decent income. By that point, my art had completely disappeared. In fact, there was a stretch of two years when I didn't draw a single cartoon.
Despite the steady income, I was incredibly unhappy. I had a career that looked great on paper and felt anything but great.
Building the Habit that Changed My Life (and Career)
So I hit the reset button. I quit my job, started freelancing and consulting wherever I could and begun the epic task of rebuilding my life and my career from a foundation of happiness.
After the dust settled, I realized what had been missing. My inner child reemerged, as if she had been waiting to come out all these years. And she told me to draw.
I didn't know what I wanted to create or where my art would take me. But I knew that creating – something, anything – was the key to my happiness.
So I made a commitment to myself: every morning, I would create. Before doing work for anyone else, I would do my work – the work that made me happy. Even if I didn't feel inspired, even if it turned out ugly, even if I only had a half hour to do it, I would draw. I would write. I would find a way to exercise my gift, no matter what.
Then one day, it hit me. Inspiration struck like a lightning bolt. An idea to motivate myself – and others – to do what you love in life.
Art to Self was Born
That's when Art to Self was born. A daily inspirational cartoon note where I could share my thoughts and art with the world. I took my daily practice and started giving it away.
I drew a cartoon and wrote a note every day and shared it with my readers. And as I poured my heart into this practice, it struck a chord with the people who read it. The response was incredible.
Art to Self grew. And to my surprise, a book naturally grew with it.
After just a few months, I had over 100 cartoons and notes. By the middle of the year, I started picking out my favorite cartoons and asking my readers for theirs. I took a few months of curating, editing and formating my work. And there it was. An actual book. Something I could hold in my hand. Something I could sell in stores.
Something I've wanted for the last twenty years. Real at last.
The Secret to Writing the Book I've Always Wanted to Write
The funny thing? I didn't write the book. The book wrote itself.
My habit of sitting down and drawing and writing every day for 30 minutes wrote this book.
And it all started by making that commitment to myself. By committing to that daily practice of doing what I love no matter what.
Kurt Vonnegut said that writing a book "is a lot like inflating a blimp with a bicycle pump. Anybody can do it. All it takes is time."
So give yourself the time – even just a sliver of it – everyday.
You owe it to yourself and the world to share your gift.
Steph Halligan is the motivational cartoonist behind ArtToSelf.com, a daily inspirational cartoon newsletter. Her book, Art to Self, was published this month, and is available on Amazon. Budget Blonde readers get $5 off an autographed copy of her book here by using the code "artandlove" at checkout.