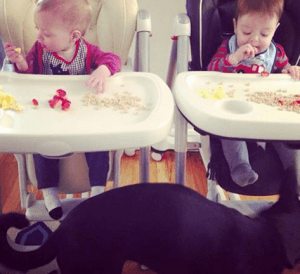 It's late, around 11:30 at night. I have about 1-2 hours of work left to do, but as I think back on my day, I am content.
It was full of ups and downs like always, but for once I feel like I'm right where I'm supposed to be, and a lot of that has to do with the fact that I'm finally realizing the best things about having twins.
Suddenly, being a twin mom has transformed from being completely, irrevocably, tear-inducing difficult every single day to dare I say fun and downright enjoyable.
I realized this today as I recounted our day to the hubs as he and I bathed the twins. The Bean has been head butting everyone as his way of saying "I love you" I think. He's very affectionate when he does it, just a little conk on the head, ya know? He's even head butting the dog and trying to nuzzle in her fur. The Beanette is such a tough little lady and knows exactly what she wants. I told Hubs about her major meltdown today as I tried to help her learn how to pinch her food. She was very determined to do it her way at 11 months old, which is scooping all of her food into her mouth with her whole hand, but hey I have to admire her for it. She is a very charming and yet determined little cricket.
As I was telling my husband about all of this and telling him how I missed them when they were napping since they took such a long one today, he said, "There is no way you would be happy working a desk job. You'd miss the kids too much." And you know what, I think he's right.
I don't often take the time to think back on my journey, to realize what brought me here, to this place of self-employment and stay-at-home motherhood. I tend to focus on the fact that I haven't bought makeup since right before the kids were born one year ago, since I never wear it anymore. I zone in on the things I could have done and should have done better. I spend a lot of time stressing out over deadlines and what the kids ate that day and organizing our lives.
So tonight, at close to midnight, I want to reflect on some beautiful things, the best part about having twins:
1. Playmates for Life – I don't have to set up play dates. Every day is a play date in my house. They crawl around together, grab toys from each other, smile at each other, and occasionally Beannette cries because Bean always wants to have what she has, including knocking her bottle out of her hands and whatever toy she might be playing with. Tonight, they were both wrapped up in their towels after their baths, and they both looked at each other for a long time and all of a sudden, Bean let out the most adorable laugh and smiled so big at her. I find they have a connection already that I can't quite understand.
2. Learning Patience – Hard as it was in the beginning, my kids learned at very young ages that I can't always pick them up right when they start crying. I'm often doing something with the other twin, like changing their explosion of a diaper or something similar. They have to learn how to wait, and from what a variety of babysitters have told me, it's helped them socially when they interact with other people and other babies.
3. I Don't Have to Have More Kids – I'd be lying if I said I didn't have a pang for another baby every now and then. I think it's normal when a friend or a relative gets pregnant for a woman to have that awwww moment. I get teary just looking at their itty tiny baby pictures. However, I am totally content and happy with what we have. I feel so lucky to have two children, two healthy children. It was not easy; in fact the beginning was so difficult I can barely convey it in words, but now that they are 11 months old and sleeping, adorable, with big personalities all their own, I feel very full with the two of them and am glad I don't have to be pregnant ever again if I don't want to. Obviously you don't have to get pregnant again if you don't want to after one child, but we always said we wanted two and that's what we got.
4. It's Humbling – I've had it pretty good the last few years in terms of being able to focus as much as I wanted to on my goals and my business. The Hubs' first two years of med school meant he studied every night until 1 or so in the morning so I just sat right next to him and worked on whatever I wanted to work on.
I got really used to being in control of my day and being very independent. But having twins made me shift my focus to caring for two small humans, so much so that I regularly forget to fed the dog or reply to texts or answer e-mails. I don't want to forget these things but these children made me re-prioritize and when I only have so much time in a day, things fall through the cracks.
It's been good though because caring for these twins has shown me that I can say no to projects that aren't a good fit, clients who take up too much of my time, and other distractions. If I can't talk to extended family for a week because I have major deadlines and want to spend my spare time with my husband and twins, they'll understand. We do not lead normal lives. I work late at night every night and the hubs is at the hospital at 4AM every morning on this surgery rotation, so the moments together are few and far between, and we try to spend them as a family.
Ultimately, a lot has changed since the day I found out I was having twins and cursed up a storm in front of the ultrasound tech. I had so many fears going into it, and I worried about just how much my life would change. It has been a massive adjustment, with some seriously rough days, but I have to say that now that we're just a few weeks away from the one year mark, I feel victorious.
Twins are cool. So very cool. And it's really been such a joy to spend the day watching them interact and grow up with one another. I really appreciate all of you being along for this crazy ride and for rooting for us along the way.