I think it's about time I show you a little more of my apartment, what do ya say?
I have to remind you that I live in the Caribbean. Things are not as readily available as they are in the U S of A, so sometimes I have to use substitutions. 
Case in point, my shower liner.
Here's my itty bitty bathroom in my itty bitty place. My mom sent me this shower curtain and bathmat in the very first package she sent me. I'm oh so grateful, because it makes me smile when I see it.
Don't turn around too fast; here's the other side:
Although I lerve the shower curtain, I didn't have a liner, and my apartment didn't come with one. I thought it would be easy to go and buy one. Note to self:
This is Grenada
; things are never as easy as you think. 
I went to the hardware store and saw some nice shower liners for 50EC ($20 US). Yuck! Too expensive for the Budget Blonde. Where are those little $5 mold resistant vinyl shower liners I used to buy every few months? Oh, that's right. At Wal-Mart. And Wal-Mart is non-existant here.
So, I thought and thought as I stood there in the store, and my eyes landed on this baby….
but you'll have to um… get in the shower to see it…
As you can see, I bought myself a patterned vinyl shower curtain and used it as my liner. It's actually kind of nice to have two designs, one to look at when you're in and one to look at when you're out (Aside: That sentence sounded like Project Runway.)
Oh, and yes, there's a little bit of show though but not much: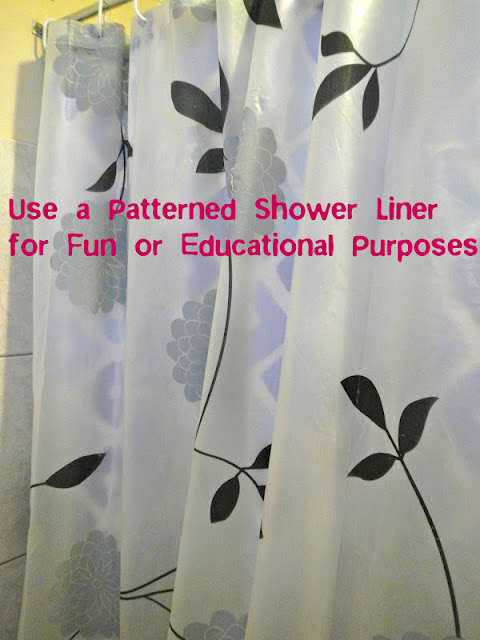 Ultimately, this excursion got me thinking: Why not try this back home too? There are so many educational vinyl shower curtains that you can get for yourself or your kids. Got a child in chemistry? Get the
periodic table shower curtain
and use it as a liner. Trying to learn all the countries in Africa? Why not get a
world map shower liner
? This way, you can keep your shower looking chic on the outside but have a party on the inside – wait, that sounded bad…
Anyone else have to get a little creative around the house lately? Have you had to use something unplanned in a project that actually ended up working out well? Dish.