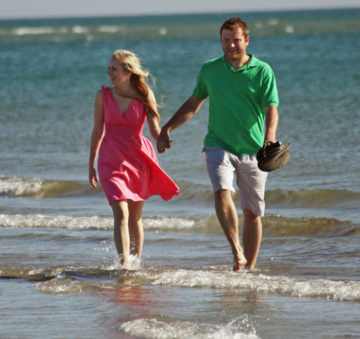 This is DC from Young Adult Money. While Cat is away on maternity leave I'm filling in and talking about the benefits of, well, not having kids! Don't worry, I made sure this topic was okay with Cat beforehand 😉
My wife and I are a "DINK" couple – Dual Income No Kids. While we have many (many) friends having children these days, especially those a few years older than us, we are happy being a DINK couple and are both on the same page. We might want kids down the road, but for now we are happy reaping the benefits that come with the DINK lifestyle.
What benefits, you ask? Well without further delay, here are just a few of the benefits of being a DINK:
1) Time to get finances in order
Let's face it: children are expensive. It just takes simple math to realize that not having children will save you money. Therefore, not having children means you have extra money to save, invest, or spend.
While there is never a "right" time to have kids, it's hard to argue that putting off having kids is bad for you financially. In this "pre-children" time period you can focus on a number of things:
Build up your savings
Buy a House
Pay down debt (consumer, student loans, mortgage)
Add to your investments
Yes you can (and will) do all these things while you have children, but if you don't have children you will have access to funds for getting your finances in order that otherwise would have gone towards all the expenses that children come with.
2) Time for your spouse
I'm willing to admit something: I don't make enough time for my wife. Between working a 9-5 full-time job, pursuing my side hustles, working out, and all those small time-consuming things that come with "life" I simply don't give her the time she deserves. If we were to have children right now I would certainly have to cut back on my side hustle pursuits, even though they are helping us reach our long-term goals.
Because I already feel like I don't give my wife the time she deserves I can't even imagine throwing kids into the mix! I think all parents would agree that when you have kids you need to sacrifice things. Unfortunately I can only imagine that includes sacrificing some of the time you used to give towards your spouse. If you live in a DINK household, though, you can (more) easily dedicate your free time to your spouse.
3) Ability to focus on your career
One time I was interviewing for a job and I asked the interviewer about his experience getting his MBA. He told me he finished a part-time MBA in a very short period of time because they had their first child.
A pastor I knew told us getting his phd resulted in a few years being a 'blur' and that his wife and children suffered the most.
These stories reveal an obvious truth: it's easier to focus on your career when you don't have children. It's hard enough to sacrifice your evenings and weekends going to grad school if you are single or married, but if you have children it's a whole new form of sacrifice.
There is only so much time in a day and if you want to move up in your career, build your business, or get that advanced degree it's going to take a time sacrifice. It's easier to make that sacrifice when you don't have children.
4) Freedom to Travel
Traveling is something that almost everyone I know wants to do. Not having the time or money for it is usually the reason why people don't travel. Adding children to the equation not only limits your time and money but also brings in a whole new variable. From now on every time you travel you have to think about whether your children will go with. If they are going with, you have to make sure you are doing child-safe activities. If they aren't going with you have to make arrangements for them to be taken care of.
Beyond time and responsibility, you will have to think about how your financial responsibilities to your children will impact your ability to travel. Yes, there are creative ways to pay for travel but it's simply easier to find money for travel if you don't have kids.
___________
Yes, I realize you can get your finances in order, spend time with your spouse, focus on your career, and travel while having kids. I'm not ignorant of that fact. If you don't have kids, though, these things become easier.
Ultimately I think it all comes down to being on the same page with your significant other. If you both want children, that's great! If you both want to put off having children for a few years (or not have children at all), that's perfectly fine as well.
Just please don't call me selfish for not having kids like one person did a while back 🙂
Are you or have you ever been a DINK household? If you have kids now, how has it impacted your finances, time, etc.?
Editor's Note: Thanks so much, DC! I have to agree with the above. Having kids has really changed everything, and the hubs and I are so glad that we traveled and saved some moolah before they got here!
____________
Photo by Gareth Williams