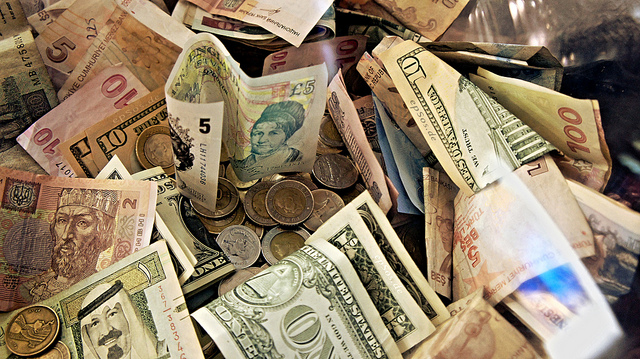 I'm excited to welcome Shoeaholicnomore to the blog! She is a mid-20s single girl living in the Midwest who is focused on paying off her consumer and student loans, all while simplifying her life and closet. You can join her on her journey at Shoeaholicnomore. Enjoy her post below:
Around the PF blogosphere, you'll hear lots of differing opinions when it comes to prioritizing between saving money for a rainy day or paying off debt with every last penny you can find.
Everyone's situation is different. Some of us are single with no one to else to provide for or to provide for us, like me. Some are in a DINK relationship (dual income, no kids), which can provide more financial flexibility depending on the debt level of the couple. Others are married with kids to provide for, and lastly there are a few single parents among us too. Even after splitting the community into these groups, there are still no two situations that are the same.
Personally, I think it's best to find a balance between saving and paying off debt that works for you. I've talked on my blog about wanting to hit $1k for my emergency fund, but after that will I quit saving each month and throw that toward my debt?
I have a long way to go to dig myself out of debt, but I'd rather take it a little slower and keep saving than find myself increasing my debt load due to an emergency that's bigger than my $1k EF.
Benefits of Saving
There are some benefits of saving over paying off debt. One is peace of mind. It seems that the bigger the emergency fund or other savings account the more peace of mind the blogger feels. I haven't yet reached my initial goal of having a $1k EF, but every time my savings account grows I feel a little more at ease and a little less stressed when an unexpected expense comes up.
You are (most likely) earning interest on your money. Now, the interest you are earning does not amount to much if you are saving in a traditional savings account. The interest you are earning is nothing compared to the interest rates charged on most credit cards, but regardless you are earning interest and you are learning to save and keep your hand off your money. In my opinion, there is nothing wrong with having some money sitting in an easily accessible account and leaving it alone; this is called self-control.
Benefits of Paying off Debt
Peace of mind still applies. As my debt balances get lower and lower I feel more comfortable with day to day life, and I like knowing that I'm making progress toward a goal that is changing my life forever.
Paying interest on your debts is obviously a negative, but by paying your debts off faster and thus not saving as much money in an account, you are paying less interest in the long run. But beware, this can backfire! If you put too much money toward your debts and something unexpected comes up, you may find yourself having to charge to your credit cards to cover the expense if you don't have an EF.
For me and my situation, the benefits of saving and the benefits of paying off debt have to be balanced. Yes, I will not make progress as quickly on either goal since I'm tackling them both at the same time, but I know that and I'm okay with it.
Are you focused on paying off debt or saving?
Editor's note: I think this is a great question and one that should be considered over and over again. I know I feel really secure when I have a big savings account, but that means not as much goes to debt repayment. What about y'all?