You'll probably think we're weird for "stay-cationing" at a cemetery, but
Hollywood Cemetery
in Richmond has got to be one of the most beautiful and scenic ones around. It bears its name because there are many famous people buried there, such as two U.S. presidents (Monroe and Tyler) as well as Jefferson Davis, a slew of famous Confederate generals, and of course, countless confederate soldiers. The grounds are amazing, overlooking the James River in Richmond. Hubby has never been there before, although I have gone many times for different history classes. Here are a few pictures from our walk. We wore ourselves out!
You know I was obsessed with the gatekeeper's gorgeous Victorian home.
Some of the tombstones were really unique:
The view overlooking the James River. Julep had a blast.
President James Monroe's tomb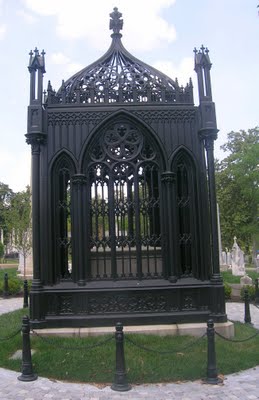 Love the contrast between downtown Richmond and the old tombstones:
A monument to the Confederate dead. The pamphlet said the crane wouldn't reach to the top at the time so a local penitentiary inmate volunteered to climb it and put the point on. When he completed his task, they rewarded him by giving him his freedom. Sounds like a good legend to me!
Overall, we're really enjoying being tourists in our own city and love that it isn't breaking the bank. Stay tuned, there's more to come!
Oh, and how was your weekend? Anyone else have some really pretty cemeteries in your hometown? Come on, it's not weird. You know you want to tell me about it.