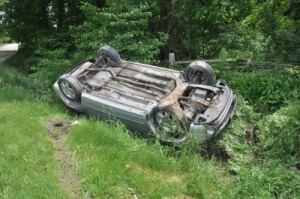 Today's post is by staff writer, Kayla.
Optimism is a good sensibility to cultivate in your daily life. It helps us get out of bed in the morning, keep up our energy and happiness, basically do all of the stuff that we need in order make a life. But optimism isn't the best way to formulate your finances. Despite this, numerous people work out their budget as if nothing is ever going to go wrong. There's no savings squirreled away for surprise expenses. There's no investment for the future. And debt is so common, it seems like people are hoping that creditors will simply forget the debt ever existed in the first place. Now that's optimism!
People who master their personal finances might practice optimism in their daily lives, but when it comes to their money, they're prepped for a whole host of worst-case scenarios. This doesn't mean they're doom and gloom people. They're just ready for life, no matter what's in store. Here are some of the ways you can prepare the worst, even while you hope for the best.
Untimely Death. This is the big one. Nobody likes to sit around pondering their own mortality, but this doesn't mean that this day is coming sooner or later. Most of us hope that it's coming later, but this isn't always the case. To prepare, term life insurance or an accidental death policies are likely the best possible option. Thus prepared, you won't have to worry about how your family would fare if you became ill or were in an accident. It's really easy to work out, so why not take care of this one today?
Loss of a Job. Most people lose their job at least once in life. Whether you are a single person or you have dependents, losing a job can be a personal catastrophe. But it's easy to prepare. Most personal finance gurus recommend that you should have an emergency fund, at least enough to cover your expenses for 6 months. Do more if you feel that you need it. Thus prepared, you won't have to worry so much if your boss one day pulls the rug out from under your feet.
Old Age. Almost as certain as death itself, old age is your only way through your senior years. With it comes a bunch of predictable difficulties, including illness, disability, and a probable loss of personal income. The best way to prepare for this is through savings and investment. Savings should be similar to the plan written up in point 2. Retirement investment usually involves index mutual funds. These depend on the overall health of the economy, but they tend to grow year by year. If you put money away when you're young, you'll have a big return when you're old and need money to live on.
These are just three examples of common worst case scenarios. Actually, these things happen all the time and definitely deserve your attention. So prepare for them, don't worry about them. When the worst happens, you'll be ready and waiting for it.