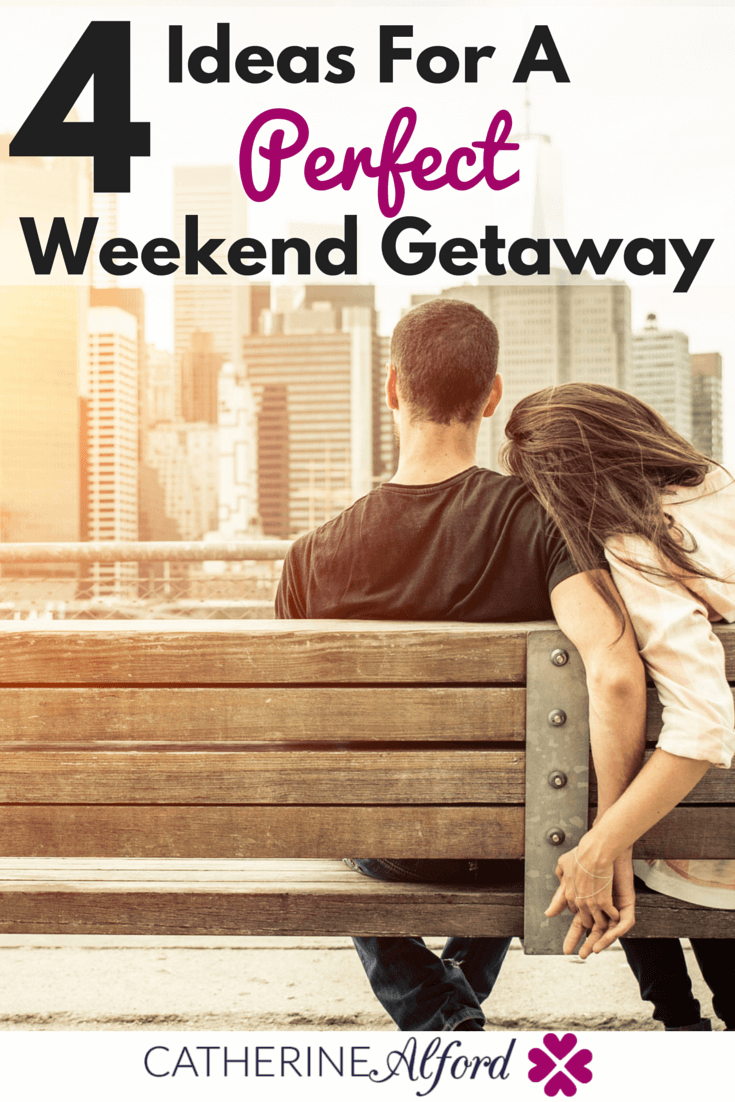 Last week, I hopped the train into NYC to go to a few meetings for work. It was so much fun, and a few other entrepreneurs and I even got a tour of Fox News! You can see several pictures from my NYC adventures (and all of my other adventures) on my Instagram account.
The best part, though, was that The Hubs met me in NYC for two nights of just-us time! I know, I couldn't believe it actually happened either.
I didn't even realize how much we needed time together with just us until he met me in the city and we had lots of uninterrupted time to talk (you know, as opposed to trying to talk with kids on your lap throwing peanut butter and jelly toast on the floor…which the dog then eats and the floor is sticky and then you forget to clean it up so then you step in jelly later on in the day… but I digress.)
If you've been craving some weekend getaway time with your other half (and I totally don't blame you if you are) here's how to make it amazing:
1. Decide on a Budget
I know, I know. Budgets tend to take the romance and the fun out of any trip. But, the whole point of taking some time away is to relax, and it's so not relaxing if you get home and have an extra $1,000 on your credit card that you didn't mean to spend. Yikes.
One of the best ways to keep track of your money is to use some online software that can pull all your accounts together, show you your spending, and show you how much you have saved. I use Personal Capital for this. (P.S. Personal Capital is free so no reason really not to have it track your expenses.)
Once you have an idea of your monthly expenses and how much money you have to spare for a romantic trip away, you can then move on to the next (and arguably more exciting step) of booking your trip! Woo hoo!
2. Book At Least Two Nights Away
One night in a hotel is great sans kids (and beggars can't be choosers amirite?!) However, I really feel like booking two nights away was just right. That way you don't have to pack up quickly the next morning, and you get a little bit of time to truly wind down.
I admit, I was answering emails and writing right up until my husband met me in NYC, and it was really hard to turn off my phone and computer especially because I was negotiating back and forth with a potential client and I wanted to settle things before the weekend started. All that said, once I had a full day away I finally started to relax which helped me to really enjoy my second day away.
To be honest with you, I absolutely loved booking a hotel close to our home. NYC is only about 30 minutes from us. Our kids are still little and my in-laws were watching them. While I trust my in-laws implicitly, I still feel better being close just in case an emergency happens. I imagine the older and more independent they get, the further away I will go on a couple's weekend. 🙂
That said, don't feel like you have to go to some far-flung location to get away. Sometimes just spending a night or two in a clean hotel room and not stepping on legos at 4 in the morning is pretty much the most relaxing thing you can possibly do.
3. Get Your Culture On
So, the coolest thing that happened on my trip was that I won front row tickets to see Jersey Boys, which was so so so so much fun! There is a website called Broadway for Broke People that lists all the lotteries you can enter for Broadway shows. Basically, many Broadway shows hold the first row of seats and give them to lottery winners for a reduced rate. So, the Hubs and I paid $27 per ticket to Jersey Boys (instead of $50+ each) AND we got to sit in the front row. I dance and clapped and sang at the top of my lungs. It was awesome. Hubs was not embarrassed at all to be with me. 😉
Of course, I know not every city has Broadway shows, but I know most cities have museums, cultural sites, historical sites, or just something interesting that you've always been wanting to see but haven't made the time to yet.
Ultimately, sharing a new experience with your other half, learning something new together, or just walking around a museum holding hands is a great way to reconnect and have something to talk about that doesn't involve whether or not your kid has pooped today – yes I went there.
4. Schedule in Down Time
As great as it is to go shopping, see shows, visit museums, etc., be sure to schedule some down time too. After all, life is full of hectic, go go go type of activities so relish in the fact that you are away from it all. Take a long bath(bonus points if you take a bubble bath
!). Binge watch House Of Cards
. Sleep in. Or, even better, take a nap just because. Order champagne. Eat dessert for breakfast. Basically, live it up, because once your two days are over, you'll actually start to miss those tiny humans you created and you'll want to go back home and hug them!
Overall I'm so so glad the hubs and I got some time away and that I got some time to play tourist in NYC. It was a much-needed break. In fact, I didn't know how much I really needed it until I came home and felt so relaxed. I'm hoping to go away again in a few months or so, you know, just to keep the love alive and all that. 😉
Have you ever gone on a weekend getaway with your other half? Where did you go? What did you do?