I don't know if I've ever introduced you to my grandmother.
We call her "Dee Dee," so you can too.
My grandmother is truly one of a kind (actually, both of my grandmothers are one of a kind). She's not your typical grandma. She's in her 70's, wears stilettos, water skiis, takes Zumba at 5:00 A.M., and the list doesn't stop there. She can frequently be spotted tap dancing as entertainment for a Mardi Gras ball or doing hours of community service. Needless to say, she's quite a pillar of our community.
She's also part of a lost era where women got up and looked their best every single day. Whether she's going to run one errand at the bank or going on an entire day of shopping, Dee Dee is always in a dress, always in high heels, with her makeup and hair perfectly done.
Her tendency to look neat and tidy at all times extends to her home as well. A serious fashionista, she has the most organized closet I've ever come across. As a young girl who used to play in it all the time, I never really appreciated the intense organization. But now as a young wife who is constantly striving to keep things neat, I have to give her mad props.
Here's a wide shot. Those are shoes in front of you. Each one is in a labeled box with descriptions on them, i.e. "leopard evening shoes."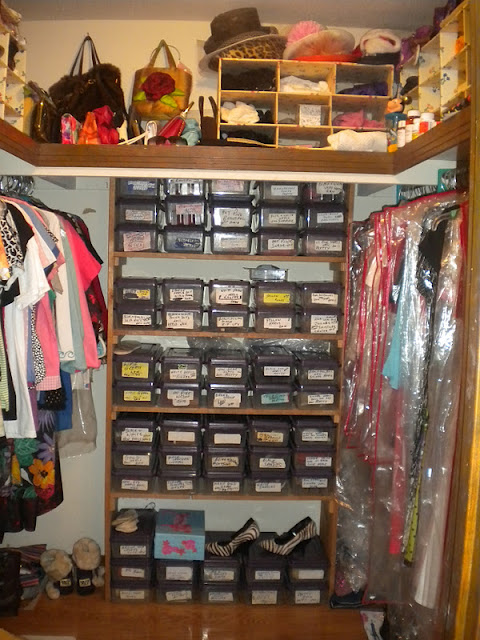 Do you see those sassy zebra shoes near the floor? Did I mention my grandmother is in her 70's? Yeah, she is that hot.
All of her dresses are in plastic covers. Her purses hang on hooks on the wall.
And, she hesitated on letting me take a picture because he closet wasn't "that clean" and she wasn't able to grab her lipstick. 🙂
Here she is out and about:
I think the most impressive thing is that her closet has always looked this way in all my 24 years of existence. This isn't a quick weekend organization kick that lasted a few days. It's maintained its perfection for years and years. She just puts things right back where they go and is able to find the exact outfit she needs. 
I think that's some good inspiration, don't you?