As many of you know, I'm a huge fan of entrepreneurs in general. I just love unique business ideas, and I have a ton of admiration for people who start their own companies.
Bonus: Read How I Built My Biz Here!
I also have a special place in my heart for women in business, which is why when I (virtually) met Steffie Price, I knew I had to profile her for my readers. After all, the goal of my entire blog life is to show people, women especially, that you do not have to get in your car and drive to a job you hate every day.
There are massive opportunities in the world of business to create services and products that can make people's lives better. To me, nothing inspires me more than speaking to other entrepreneurs and to learn how they weather the highs and lows of running their own businesses.
Steffie has an interesting story because she is a young, highly successful model and makes a great living doing it. However, she noticed a need in the marketplace for a better handbag. I love that she fearlessly conquered an industry that has so many competitors because she wanted to create something that didn't exist.
Steffie co-founded Alles, a handbag company, with her mom.  I interviewed her about how she started her business and what advice she gives to inspiring entrepreneurs. And, because I'm me, I even asked her how she came up with the start up money for her business. After all, creating prototypes, finding factories to produce products, and doing marketing are all big business – and expensive at that. So, read on below to learn how this superstar created her own handbag empire:
Hi Steffie! To get started, I'd love to know where your business idea come from and why did you choose your mom as your partner?
The idea was inspired by my lifestyle as a traveling model. From the age of 16 I traveled everywhere from Tokyo to Paris, and sometimes had close to 15 appointments in one day. Traveling alone, my handbag was often my only companion and pretty much held my life! That being my heels, portfolio, cosmetics, snacks, and more. I could never find a bag that could hold quite everything I needed in a stylish and functional way, so I sought out to create my own. I chose my Mom as my partner because I trust her more than anyone! There was nothing on the market like the bags I had in mind and I didn't want to take a chance on anyone stealing my idea. Plus my Mom has experience running her own business so I knew she could pave the way.
One things that holds many people back from starting a business is the cost. My business cost me $10 to start since it was a blog, but yours involved making prototypes, finding a factory, and more. How did your fund your startup and what advice would you give to others interested in finding the upfront funding their businesses?
My Mom made Alles a division of her her company, Prime Tech Inc, and we funded it from there. Our advice to other entrepreneurs is to come up with at least 50% of the funding yourself – don't borrow! Crowdsourcing sites like Kickstarter can be extremely effective in this day and age, and can end up helping you build a huge customer base in the long run. Find your niche, create a solution to a problem, and your target audience will support you.
Bonus: Read How I Grew My Own Business to Make Six Figures Working From Home
What is it like to start a business with your mom? Do you ever butt heads? How do you resolve conflicts?
It is a lot of fun! My Mom and I are very close and I consider her to be one of my best friends. We have always created things together since I was a kid – starting with making earrings out of clay, then skirts out of old curtains…so for us to create the bags together was just the next step! We definitely do butt heads because we both are very particular. I am always thinking about how to cater to my age group and she to hers – but it's actually perfect because when we work together we are able to create something for both age sets, which gives us a big advantage. We resolve conflicts by hearing each other out, weighing the pros and cons, and then finding a resolution we both can be satisfied with.
How did you come up with the name and logo for your business?
I wanted to honor my German heritage someway because of how hard my family worked so we could have a better life in the U.S. "Uber Alles" is a commonly used phrase in German – meaning "above all else" – and I always thought that Alles had a nice ring to it. On its own "Alles" actually means "everything" which is what most women end up carrying in their bags! We wanted a logo that showed we were the next level of handbags and that emulated an image of always moving up – which is why we came up for the arrow in the second "L" of "Alles".
Entrepreneurship is a roller coaster with many moving parts. Some days can be wonderful and other days you'd rather forget. What has been the most challenging part of your business journey and what has been the most rewarding?
The most challenging part of our business journey was finding the right factory, and getting the samples perfect! We went through 6 runs of samples for each bag, which took about a year. The first ones were so awful, we started to think that no one could ever get our complicated design right – but after one year and a lot of patience we finally got the bags of our dreams! The most rewarding part has been receiving feedback from so many different women on how the bags have made their lives easier. I never expected that our bags would end up being used so diversely – our customers range from flight attendants who use their bag as a carry on and to bring their heels along, to Moms who use their bag as a diaper bag.
Running a business is a 24/7 job. How do you balance your time between your business, your friends, and your family responsibilities?
My iCalendar is a life saver! On top of running Alles, I also model and do brand ambassador work for different companies like Samsung and AOL. In order to balance everything I have to use a lot of time management skills…if I have a job at say 2 in the afternoon, I'll get up around 7am to work on Alles for few hours, then go to my job, and if I'm not too exhausted afterwards I'll make time to see friends. I give myself one day of rest a week to stay sane, and try to practice yoga when I can! As far as family, I text and Facetime everyone to stay in touch, and I make a point of going home every 3 months. They also visit me here in NY a few times a year.
What tools have you used to grow your business? Where do you hope your business will be in the future?
We use Facebook and Instagram, work with a couple different influencers/bloggers, and have also been fortunate enough to collaborate with The Elvis Duran Show on Z100 which gave us our big break! I hope that one day we will have our own stores across the country and will be able to expand our brand possibly creating luggage or maybe even a clothing line!
Where can my readers go to find out more about you?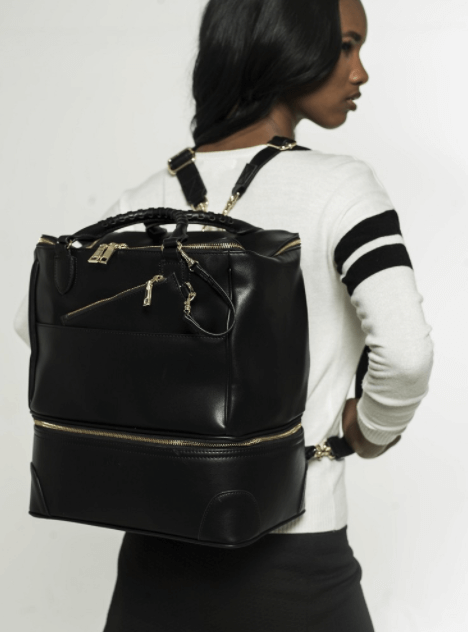 They can check out our website www.allesbags.com, follow us on Instagram at @allesbags, and my personal Instagram @steffieprice.
__________________
I want to thank Steffie for taking the time to answer all my questions. Steffie and her team were kind enough to send me two convertible purse/backpacks to try, and I absolutely loved them! They came in a gorgeous bag and the packaging was top notch. The bags definitely have a high end feel. I told Steffie that I usually wear a Coach backpack when I'm running around with my kids because I need both hands to walk across the street with them since they're both toddlers. So, I'm really excited to have a backpack now that converts to a purse and then back. It's definitely a cool, unique design, and I can see why Steffie didn't want someone to steal her idea.
Like the photo above, I use the bag with the separate zipped pouch below it. I put all my kids' diapers, wipes, extra creams, clothes, and snacks in there, and it's super nice because I know the top part of my bag is filled with my things and the bottom part of my bag is filled with my kids' things. I will say that the bag looks and stands up the best with the bottom pouch is totally filled up because if it's empty it tends to sag a bit when you stand it up.
Also, since Steffie so generously sent me two bags to try out, I actually sent one to my sister who just had her third child. Like the superstar she is, my sister is interviewing for residency positions because she is about to graduate from medical school. So, she'll be heading to interviews with heels and baby gear, so I thought this bag would be absolutely perfect for her too.
In my opinion these bags, especially the convertible ones, are perfect for busy women who want to take their heels off when they leave the office and put them in a separate location away from their makeup, wallet, etc. It's also great for moms who don't want to carry around a typical diaper bag. It's a way to be practical without giving up style!
So, do you guys have any questions for Steffie? Or, are you working on a business idea of your own? Please write a note in the comments and let's chat!