Can I just say how excited I am that a few new followers came on board yesterday after I participated in a linky party? Welcome and thanks so much for checking in!
I promised to share some fabulous furniture I scored at an estate sale last weekend. Can you believe I got a huge dresser and super heavy mirror for $15.00? I absolutely LOVE to hit both estate sales and garage sales at the last minute before they close. Some die hard garage sale lovers might call me crazy for not being an early bird, but that last hour before a sale closes is when I get my best deals, hence all the milk glass yesterday and this hunkin' piece of furniture:
See the tiny little peg legs and the modern design? Totally an indicator of a lovely mid-century piece. It's almost as good as the deal I got on my mid-century desk. Ah, $15.00 will get you so much these days. 🙂
I placed the enormous heavy mirror on my mid-century sideboard (from Goodwill). Are you seeing a pattern here? They are a very close match!
Each one of these pieces could use some love. I love the idea of painting them white, staining them a very dark wood, making them two-toned with a white top or doing something completely different by paining it a fun color.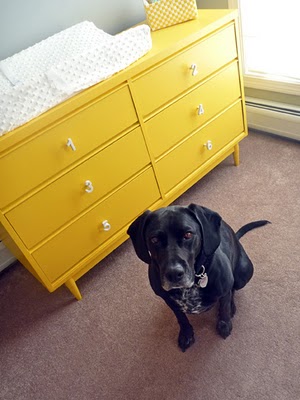 Pay no attention to the fact that both of the featured re-dos are for nurseries. They won't be used for that purpose over here (yet)!
So, are you feeling the pegged leg love? What kind of re-finishing would you love to see on these pieces? I'm open to any and all opinions while I figure out what I want!