If you don't know the lovely Jenn of the blog Peas and Crayons, allow me to introduce her! Jenn is an amazing blogger who writes about the fabulous food she cooks plus lots of crafts and design love thrown in the mix. She is hi-larious, and I'm glad she agreed to teach us all a thing or two about making soup – Matzo Ball Soup that is. Here she is:
Hi everyone! I had a little fun with this post… You'll understand when you get to the matzo ball martini. Don't act surprised =) If you know me, you know I'm a little nutso when it comes to playing with my food!
In all seriousness, this recipe makes me do a happy dance around the kitchen.  It is so GOOD!  It's also a great change of pace from the typical broth based soup and makes an excellent meal to take to work for lunch the following day(s) 
What You Need
1 pkg Manischewitz matzo ball soup mix
1 pkg baby carrots, chopped into discs
1 pkg celery, diced
1 white onion, diced
3 cloves of garlic, minced
2 tbsp olive oil
2 eggs
to taste: black pepper, kosher salt, oregano, thyme,  garlic powder and parsley
T-rex chefs need a 16 oz pkg of organic, low sodium chicken broth (suggested)
Brontasaurus chefs need a 16 oz pkg of vegetable broth
Get Cooking!
Chop, dice and mince your veggies (see above)
In a stockpot, drizzle approx. 1 tablespoon of olive oil over onions, garlic, and celery. 
Saute on medium-high until veggies appear translucent, stirring occasionally
While the veggies are cooking, make matzo balls.
Gently whisk 2 eggs with 2 tablespoons of olive oil in a small bowl.  
Add contents of pouch 1 (crushed matzo mix) to eggs and olive oil and mix thoroughly.
Refrigerate for 15 minutes.
Bring a separate, medium sized pot of water (approx 2 quarts) to a boil.  Add about 2/3 of the provided soup mix seasoning packet (from the kit) to the water.  It will look ridiculously lumpy.  Don't worry even the slightest =)
Once your veggies are translucent, toss in as many carrots as your heart desires, add your broth, cover pot and reduce to a simmer.  Here's an example of what my celery-onion-carrot ratio looked like.  I'm a little obsessed with organic baby carrots.  I may or may not have purchased a 5lb bag.
Your matzo balls should be ready by now.  Remove from fridge and roll into approx 10 balls with a slightly larger diameter than a quarter. Don't pack them tight, just lightly roll them into little misshapen lumps.  If you pack them too tight they will be a little tough on the inside.  No bueno.
Is your water boiling yet? Gently plop matzo balls into the boiling water, cover, and reduce to low.  Set your timer for 20 minutes.
You can take this time to season your veggies + broth.  Start with a little fresh cracked black pepper and a pinch of kosher salt.  Then a little sprinkle of parsley and garlic powder.  Next add a small pinch of thyme and oregano.  Taste as you're adding, and try not too add too much of anything at this point.  The matzo balls and soup mixture are going to add some awesome flavors to the mix.  
Once your timer goes off and your balls are ready (um… yeah. moving on!) pour the matzo ball pot contents into your stockpot.  Soup, balls and all!  Taste again and adjust seasonings to taste.  You can immediately dig in or wait for the soup to simmer and blend a little longer.  I usually help myself to a small bowl right away, then another in an hour.  Portion out remaining bowls into glass to-go bowls with lids and refrigerate to take to work or to enjoy later.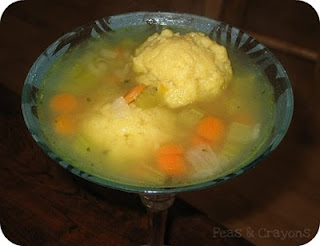 What do you think? If you like veggie based soups, chicken soups, or egg drop soup, I think you'll heart matzo ball soup!  Give it a try =)
{A big thanks goes out to Jenn for sharing her fabulous cooking ideas with us today! Make sure you go and visit her at
Peas and Crayons
and tell her thanks!}