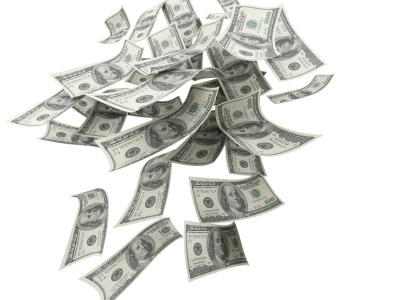 So, I know it's only April and life is unpredictable, but I am on par to save just over $15,000 this year on top of my regular IRA contributions, etc.
I did this by taking part in my employer's savings program, where they hold a percentage of my income in a tax free account, distributing it every 3 months. I've also been leaving $800 of every paycheck in the bank and splitting the rest into envelopes to use for my regular bills and small extras.
So far, this has worked out pretty well, and my intention for this money, keeping in par with my New Year's Resolutions, was to put it all towards my student loans.
However, that's a lot of money, and after talking to my most trusted financial advisor (my sweet father-in-law), there could be some other uses for that money that might be better.
Here are some of my options:
1. Pay Down My Student Loans As Intended
If I use this money for its original purpose and throw it all at my student loans, it will bring the total amount down to $22,000. This will put me right on schedule to be 100% debt free by the time the hubs finishes medical school (at which point we'll start knocking out his debt.)
2. Pay For A Car In Cash
Nerd alert: One of my biggest goals in life is to pay for a car in cash. It must feel so awesome to go to a car lot, hand over a check, and drive away in a new (used) car. We'll be expanding our family sometime in the near future, and I'm afraid my 11 year old car won't last too long. If we're lucky enough to have a baby Budget Blonde sometime over the next couple of years, I want to drive them around in a very reliable, newer vehicle sans car payments.
3. Start A House Downpayment Fund
We are even further away from buying a house. When I'm being glass-half-empty Cat, I really believe we'll be renting apartments until we die. However, if we slowly build up a downpayment fund over the next 5-10 years, we could really have a huge chunk of change. Then, if we have to get a fixed home loan or a variable rate home loan, they won't have to be as big, which would make our lives much easier in the long run.
4. Fund Another Graduate Degree
I know we have pretty much maxed out the education loans that should be allowed in most households, but I seriously would love to get an MFA in Writing. This would open up different opportunities than the master's degree I have now, and it would seriously whip my writing into shape in ways I can't do on my own. Let's just say that if I was a millionaire without a care in the world, there would be no question that this would be my next step.
5. Throw A Wild Party
I'm kind of joking about this one, but if we caved from all the stress of ultra-budgeting and decided to say "Screw it!" and party like it's 1999, I bet it would be epic… You would all be invited of course.
So, why don't you weigh in? What do you think is the best option? What would you do with the $15,000 if it was you?
Photo Credit: FreeDigitalPhotos.net