We have been thoroughly enjoying our tree so far this Christmas. It's our first tree as our own little 2 person + puppy family and we had so much fun decorating it together. We scored what thought was a decent deal on our tree by buying it for $30.00 from our grocery store and an even better deal on our angel topper for $2.00 at a garage sale. Sorry her head got a little chopped off in the photo below. She was probably trying to fly away…. We scoped out Target, Walgreens, and other discount stores to collect silver ornaments. And, we added our own little collection of ornaments for a personal touch. Hubs and I really love to purchase ornaments when we travel or get to major milestones, so we had fun taking those out of the shoe box they were living in and adding them on our first tree! Here are the results:
 I used some of my techniques for
scoring big on Ebay
and bargained with the seller of this nativity scene. I talked him down from $40 to $22 by opting for a set that did not come with the original box. What?! Since when does a box cost $18?! Remember, it doesn't hurt to send a sweet message and ask for a lower price! Fingers crossed Julep doesn't walk away with baby Jesus when we're not looking…
This skinny Santa is made from
okra
to remind us of our Louisiana heritage.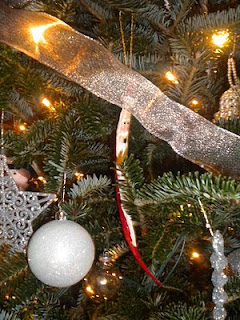 A
Mind the Gap
ornament to remind us of our backpacking-through-Europe days in college.
Duh, doesn't everyone's tree have Thomas Jefferson on it?!
Does your tree have some sweet and sentimental ornaments in it or any special flair? If so, I'd love to hear about it!