As many of you know, we are fist pumpin' New Jersey residents these days. How you doin'? It's actually going really, really well. I owe you a more legitimate update soon but let's just say we're feeling positively happy that the fates moved us to a place we never, ever thought we'd end up.
Of course, as you know, when you live 40 minutes from Manhattan the prices for just about everything can be pretty intense. We're used to cost inflation after living on the island for 3 years, but this is a bit different.
So, it's time for a squeaky, clean, and new budget share with all of you.
I know. I know. Try to stay in your seats, people. This could get exciting.
We're still very much adjusting to the costs of parenthood, the bills of two NICU stays, and fighting our tendency to get takeout because we're too exhausted to cook. Plus, we had a lot of deposits and moving expenses that are reflected here that should go down as the months go on.
So, it's not perfect but I post it here for accountability. I'll let you know how we did at the end of the month and you can judge away then. 🙂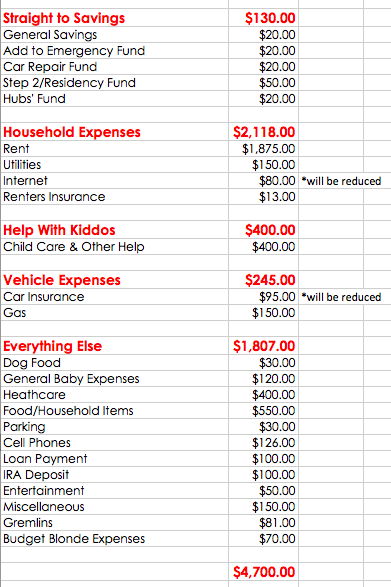 So there you go. Also, just a reminder that this budget is not a reflection of my actual income, which I do not share on the blog. Because my business income is variable, I could make well above this or well below it. So, this budget just shows a comfortable number that can be supported by savings or hubs' student loans in the low months. Any excess will go towards savings to help for the months where business is slow. Oh, and if you're wondering what gremlins are, they include all those stupid unexpected things that happen to you, like speeding tickets and root canals. I got tired of them breaking my budget, so I just put them in there. 🙂
So what do you think about these numbers? How does it compare to where you live? Be gentle in the comments, folks. My new mommy hormones are still raging. 😉