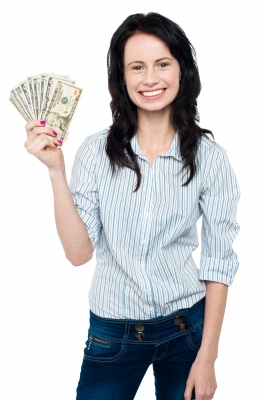 The following is a guest post by financial writer Amanda Crowley, who enjoys sharing financial tips and tricks for the modern woman. If you are interested in guest posting on Budget Blonde, please e-mail me at Cat [at] BudgetBlonde [dot] com.
It's no secret that financial times are difficult right now. For young women just beginning their adult lives, it can be especially rough. If you are on your own or live with a roommate, it can be difficult to manage all of your bills; not only do you have to pay rent and utilities, you must have transportation to and from work as well as food to eat. And all of these necessities must unfortunately come before any clothing splurges, makeup purchases, or expensive restaurants.
Saving money and being thrifty is much more than eating Ramen Noodles every day. (Who would want to do that anyway?) Just a few small changes can make a world of difference in your bank account. They can also lessen some of your financial stress and even help you prepare for the future. Here are some tips for the money saving savvy young woman:
Don't blindly pursue name brands. Not only are they more expensive, you don't always get what you pay for. A price tag does not always directly correlate with an item's quality. Therefore, when you are buying an expensive article of clothing, ask yourself whether or not you would be as willing to pay the same amount if a different name was stitched on the inside tag, and if the answer is no, perhaps you could reconsider your potential purchase. This is especially applicable to a very common expensive acquisition for many women in their twenties, a wedding dress. To help cut costs, bridal retailers such as David's Bridal offer a wide variety of gown styles at an inexpensive price. A singular garment you will wear one day can cost thousands upon thousands so, it truly pays to be open-minded to more affordable options.
Use coupons. Clipping coupons may seem monotonous and time-consuming, but you will be amazed at the difference they make when grocery and food shopping. Buy items on sale in conjunction with using coupons, and you can get items for half price or less.  When ordering clothing or products online, check websites like RetailMeNot to see if there is a coupon code offer for the item you are pursuing.
Be aware of utility use. Remember when your mother used to tell you to turn out the lights if you weren't using them? Well, she was doing more than just nitpicking! Being aware of your utility use can help you save money on your bill every month. In the warmer months, make use of fans before resorting to the air conditioner. If you have a fireplace, use it in the winter to keep your heating bill down.
Have a homemade beauty regime. While it's nice to get weekly manicures and facials, you can do it all yourself! There are ingredients right in your cupboard and fridge that can serve as natural facial ingredients. Doing your own nails takes time and patience, but you will save a great deal of dough in the long run.
Open a savings account. If you have trouble saving money, opening up a savings account in addition to your checking account can help. You can schedule a weekly or monthly transfer of funds in small amounts that won't be detrimental to your current budget but will add up in the long run.
Check out the vintage/thrift stores. You can find awesome clothes at great prices, and the shopping is even more fun when they have sales. Plus, many thrift stores' proceeds go to charities and non-profit organizations, so you are also supporting a worthy cause! Most fashionistas can vouch for the fact that, with a little bit of patience, you can unearth true gems among these racks.
Walk and/or bike more. Gas prices are extremely high these days, and cabs can easily drain your funds. When at all possible, walk to the grocery store or library to save gas and money. If your destination is too far on foot, consider getting a bicycle to get around. Not only is it economically advantageous, it is great exercise for you.
By implementing just a few of the tips above, you should see a noticeable difference in your money. Plus,  you don't have to sacrifice style, good taste, or healthy living.
Photo Credit: FreeDigitalPhotos.net