While I am waiting on the finishing touches of 
my dresser
 to dry, I wanted to introduce you better to the most spoiled member of our family. No, no this isn't about me (despite what my mom thinks!) It's about Miss Julep.
Here she is a few days after we got her:
She even had her picture in the paper when the Richmond Times wrote an article about dog friendly apartments. Here is the article. She's even more of a diva now due to all the newspaper fame! 🙂
She's even met a pig in her young life:
But she mostly prefers lounging on pink things like her mama: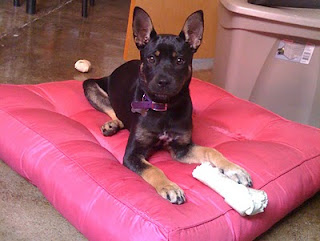 Or just taking over the bed in general: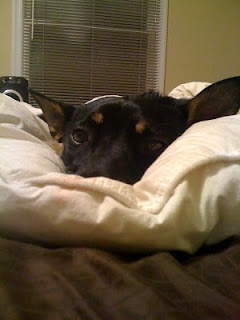 Miss Julep is a mutt but believes herself to be the most elegant and beautiful of all doggie creatures. We rescued a her from a hoarder that had 20 dogs and 2 litters of puppies. She was the runt, had several cuts above her eye, and two types of worms. Several hundred dollars later, she bounces off the walls and jumps like crazy. She's not very budget friendly, but we keep her around anyway!
Do any of you have spoiled furbabies? I'd love to hear all about them. Miss Julep would likely want to play with them, but only if they chase her around in circles for hours at a time. That's her favorite.