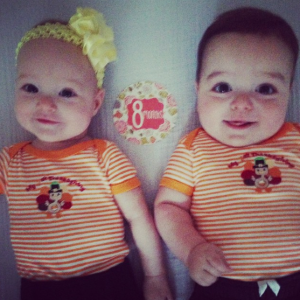 Yesterday, I texted the hubs and asked if he wanted to get down the Christmas decorations and listen to Christmas music while we put them up. He was so happy I suggested it (and shocked) since usually he's the one telling me it's time to get everything together!
I don't like the rush, rush and the materialism that surrounds the holiday but I realize that as the mom in this family, I have a responsibility to make sure my kids really have a special time. And by special time, I don't mean 500 gifts but I mean showing interest in them and creating traditions because that's the main way kids feel love – at least, that's the way I feel love.
I had great Christmases as a kid but as we all grew up and then Hurricane Katrina forced us to move houses, things became a bit hit or miss depending on who was home and how challenging things were for my parents.
So, since it's my first Christmas as a mom, I think this year is a real turning point for me.  My husband absolutely loves Christmas, and he's really inspired me to try to make it great for these kids. I think a lot of people grumble about putting up decorations and the whole thing, but really it was nice and fun to get everything out and make the house festive.
The best part about having kids and a family is getting to enjoy them on Christmas morning (so they say). I truly believe that this is one of the privileges we get as parents, and we are only guaranteed about 18 Christmases with our children before they start wanting to have the holidays with their girlfriend's family or they're living in another country or taking their own vacations – all things that have happened in my own family. I've learned it's really important to make these 18 Christmases matter and to make the memories (or the photos) they'll have of them truly great.
The hubs and I will be here in New Jersey for both Thanksgiving and Christmas. Sure it would be nice to be living in Louisiana where we could see their grandparents in the afternoon after they open their presents Christmas morning, but that's not the reality of our lifestyle. To be honest, it might not ever be a reality depending on where the Hubs matches for residency and where he gets his first job as a physician – things he and I can't really control.
Because of that – because we don't know where we're going to be living each Christmas – he and I have to work together to make our own traditions and make our own little Christmas Day special.
I thought about all of this as I unpacked our box where we keep our special ornaments. I unpacked the one we got on our honeymoon, the one we bought right before we left Grenada when I was just a few weeks pregnant, the one we grabbed in London before we were even engaged, the ones my Aunt Linda made me for my bridal shower, the one I got the hubs the year he was accepted to medical school, the Thomas Jefferson ornament my mom bought me when I went to college at William and Mary, and the ones my best friend made for me and sent me the first Christmas after Katrina when we were in a tiny rental home and not my childhood home. All of these things tell our story and are so special to us as we've built our life together.
I know I say I'm a scrooge but maybe just maybe I'll turn it all around for these babies. I want to create a Christmas season that they always want to come home to until they get married and have babies and start their own traditions.
I'll be taking the rest of the week off to buy gifts and spend time with my extended family who is here for Thanksgiving and for the Beans' christening on Saturday. I hope all of you have a wonderful holiday no matter where you are or who you spend it with.
xoxo,
Cat