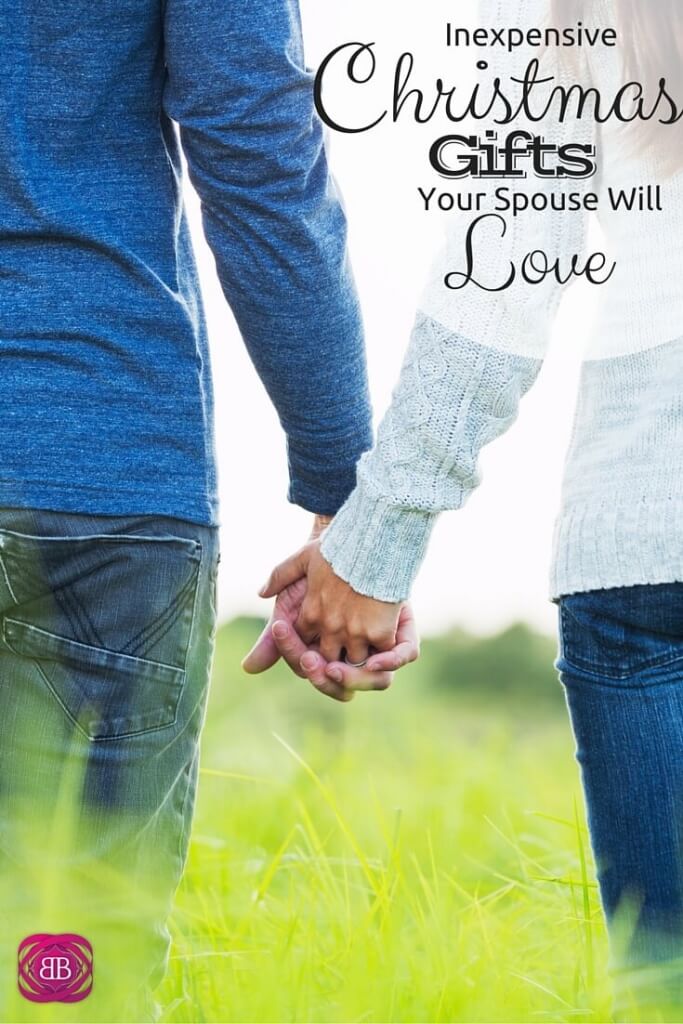 Y'all know I'm kind of a Grinch when it comes to Christmas. At least, before we had the beans, I could really take it or leave it most of the time.
I never went all out decorating the house, and I certainly didn't go all out buying Christmas gifts.
But, now that I'm a mom, I have a little more Christmas spirit than I did before, mostly because it's so fun to watch the beans get excited about Christmas now that they are more of what is going on…even if that means just being aware enough of ornaments to chuck them down the stairs…
Even though I am more into Christmas now than I was before, I still like to keep gifts to a minimum. We stick to the 4 gift rule for the kids, and my husband and I tend to keep gifts to a minimum for each other too. After all, there's not much "stuff" we truly need.
Still, my husband and I still like to give each other a little something for Christmas and other holidays and special occasions.
If you aren't quite sure what to get your spouse for Christmas this year, here are some ideas to help you get started:
For Him
Personalized Brass Luggage Tags – Nothing is more frustrating than not knowing which bag is yours at the baggage claim after a long flight. It's even worse when your paper luggage tag is nowhere to be seen. You can help solve this issue with personalized brass luggage tags. They are a whole lot sturdier and much more classy.
Copper Mugs – Copper mugs are the epitome of retro-modern style, thus they are easy to find, and mugs make a practical gift too. While actual copper mugs were used in the 1940s, today most copper mugs are actually stainless steel with a copper finish. The best part is, they are totally baby-proof because they won't break into a million little pieces like most coffee mugs.
For Her
Aromatherapy Shower Kit – All wives love to relax, but we don't always have time to take a luxurious bubble bath. With this aromatherapy shower kit, we can get some relaxing done during our regular shower thanks to the essential oil blends included in this kit.
Copper-topped Jewelry Box – This is not just any old jewelry box, this copper-topped box is sleek and modern but still has tons of storage. It's an easy way to add a modern touch to a dresser or nightstand.
Glamorous Compact Mirror – Fixing your lipstick is way more fun when you have a gorgeous compact. This one by Kate Spade is gold with turquoise enamel and even has a sweet saying engraved on it. Sigh, I sure do love me some Kate Spade!
Ultimately, you don't have to spend a fortune on your spouse to let them know you care about them and are thinking of them this Christmas season. All it takes a little creativity to make sure you get them something within your budget that they will love.
Have you finished shopping for your spouse's Christmas gifts? Feel like spilling it and telling us what you got them?