Hey blog peeps! Happy weekend! I wanted to publish this yesterday, but ya know, the Internet practically exploded and no one could get to their blogs. So, I did some writing for a few other sites instead and let Budget Blonde rest and recuperate. Luckily it seems like most of the blogs who were down are now back up. Hooray!
Life Update
The summer is quickly coming to an end, and I am still in shock that we have 4.5 months left on the island. We're going to be so extremely busy this fall, but I'm hoping we can still enjoy it. Once the hubs starts school in a week, I know everything will go at lightning speed. I'm not sure I'm ready to re-enter the "real world" aka the U.S. of A. (It's so quiet and peaceful on this rock.) But, life has to move on.
Also, my dog Julep rarely barks, but she just about lost her mind barking out the window yesterday. She was truly beside herself. I didn't see anything, but I walked outside and saw this guy going for an afternoon stroll. It's the biggest iguana I've seen yet!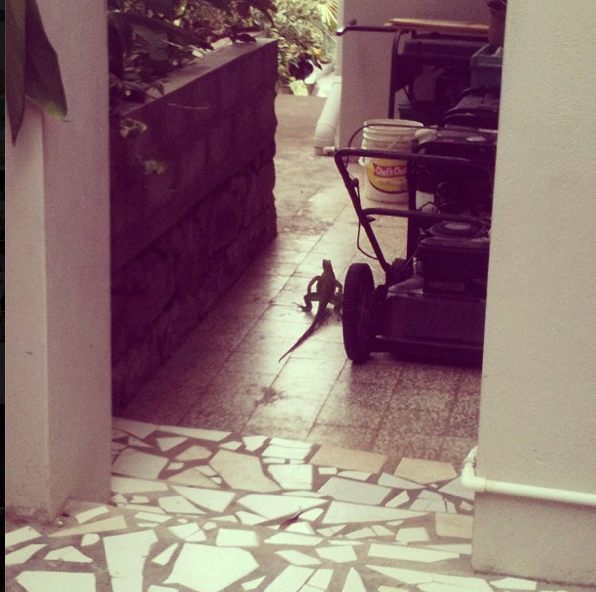 Blog Update
Luckily, my side hustle income increased in July, up a couple hundred dollars from June. I really can't believe it. To be completely honest, every month I always think there is no way I can make more than I did the month before, and I always get really nervous, but so far so good. At this rate, I should be able to confidently be a full time blogger in January, but I have a lot of work to do on this site to ensure that it happens.
I really welcome any and all advice on this front, and if you're a fellow blogger, I give 10% back for any advertising deal I make that was referred by you so please feel free to e-mail me about that (Cat[at]BudgetBlonde[dot]com)
Posts I Wrote For Others
If you are new to Budget Blonde, you might not know that peeps can hire me to write their blog content! Here are the two most popular posts from last week:
Why List's Work – Everything Finance Blog
Student Loans: My Biggest Financial Mistake – Young Adult Money
Posts that Rocked
Brian wrote about seizing opportunities.
Carrie wrote about what self-employment is really like.
Happy birthday, Wendy!
Sam says to tell yourself hard truths.
Jeremy enlightened us on the importance of link anchor text variations.
Mentions
Thanks to David, Holly, and SaveUp for linking to Budget Blonde.
Thanks also to The Huff. They took clips of me from last week's interview and made a new video for AOL. *blush*
Connect
I just signed up for BlogLovin' for our awesome $900 giveaway so you can follow me there if you like. 😀
You can also find me here: