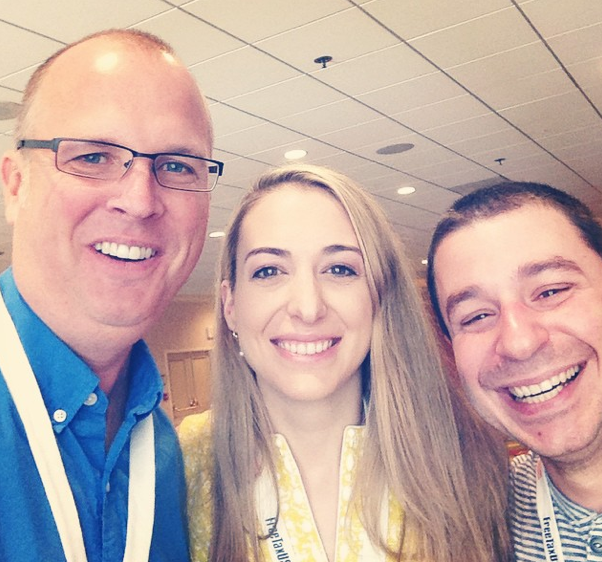 Everyone is writing all of these fab posts about FinCon, the financial bloggers conference many of us just went to, so I don't want to be repetitive by telling you about the conference and all the speakers and all the sessions.
What I do want to address is how you can make the absolute most of a conference – any conference for that matter – but this is especially true for bloggers, entrepreneurs, and hustlers going to the financial bloggers conference next year in 2015.
I'm not trying to be fancy by saying this, but the tips below are fo' real, y'all. I did everything I'm about to list and I made back my FinCon investment several times over in just one week simply by securing new clients and following up with them.
This is just me though so others might have had a different thought process going through it, but here is the mindset I used:
1. Remember, this is business.
One of my blogging friends was teasing me about how I was hustling the whole time at FinCon, but the thing is, that's what I went there to do! Budget Blonde is my business, my livelihood. It is no longer a hobby for me. FinCon was an opportunity to meet with very large brands, high paying clients, colleagues, bloggers, and podcasters alike. I had fun and went out to different events at night, but I had it in my mind that this was a business trip, and so I wasn't planning on coming home without some new business.
My family members spent an awful lot of money so I could go to this conference. My in laws flew to New Jersey all the way from Louisiana to watch the beans. They got hotel rooms. My mother's helper stopped by every day after school to assist them with the twins. A neighbor walked my dog. My parents got a hotel room in New Orleans to see me and brought me to the airport the next day. I had to buy a plane ticket, spent $500.00 on my hotel room, got a cab, etc. etc. etc. so my mindset from the very beginning was that if I was going to spend time away from my kids and if everyone was going to go through all this trouble for me, I was going to make sure it was worth it.
If you want to go to the conference because blogging is your fun hobby and you want to meet everyone, awesome! Rock on by all means. However, if you are one of the people who is dying to quit their day job, wants to be a freelancer, and wants to make their business work, you have to put on your business pantalones, people. FinCon is the place to get work.
2. Push yourself outside of your comfort zone.
I was sick the entire time I was at FinCon. It was kind of hysterical because one blogger told me she had no idea my voice was so raspy and sexy but really I had just lost it completely, haha. We all joked that we never talk to other humans during the day so three days straight of constant talking really did me in. Really though my kids were sick before I left and I got it from them.
I pushed through though. I went out to dinner. I texted people I'd never met in person and asked to meet up. I tweeted with speakers and various brand representatives and set up meetings. I loved talking to everyone too but I really am an introvert. Every night – and I'm pretty sure one random afternoon – I went back to my hotel and crashed.
I also had a ton of anxiety and adrenaline going into it. I told Shannon I was going to have to bring a flask to get up the courage to talk to these people and convince them to hire me. But the energy was so amazing and everyone was so nice that I didn't need liquid courage. I just needed to think of my kids and how I wanted to make some changes to spend more time with them, and that was enough for me to get it all together and put my best foot forward.
3. Care About People
Businesses can tell when you're fake. Brands can tell when you're fake. So, I tried to actually get to know the people who were there. I learned about their kids, what they did for fun, and the hobbies they had on the side. Because really at the end of the day FinCon was about making connections not hounding people for work.
The more normal I was and the more I chatted easily about things other than finance, interestingly enough, the more fun I had. Luckily I have a good memory and so at the end of a meet up or at the end of an event, I wrote down everything I remembered about a conversation I had with someone. So, if you saw me creeping around scribbling furiously in a notebook, that's what I was doing. I wanted people to know I cared about them and their backgrounds and their stories. I didn't want to mix up their kids' names, etc. so I kept records of everything and it helped me a lot after the conference was over and I was e-mailing with everyone.
All in all, it was one of the best trips I've ever been on. It was such an honor to be there and meet everyone. I finally got to thank people in person for supporting me the past few years, especially those who guest posted for me during my maternity leave. It was a blast. It was a rush, and it was – simply put – lucrative not only for me but for everyone else who went there with the goal of connecting with others and bettering their businesses.
I can't wait until next year, and I hope these tips help anyone and everyone looking to make next year's conference truly worthwhile.