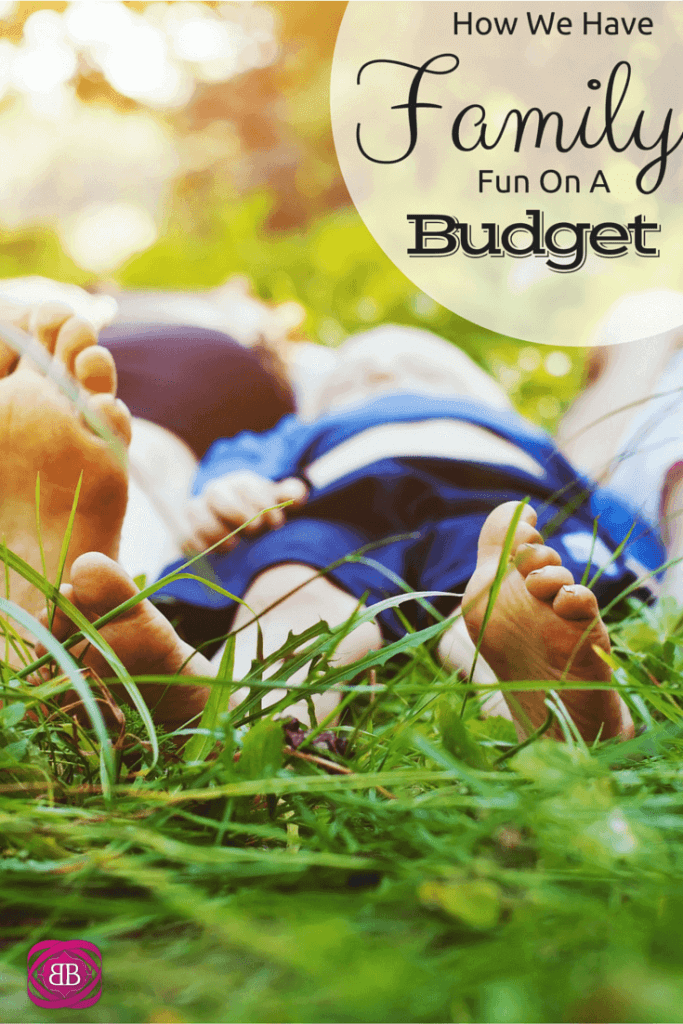 Over the past few months, we've had some pretty major expenses in the Budget Blonde household.
We had to pay around $8,000 for health insurance for the 4 of us last month. I had a pretty large business expense that was several thousand dollars, and last night the hubs finally applied to residency, and the cost was around $3,800.00.
Needless to say, lately it feels like we're bleeding money, but luckily we knew all of these expenses were coming and have been saving for them for quite some time.
For example, I saved the residency fund over the period of several months, so although it might seem like a huge amount, it was small incremental savings that made it all possible.
Still, the large outpouring of our hard earned cash has inspired us to be a bit more frugal in other areas of our lives, and we've been trying to have some family fun while the weather is still nice but all on a budget.
Here are some ways we've enjoyed being together over the past few weeks without spending more than a few dollars.
Strolling in Central Park
We love living just a few miles outside of New York City. On Sundays, you can score free street parking if you head in early enough, and so last weekend we went and just strolled around Central Park. The Beans absolutely loved running wild in the big open space of Central Park, and I always feel like going there is so special with all the skyscrapers as a backdrop.
You don't have to live right by New York City to enjoy the outdoors, though. There are likely many free museums, trails, and parks wherever you live. You just have to take advantage of them!
Have a Picnic
This sort of goes along with our park theme, but basically we love packing a lunch and taking it to a nice spot for a picnic. When the twins were little, they actually stayed on the picnic blanket. Now we just chase them both around have to take turns eating! Still, it's nice to get outside in the fresh air and change up our day a little bit. Picnics are always one of my favorites, and I keep a picnic blanket in my car at all times for such occasions!
Blow Bubbles
My kids are obsessed with bubbles, and it doesn't seem to be just for toddlers. We recently went to a birthday party and kids of all ages were obsessed with bubbles too. I spent around $1.00 for a huge pack of bubbles at Wal-Mart, and The Beans point to them and say their version of "bubbles" and practically beg us to take them down and use them. They really love it, and it's such a fun and inexpensive thing to do with them.
Read Books
Like many other parents, my kids definitely watch a bit of TV most days so I can wash dishes or make dinner in peace without kids crying by my feet, but we also really love to encourage reading. In particular I love it because it's the only time my son will sit on my nap and snuggle a bit. Any other time, he is bolting off in some other direction but when I pull a book out and open it and start reading, he scoots his little self on my lap and I get to enjoy a few moments with him.
For the record, my daughter is pretty much stuck to me all day whether I'm reading to her or not, but I enjoy the cuddles a lot as they seem to be getting so big so very fast!
Ultimately, I think parents get really caught up in signing up their kids for 100 activities or making sure their toddlers are in music class and dance class and this class and that class that we sort of forget the basics. My kids seem to be happy as long as I pay attention to them and engage with them. So, to me spending a few dollars on a picnic, some bubbles, a walk in the park, or just sitting right in our own living room and reading and playing together is completely worth it – no expensive activities required.
How do you enjoy time with your family on a budget?