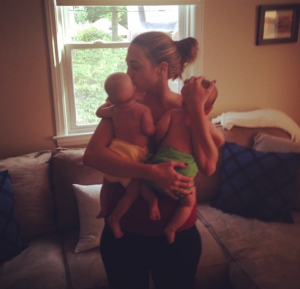 Some of you said I was crazy. My Dad said I wouldn't last a week. There have been times I couldn't stand the sight of one more diaper, but ultimately I learned how to use cloth diapers very quickly, and they've been a life saver in so many ways.
Over the past few months, I've gotten more questions on how to use cloth diapers and if they were really worth it more than anything else, so I'm happy to finally sit down and flesh it all out.
Cloth Diapers Save Lots of Money
My primary reason for learning how to use cloth diapers was to save money. The Earth saving benefits are great, but saving money was, to be perfectly honest, the real reason I wanted to go down this road.
With twins, I knew I would quickly blow through tons of diapers (see what I did there?) and although I could try to save money in a variety of ways, learning how to use cloth diapers was a given.
I did some research on the ol' interwebs, and it seems there are really varied amounts for how much money people spend on disposable diapers in 2 years. I'm sure I would use some coupons here and there, but in 2-2.5 years with 2 kids, I think disposables would have run me $2,000+. So far, we've  spent about $500 on cloth diapers however (and this is important), I'm going to sell them on eBay when we're done with them. Yes, it sounds crazy I know but even used cloth diapers sell very well. Moms and Dads can strip them and make them brand new again, and people buy them up like hot cakes. So the lesson is, once you learn how to use cloth diapers, then learn how to strip and sell those bad boys at the end!
I estimate by the time we're done with this whole diapering adventure and sell them back into the world, we will likely only be in the hole $200, maybe $300. And for the record, lots of people save their diapers and use them just fine on their second and even third kids, but seeing as we hit the jackpot with boy/girl twins, we will be selling our stash at the end of this.
How To Use Cloth Diapers
The first step in learning how to use cloth diapers is you have to buy some (bet you didn't see that one coming! ;)) I'll just tell you what we used, but the truth is, you can use a ton of different brands. I stuck with a few varieties of bumGenius
and out all of the ones we tried, our favorites are these:
You can buy cloth diapers with inserts, without inserts, etc. etc. etc. and it can all get a little confusing. Basically the ones with inserts attached means you wash the whole diaper "all in one". If you get inserts that are separate from the diaper, you have to take them out to wash and then put them back in, which adds a few minutes to your day.
You would think that would make the "all in one" diapers better, and I thought so too, but the one thing people don't really talk about is the dry time. Ohhhhh the dry time. This is important. When you buy the more expensive cloth diapers with the insert attached, those bad boys take forever to dry when you air dry them. Soon, you will give up as I have and throw them in the dryer.
However, the BumGenius 4.0 pocket diapers
that I listed above have inserts that you can put in the dryer, and because it's separated from the "shell," it makes the shell dry wayyy faster saving you time and also saving your sanity. Had I known this ahead of time, I wouldn't have wasted my time or money buying anything else.
Lots of other moms use a variety of brands of cloth diapers very happily and even make their own, and I can't comment on those because we only used the bumGenius brand
. All I can say is that these have worked well with no leaks, even during some really epic sh*t (see what I did again?)
This one I think is my favorite pattern. 🙂

You can get diapers with velcro or snaps. I have both, and it's pretty simple to learn how to use cloth diapers with either of them. I will say that the velcro does not last as long but it's good for skinny babies like my daughter because you can really get the fit just right. If you have a chunker like my son, either works great.
The Gear
You should know if you learn how to use cloth diapers that you have to get a certain kind of diaper rash cream that dissolves in the wash. Boudreaux's Butt Paste
(which is what all my Louisiana friends use because it's made there) will stain them and make them harder to sell. We use California baby diaper rash cream, which can be a little pricey but as my Polish pediatrician says, "smells beautiful."
We also like the Angel Baby
brand. Again, a tad pricey but really nice:
Side note for moms who want to breastfeed, I've gone through about a million jars of the Angel Baby Nipple Butter
from that same company and found it to work better than anything else.
I use a little diaper rash cream as a preventative. Only my son has had issues with diaper rashes, which I believe have been the result of more a parental error than a diaper error. I just learned I have to let his bum be really, really dry before I put a new diaper on and that's about it. Part of learning how to use cloth diapers is this sort of trial and error way of doing things, but it's really not so bad!
Oh and there are two more things you're going to want to consider buying when figuring out how to use cloth diapers: a wet bag
and a diaper sprayer
. Despite what the interwebs say, you actually can use cloth diapers while out and about and traveling. At first, we used disposables when going out but then we were only out for a few hours and frankly the diapers sit in a trashcan like this
for most of the day anyway. So, we now wear cloth every day, every time we go out and it's fine.
The diaper sprayer
really isn't a necessity per say if you really want to save money because you could do an extra cold wash ahead of time, but I think it's good to have one. That's the only really gross part of the whole gig is spraying out the diapers. We do it every night. We rock/paper/scissor for who has to do it. Usually I lose and then hubby feels sorry for me and does them anyway. 😉 It takes about 5-10 minutes and then we wash them over night. We do a hot cycle with a little bit of detergent and then an extra cold rinse. We put the inserts in the dryer and hang up the shells unless we're really lazy and throw the shells in with them.
As for how many cloth diapers you should get, that's up to you. We have about 13 for each baby, and we can sometimes get away with going two days without washing diapers depending on how things go.
Worth It?
Overall, we've been super happy with the decision. It wasn't hard to learn how to use cloth diapers. It's not hard to wash them and get them ready for the next day. It's great on our wallets, and they look cute on their bums. Seriously, here is that pic again from earlier – adorable right?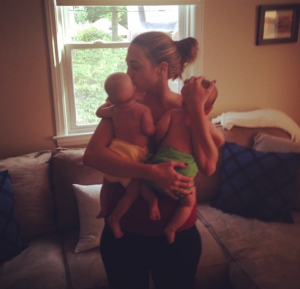 With twins and a full time business and a husband to tend to as well, I still manage to get them all done and it's fine. My mom stayed with me a few days and she said she wouldn't like the pressure of always having to wash them but it's just part of our routine now.
If you want to take a break from cloth diapering, just buy one pack of disposables and take a little break for 3-4 days and then go back to it. That's what we did when the hubs was off recently and we wanted to use that time to clean, organize, and wash a ton of other things. It was just enough of a break to not mind going back to it.
I'm sure there will be some questions or something I left out, so please feel free to ask me anything in the comments, and I'll keep my eye on them today. Also, I earn a small commission if you use the links in this post, 'cause that's how I keep the lights on around here. 😉
Do you use cloth diapers? Ever considered it?