I received a great and super relevant question from a reader and thought all of y'all might benefit from the answer. So, without further ado, here is it:

Cat,
I've gotten hooked on your blog and I've definitely been channeling a "What would Cat do" mentality when it comes to being more economical about stuff! That being said, I was going through my closet the other day and I realized that I need to get rid of a bunch of stuff. Normally I would just give it all to Goodwill without even really sorting through name brand items, which is fine, but since I spend probably half my salary on clothes it would be nice to get some sort of return on my investment! I was wondering if you had any tips on selling clothing online- maybe some favorite sites you like to use, etc. I know about Ebay and Plato's Closet but in the past Ebay hasnt really worked for me – maybe you have some awesome tips on making it work for you?? I'd really appreciate any advice you could give!
<3 Sophie
Well thanks for the e-mail and all the sweet comments, Sophie! As luck would have it, I just did a bit of Ebaying myself in the past month, and the real trick is "Patience, young grasshopper." 
First of all, it's good to scout out Ebay deals. In recent weeks, they were allowing free listings, which is more change in your pocket. These things come around every now and then so keep out an eye for promotions for new sellers. Sell on a weekend. The items I listed with end dates during the week just didn't work. Lots of people can't access eBay at work, and they love to browse it on the weekend. 
Make sure you are very descriptive in the TITLE. For example, if I was selling a couch on Craigslist, I would say Couch/Sofa/Loveseat for sale. Remember, different strokes for different folks. You could have a jean skirt and list it as so, but I might search for a denim skirt, which means I won't see your listing at all. Also, sometimes things sell better at lots. I had a "lot of 2 polo shirts" and they sold right off the bat.
Take good pictures in natural light at a good time of day. No one is going to buy a wrinkled blouse laid over your couch. Also, expect to sell your items for cheap in this economy. You really don't know what is going to sell. Some of the items I thought would sell immediately took two or three re-lists, while others I just threw in the pile sold immediately. You can't think of selling a pair of designer jeans for $10.00 when you paid $100.00 as a loss, especially if you were just going to give them to Goodwill anyway. I sold two of my hubby's text books, lots of different clothes, and random household items and made approximately $300.00 in a month. It was a pain in the butt to keep going to the Post Office, but not bad if you are looking to go on a $300 shopping spree. 
As far as pairing down your closet, dare to throw everything into a laundry basket. If you wear it for that day, wash it and hang it back up. Anything that you did not wear in 3 weeks needs to go. I am actively trying to do this myself. I have clothes I haven't worn since high school. It's a problem. But, I'd love to know where everything is, so I just keep trying. I tell myself that Rome wasn't built in a day. Similarly, alll the clothes in my closet will not get separated and sorted in a day.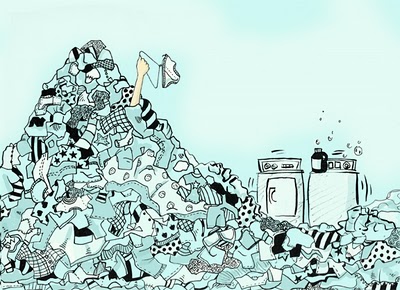 Also, try your hand at Craigslist. Believe it or not, people do go looking for clothes on there. You never know what college student or mom is clicking on Craigslist every day for some great clothing deals. 
Lastly, if you have friends around you that are a similar size, try to organize a trading party. That way, everyone gets "new clothes" while getting rid of old ones. Take jewelry you don't wear as well as scarves and handbags to a party like this for added pizazz!
All in all, I hope this information helps. There is really no way to predict what will sell and what won't. Just keep trying, keep your eye on the prize, and remember even a few buckaroos will get you that much closer to your next shopping excursion!
Anyone else have any tips that I haven't thought of yet? I'm always open to learning how to get the most bang for my buck!