As promised in
yesterday's post
, here is the rundown of how my hubby and I rocked the Craigslist sales the past few weeks. Now, please keep in mind that since
we are moving out of the country
, we are selling most of our furniture. So, our profits definitely reflect us selling two beds, a dining room table, patio furniture, etc. But, still, we were astounded when we added up everything. We've made
$1,580
on Craigslist so far and most of the sales took place during the past two weeks. Can you believe that?! We sure can't. We felt like bandits walking into our bank this morning with lots o' cash. It felt so good to de-clutter and to have such a great reward.
We're working up the courage to list the last 3 or 4 items on there. Actively posting on Craigslist is hard work, and here's what we think really worked for us:
1. A sense of urgency. At the bottom of each post, I wrote "Please feel free to make us a (reasonable) offer if you can pick it up in the next day or two. We are moving and need this to go asap." You will be surprised that some people offer pretty decent amounts. I did notice that twice when I counter-offered, people got aggravated and didn't write back. Their loss. The majority of the time, if someone really wants it, they will work with you a little.
2. Going the extra mile when people asked us questions on Craigslist. One of our most expensive items on Craigslist was hubby's relatively new Trek road bike. Every time someone asked us a question or wanted us to send pics, we sent them tons of links to different parts of the bike and attached about 5-6 close up pictures. It did help in that case that the hubs is particularly neat with his paperwork and had the original receipt, owners manual, etc. Still, selling this bike was the hardest one because he originally spent $600.00 on it, and we truly didn't want to give it away. It really took inviting numerous people over to ride it and once someone actually came to do it, we sold it for $350.00.
3.
Try, try, and try again.
 That bike I just mentioned? Yeah, it sold on the 4th time I listed it. I originally tried to sell it earlier in the year with no luck. It was definitely seasonal, which I talked about when giving some Craigslist tips back in
this post
. Similarly, our dining room table was pretty cool since it used to be in the Virginia State Capitol building. I listed it for the third time earlier in the week, and it worked like a charm. The best part was that I bought the table at auction for $45.00 and sold it for $180.00 since I had the authenticity certificates, etc.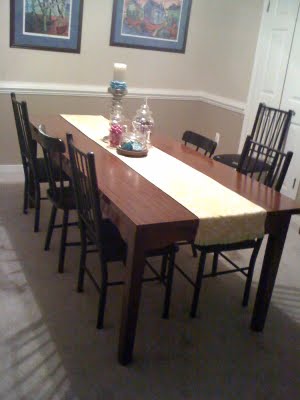 4. Really try to nail down a buyer the day you list it.  If you don't get people to commit to you that same day, life inevitably happens. They will tell you they are coming to pick it up but then their grandma's cousin's sister had some sort of issue and they can't. The vast majority of our items sold because someone seemed interested, and I nailed them down to come pick it up that very same day. So, list your items early in the day and let the magic happen.
5. Call people. I was really surprised at the sheer number of people who wrote to me and said, "I'm interested. Can you call me at x?" Now, some people are kind of weird about the phone. Hubs is not a big fan of calling strangers. But, I really don't care so I called them up! It allows you more of a personal connection and gives you a chance to describe the item better. I sold several items this way. It just takes pushing past that little twinge of anxiety to do it.
6. Be a salesman. Just like I advised for a garage sale, make people want to buy from you. Write meaningful posts and put lots of pictures on it. For example, this post will not work: "Dining table for sale. Chairs not included." But this will: "We are selling our beautiful dining room table! It's super heavy and durable. The dimensions are x. We'd love to keep it but it's too big to take on our move. We'd be glad to help you load it into your truck or van if need be! Just shoot us an e-mail and make us a (reasonable) offer. We need it to go in the next day or two! Thanks for your interest!" This shows people you are real and legitimate. They are coming over to your house after all. This works the other way around too. Hubs felt comfortable making a good offer to the man that came over to ride his bike. Because he was a nice, decent guy who kept his word and showed up on time, he got it for lower than we would have offered others. Sum, be sweet, reply to e-mails quickly, and give it an extra bit of oomph!
Well, those are the main techniques that worked for us! If someone doesn't e-mail you in the the first two days about your item, chances are you need to re-list with a lower price, better pics, and a more convincing post. At least, that's what we noticed. If you have more specific questions, feel free to e-mail me at [email protected]. If you have more tips to add from your own experiences, I'd love to see them in the comment section! Until then, we will be enjoying sleeping on air mattresses in the living room and packing like crazy!