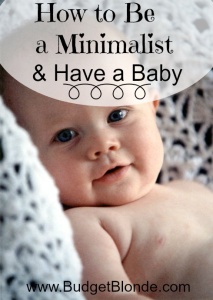 There are a billion different ways to be a parent, and obviously, the hubs and I have developed our own way of doing things over the past 7.5 months (time flies doesn't it!?) Many people don't believe you can be minimalist and have a baby, especially if you have grandparents buying birthday gifts and Christmas gifts and just-because gifts, but we're doing just that.
In the post below, I'll outline my thought process. Really, it's just for the people who asked me how to avoid all of the excesses that kids usually come with and not for the people who love having tons of toys and fun things around!
I should mention that I have friends who have homes that look like incredible toy stores, and my kids love having play dates and enjoying all of those fun things! It's just that for me personally I'd rather keep my own home as minimalist as possible.
It's a constant challenge to stay minimalist though, especially with the world ringing in your ear that you have to have this or that or your baby will be dumber than all the other babies (I exaggerate but you know what I mean.)
So, here's why we decided to try living this way with our kids and how we go about maintaining this lifestyle.
Why Choose the Minimalist Lifestyle?
We decided that "minimalist" was a good one-word definition of our parenting philosophy when I was pregnant, but the roots of this decision go back to our three years living in the Caribbean.
While we were living there in Grenada, we met a lot of the local kids, kids who had fun playing on the beach, kids who only got one gift for Christmas, kids who didn't know about the whole Santa Clause thing, kids who didn't live under the pressure of having to learn 5 languages and go to the best schools and have the right toys and God knows what else.
So, we went into this whole parenting thing determined to buy very few baby gadgets, determined to not have a house overflowing with toys, and determined to just do the best we can to raise little humans who didn't live in a house full of distractions.
We just want our kids to play outside, read a ton, write, make up stories, and in general just have a silly, fun, active childhood like we did. The hubs grew up without video games, and I fully support that for our kids too. It's obviously not for everyone. There are plenty of kids who love video games and tons of toys and are doing quite amazingly.
So, disclaimer, this whole post is just about what we do because readers have asked, and so if you don't agree with it, no problem. Our feelings won't be hurt. 😉
All that said, here are a few ways we've accomplished our goal of being minimalist parents:
1. Buy Things When They Actually Reach A Milestone, Not Before
My old boss, Sara, gave me great advice when I was still living in Grenada. I'm paraphrasing a bit but basically she said try not to buy something that will mimic the next step before they actually get to that step.
For example, many people have little chairs called Bumbo floor seats
that help babies sit up. Babies love these and parents love these, but we decided not to get them. The beans will soon be sitting on their own in their own time without them, and that's fine by me. Sometimes I prop them up using two airline neck pillows that we already had, and it seems to do the same thing if they are squirming for a different perspective.
2. Phase One Thing In and One Thing Out
We just recently bought the beans high chairs (you could also get booster seats to save money and room) and because of this recent purchase, we are now doing away with their bouncy chairs that they enjoyed for so long. Basically, as soon as they move to the next phase of something, I go ahead and get rid of what they've outgrown.
Now, if you want more kids, this could mean putting it in the attic or the basement, but for us this means donating the items or selling them on Criagslist since we're pretty sure we are done having kiddos. The goal is just to maintain a nice, minimalist home without 5,000 baby things strewn everywhere.
I think the problem comes in because raising kids is freaking busy. So, it's hard to put things away or store them when necessary because there is zero time during to day to even eat cereal let alone become Martha Stewart and organize everything. So usually in most households things just multiply as kids get older and soon you have a 3 year old and the Bumbo is still in their closet, ya know?
I'm guilty of this myself. I have a twin breastfeeding pillow taking up room in their closet, and since I'm done breastfeeding, it's time for that to be donated.
3. Actually Be The Person Who Creates Toys Out Of Nowhere
Parents are always marveling about how their kids love the box better than the toy or they think it's cute when kids play with tupperware or the empty wipe container.
My thought is that if your kids like these random household items so much, then why keep buying them so many toys?
I mean, my 7 month old daughter went to town grabbing the newspaper and throwing it all around the other day. It kept her busy for 45 minutes. She was elated. I'm so glad she had that and not some specially designed bright, blinky toy that guarantees she will certainly be smarter after using it.
Don't worry; I'm sure you can find some article about how the ink on the newspaper can permanently scar her or whatever parenting propaganda is flying around these days. I choose to ignore all that too, because being a minimalist parents also means just doing what works, what's common-sense safe, and what feels right in your gut.
What We Went Without
I could write about this all day, but since I just noticed this post hit 1,000 words, let me just provide a list of things we went without:
1. No baby swing
2. No baby bath (we had an infant bath that we used in the sink when they were tiny, but as soon as they outgrew it, we just put a hand towel under their heads in the big bathtub.)
3. No bassinet (they slept in their cribs from day 1)
4. No bumbos
5. No pacifiers now (they used the ones from the hospital and some that I received at my baby shower but then at around 3 months they stopped taking them so we got rid of them)
6. No crib bed sets (no bumpers or bed skirts)
7. No baby jail (I pull out the pack & play if I want to "contain" them and then put it up)
8. No extra strollers, like umbrella strollers or jogging strollers
9. No formula dispensers/makers
10. No daily disposable diapers (we use them on occasion at night if we are battling a diaper rash but primarily learned how to use cloth diapers.)
What We Do Have
We do have a lot of books, we used many different swaddles when they were smaller, and we use glass bottles every day. I had a nice breast pump that I then gave to my sister when I was finished using it. We bought under the bed monitors for safety. I just recently caved and bought one exersaucer off of craigslist after resisting it for weeks on end, but they seem to like it!
In sum, it's all really a matter of preference. I tend to say no to things that can't be put away easily or things that seem really excessive or unnecessary. I try to use my history brain and think back to kids of older generations and what they likely had as babies to play with. I also think of those adorable kids in Grenada who didn't have much but seemed to be happy.
Like I said, minimalism is a choice, and it's difficult to do in this day and age, but if you want to embrace some of the same principles know that it is possible. At least, we're trying to make it possible each and every day. 🙂
What are some of the things you didn't buy for your own kids?