Have you ever heard of the quarter life crisis? Or, are your currently experiencing a quarter life crisis and wondering how to get out of it?
Don't worry; there is an end to the madness, and the secret for getting through it is right here in this post!
First, for those not in the know, a quarter life crisis is similar to a mid-life crisis in terms of feeling lost and wanting a change, except it happens in your mid 20's.
However, before I give you the step by step to conquer this period of uncertainty like a champ, let me give you some background about my own experience turning 25.
My Quarter Life Crisis
I admit, when I turned 25 last year, I felt really lost and unsettled. Many of my friends around me were settling into careers, buying homes, and starting families, and we had just uprooted and moved to Grenada.
Before moving to Grenada, I spent six years studying American history. I got my master's degree in history with the sole purpose of working in museums. I was lucky to go to school in Virginia where I was able to work at some incredible museums during all those years of school. The culminating experience was becoming a park ranger/historian for the National Park Service. It was something I wanted to do for a long time, a career I loved with co-workers I loved even more. However, instead of pushing hard to make it a career, I instead pulled back and made the decision to pack up and leave the country with the hubs.
Feeling Strangely Free
Even though I missed my job when I moved to Grenada, I felt strangely free, like I could do anything I wanted. I started applying for staff writer jobs online with the goal of making my monthly student loan payment (I didn't want to pay my loans with the hubs' med school loans.)
Interestingly enough, the more staff writer jobs I got, the more I realized I'd missed my calling. Soon, I became aware that I wasn't having a quarter life crisis at all. I was actually having a quarter life opportunity.
My experience writing online led to me getting a part time job in Grenada which later blossomed into a full time job. Soon, I was working 40 hours a week at my job and spending a few hours or so managing my blog and other blogs at night.
Today, just a few days after turning 26, I now work about 100 hours a week between staff writing, managing this blog, and my day job…and it's the most fulfilled I've ever been.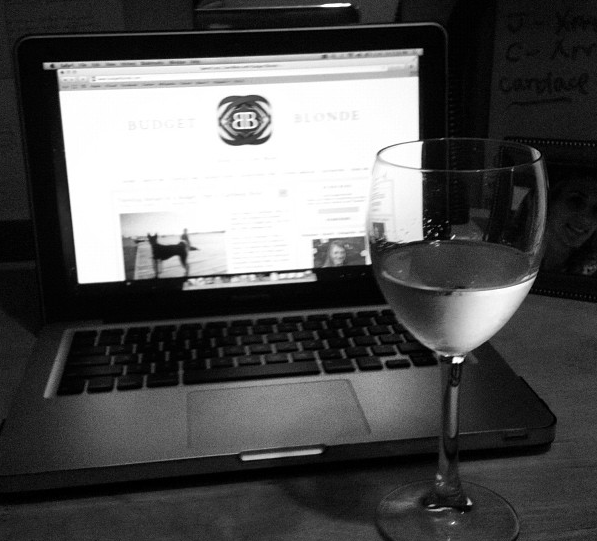 What This Means For You
I think there are a few take aways from the experiences I've had the past few years. While everyone's story is different, here are a few good techniques for avoiding the quarter life crisis:
1. Be Open To The Possibilities
If I would have been completely set on working in museums, I wouldn't be doing what I am doing right now, and I would have had an even a worse quarter life crisis.
Even though I spent a lot of time training for a career in one particular niche, I allowed myself to explore other options. I knew I loved writing, and I enjoyed managing my blog on the side. What I didn't realize was that my blog would grow so much in one year. I had no idea that by putting more passion and work into it, it would become an actual business that could sustain me.
I know that it's difficult to take a leap, to allow yourself to think about a different possibility, especially if you've spend so much time, energy, and money on one career path. Yet, I urge you to try letting go of all of those preconceived notions, especially if you are feeling unsettled.
Once I gave up the idea that I shouldn't have a job outside of history and museums solely because I'd worked towards it, I realized that the skills I had were well suited for working in the online world. I'd interacted with people every day as a park ranger. Now I was just interacting with people online. I had to read, write, and study every day as a historian. Now, I still read, write, and look up countless articles and news stories to stay relevant for my blog.
In sum, my experience studying history for so long was a good one. I won't lose that training, although I admit some of the Civil War battle dates that used to be so crisp in my mind have faded a little. However, the skills are still there. I just use them for something different now…
2. Don't Worry About What Others Think
I feel like a lot of people my age are worried too much about what other people think. This can definitely put you in a quarter life crisis, and it's something you should absolutely avoid at all costs.
So many friends of mine have felt split between what they want to do with their lives and what their parents or society wants them to do. I've also had friends decide to stay in jobs they hate only because they love the high paycheck.
Where's the excitement? Where's the passion? Where's the ingenuity?
When you're young and in your mid-20's, you have the world at your fingertips. There's no time for a quarter life crisis when there are so many cool ideas to explore!
Why waste these years pursuing a career that you don't love? Honestly, there are a thousand excuses for staying in jobs you don't like, but those won't grant you the happiness of finding that one thing that makes you so excited it keeps you up at night.
3. Try, Try Again
I'm not promising that you'll know what you want to do with your life at age 25. What I am promising is that if you keep trying, you will figure it out. The secret for avoiding the quarter life crisis is working hard, pursuing different passions, and constantly learning, adapting, and exploring. That really is the magic formula for finding out what you really want to do with your life.
I know it's not easy when you get rejected. It's not easy when business ideas fail. It's not easy if you don't have the support of those around you.
However, I can promise you that your dreams are worth it.
They're worth the hard work. They're worth the 100 hour weeks. They're worth the frustration and the tears that you have to push through to get it right.
Trust me, when you find the career that makes you sparkle, the job that you can't wait to sit down and start doing, the quarter life crisis will just be a distant memory.
How long will it take before you decide to get up and chase the dream?
The clock is ticking…