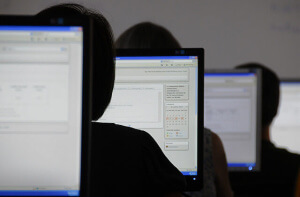 Presumably, you already know how to read, write, and do basic math. You already know the names and placement of the 50 states and their capitals, mostly… 😉 I won't tell!
At any rate, you have the bare minimum level of knowledge and skills to hold down most entry-level jobs, including the one you currently have. So why all this talk of going back to school?
There are all kinds of reasons for upgrading your education. Times have changed. Careers require new skills. If you haven't upgraded your education in the last 5, 10, or even 20 years, you may have already fallen behind. That would explain why you are not getting that promotion you believe you deserve.
Consumer technology has advanced to the point where our great grandparents, and even some of our grandparents, would have a seriously hard time living in our world. You need to know about modern technology, as well as catch up with the latest advances in science and history. Much of what you learned in school as a child has been challenged and overturned. It goes a lot further than the number of planets in our solar system. Because of the integration of technology in so many jobs these days, staying up to date with your technical knowledge is key.
You can probably come up with a half a dozen more reasons why re-upping your education is a good idea. But the bigger question is how. Going to school is hard and going back to school as an adult is even harder. It is neither easy nor cheap. But with the right motivation, it is most certainly doable. If a new baby is on the way, or your current income is insufficient, going back to school is a lot easier because the motivation is so great. Besides having a great motivation, here are some other ways going back to school can be feasible for you:
Do It Faster
One of the best things that ever happened for adults who want to go back to school is the CLEP test
. It is, essentially, a test that allows you to show what you know about subjects for which you have insufficient credits. Clepping out of some of the basic core can save you a lot of time, not to mention, money. But beware, not all universities offer the CLEP.
Another advance is the accelerated degree program. You can find many accelerated degree programs online that can save significant time, sometimes cutting a degree program to half the time it takes in a more traditional program. A second bachelor's degree does not have to take another four years of your life. Going back to school is more feasible when you can get it done faster or in your free time via online classes.
In fact even "traditional" students are taking more online classes these days as it gives them the flexibility to work more hours at their part-time jobs while still going to school to get their degree. I took more than one online course when I was pursuing my bachelor's degree a few years ago.
Do It Affordably
Going to school online has a lot of benefits. But don't expect tuition to be one of them. It is sometimes less, but not always. In fact, at the university I went to, online classes usually cost more than on-campus classes.
But, online classes can help you save money by not having to deal with campus life. electronic textbooks
are usually much more affordable than print books. You don't have to drive to campus or pay for parking which is huge. At my university, parking alone cost almost $200 for the year. You also won't have to worry about buying meal tickets for cafeteria lunches.
You can save money by not going to a four-year university. If all you need is a certification, check out your local community college. You can also find schools dedicated to certifications in your desired field. There are lots of certificates and degrees offered at technical schools in my area, so I'm sure they are available near where you live too. Advancing your education does not necessarily mean taking out another student loan.
If you don't want a certificate, or if your degree will take longer than a few months, try finding a job that accommodates your schedule while you complete your courses. With technology it is becoming easier and easier to work from home. I make a full time income doing so! However, even if you don't make a full time income, you may be able to make enough to cover costs involving school and won't have to pull out student loans.
Fortunately, for the working adult, there are ways to upgrade your education faster and more affordably. But none of these things will matter if you do not have sufficient motivation. As with anything in life, your motivation is key to your success.
Are you considering going back to school? Why or why not.