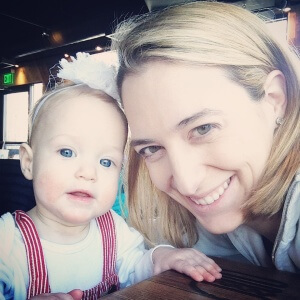 This past weekend, I was talking to a few other moms about college funds. Since I'm a personal finance blogger and all that jazz, they wanted to know how the hubs and I are saving for college for the twinsies.
Although we're pretty new at the whole parenting thing and investing in college accounts, I'm happy to share what we decided to do since we put a lot of thought into it.
As of right now, each twin has investments in a custodial account that they won't be able to touch until they are 18.
We plan on telling them about it and letting them be actively involved in choosing the companies and funds they want to invest in. It will be our way of teaching them about investing and also letting them choose how much money they want to go in.
Right now, any money from family is going straight in the account but once they are old enough to make their own decisions, we plan on encouraging them to invest some, spend some on something they want, and also give some to a cause they believe in. We don't have 529s right now, but that's not to say we won't in the future. Right now, having a 529 was not urgent, but once our income increases and we need more tax shelters, we will look into it further.
The thing is, there are many ways to become an educated citizen of the world. 529s are restricted to fund traditional educations like college, but we believe that things like traveling, starting businesses, and learning various art forms like dance or painting are also forms of education.
We'd like our children to be able to use their money to fund the type of education they're interested in, whether they want to go to a 4-year university, culinary school in Europe, or something else.
Just like there are many ways to become educated, there are many ways to fund educations. Here are some examples of more unusual ways to pay for them:
Invest in Real Estate
There are several people I know, Holly included, who plan on using their real estate investments to help pay for their children's education. One family I know purchased three houses and paid them off as their children grew up. Then, as each of their three children went off to college, they sold them one by one. This gave them $100,000-$200,000 for their children's education each. Holly, similarly, plans on paying off her investment properties and letting the rent help pay for her two daughters' college tuition. Hubs and I love these ideas and depending on how things go and where we live, we would be interested in doing something similar with real estate.
Investing in Both Traditional & Alternative Funds
Many people invest in 529s for their children's college education and that's a great route. They are designed to be safe and steady and make sense for many people. However, if you're an experienced investor, there are so many new types of funds to consider. Now, with the advent on online investing platforms, there are ways to invest starting with very little and very low fees. No longer are these types of  investments just for the ultra rich thanks to the Internet age.
Have Your Children Work for It
A study recently came out that the more parents pay for their children's education, the lower their grades are. Now, don't get too upset, because there were also parts of the study that said many of these parents simply wrote the checks and were not actively involved in sharing their expectations.
Still, something remains to be said for having your children work through college and contribute some part to their educations. I worked many different jobs throughout college, and even though my mom told me I didn't have to, I really persisted because I wanted to gain experience. I liked making my own money (still do!) and paying for my own little extras and trips gave me a great sense of ownership.
I want more than anything for my children to be extremely hard working and independent and I firmly believe they should take ownership in at least part of their educations. Parents really shouldn't have to feel responsible for all of it. At least, that's my two cents. We'll keep you updated on the process as the beans grow up and learn more about money management.
How are you saving for your children's college education? Would you ever consider an alternative investment for it?