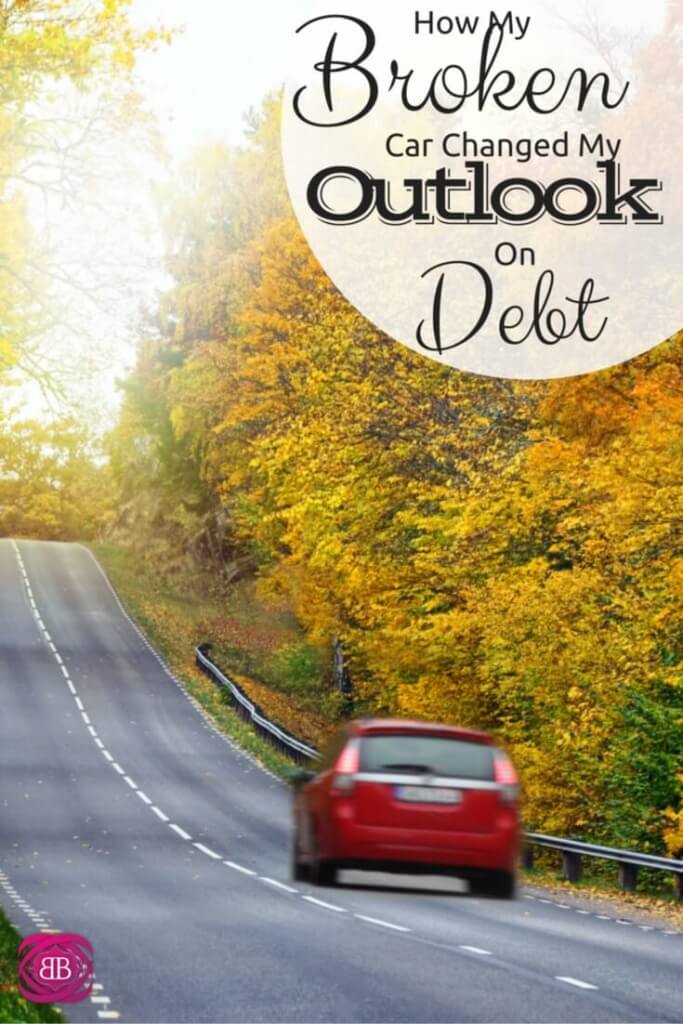 Today's post is written by my friend and fellow PF blogger, Aaron Crowe. Once you're finished reading it, please hop on over to his blog as I am posting over there today. 🙂 Enjoy!
I don't think anyone consciously chooses a life of debt. It just sort of happens. A new clothing purchase here. Dining out. Buying more car or home than you can afford. Before you know it, you're in debt.
After graduating from college, the financial freedom I thought I was getting from a new credit card quickly turned into a sinkhole. That's not devastating news. Many grads face the same problem with credit cards, using them for bar trips, vacations and other expenses they can't afford.
I eventually put those small but frequent purchases on hold and changed my lifestyle for about a year. But what really got me into debt, and made me reconsider ever carrying a credit card balance again, was when I used my credit card to pay for a major car repair.
That debt of about $2,000 was enough to make me change my spending and saving habits for life.
Here's What Happened:
I was two years out of college and my used Mazda GLC's brakes were squealing badly. I took it to Midas, where the mechanics found other problems that made the car too dangerous to drive if they weren't fixed.
When the repairs were made and the bill arrived, I had already figured I'd have to put it on my credit card. But when the clerk tried to run my credit card, it was denied because my low credit limit had already been reached.
I called the credit card company from the Midas shop, and Discover graciously and easily increased my credit limit. I made the payment and left with my car. I never knew how easy it would be to get more credit on the spot.
When the next credit card bill arrived, I quickly figured out that it would take me years of paying the principal and interest before the full amount was paid off — and that was if I didn't use the credit card for any other purchases. My debt would probably last longer than my car would.
That thought immediately scared me enough to reconsider how I used my credit card, and to save for an emergency fund for broken cars and other mishaps in the future that were bound to happen.
It was difficult on my low salary, but I stopped using the credit card and cut back on my social life spending for about a year so I could pay the credit card balance in full within a year.
The Solution: An Emergency Fund
I slowly started saving for an emergency fund. And when I say slowly, I mean as slow as you can save — $25 a month in a direct deposit from my checking account to a savings account. A year or so later, I increased that amount.
In the years since then, I've occasionally been in debt to a credit card company. By my definition, that means paying less than the full amount due in a month and paying interest. I don't like paying interest if I don't have to, so I pay the bills in full each month. If that can't be done, then I either cut back expenses or try to earn more money somehow.
Saving in an emergency fund helps, and I try to make the monthly transfers painful enough that I see it and feel it when I look at my checkbook.
Debt can have its purposes. For example, student loans and a home can be worthwhile to use debt to pay for — as long as the loans are being paid off at a reasonable rate.
But going into debt for emergencies or everyday purchases is something I'd rather avoid. Emergencies are a part of life — from a car crash to a hospital stay or leaking roof — and not having at least a majority of the cost set aside can leave you paying interest for a basic need.
If I couldn't afford to keep a car running, then maybe I shouldn't have a car, I realized. So if I wanted to keep my car, I had better start saving for the expenses that go with it. It's a life lesson I still try to follow today, and it changed my outlook on debt.
What changed your outlook on debt?
Aaron Crowe is a freelance journalist who specializes in personal finance writing for a variety of websites, including his own at Add-Vodka.com, CashSmarter.com and BeforeYouInvest.com. Follow him on Twitter at @AaronCrowe.
Also don't forget to hop on over to Add-Vodka to see my financial tips for new moms. Thanks Aaron for stopping by!