Do you hate money and budgeting?  Many people do.  Everyone says you have to track your spending in order to achieve financial success… but what a pain.  Even though I'm a CFP, I struggled with budgeting for years.  Don't misunderstand me; I actually loved the idea of knowing how we spent our money but I invested way too much time making sure that my data was absolutely spot on.  And deep down I knew that I didn't really need to know how every penny was spent anyway.
What was far more important to me was to determine if our spending was in line with our income and if our family was on track to hit our financial goals or not.  The monthly budget drudgery was OK – but it wasn't giving me the information I needed as quickly as I wanted it.   I figured there had to be a better, easier way.
In order to find my solution, I worked backwards.  Again, my main goal was to determine if we were on track financially.  In order to know that, I needed to know how much we could save and invest every month.  And in order to know that, I realized all I needed was to figure how much we spent, on average, each month.  That's when the light bulb went on and I discovered the "5 Minute A Month Budgeting Nirvana Plan".
What Is The "5 Minute A Month Budgeting Nirvana Plan"?
My "5 Minute Budgeting Plan" is built around the monthly bank statement. You see, the bank tells you your total withdrawals each month.  As long as you pay all your bills from one checking account (and it's really a smart idea to have as few bank accounts as possible) that's how much money you spent that month.  Sweet.
Think about it.  You pay all your bills from your checking account – including your mortgage and credit card bills.  Right?  So it's very simple.  If you want to know what you spend on average, just tally up your trailing 12 months total withdrawals and divide by 12 and you'll have your answer.
Why Tally 12 Months?
I use 12 months to calculate my average spending because I know that no two months are alike.  Some months we spend more than other months.  Some bills like insurance, repairs and vacations are irregular and some are very hard to predict.  But over a year's time, those vagaries seem to even out.
What About Cash?
If you are paid in cash and deposit that cash money into your bank, you don't have to do anything differently because it's included in your "total withdrawals" on the statement.  If you withdraw cash from the bank or ATM and spend it, you also don't have to do anything special.  That's because the cash is included when the bank calculates your total withdrawals for the month as well.
The only time you have to treat cash differently is if you earn cash and spend it without running it through your bank account.  If that's the case, you have to add it to your spending.
What About Unusual Expenses?
If you do a major remodel or buy a car, you might want to pull that out of your monthly expenses because it will distort your average – but be careful.  There are expenses like insurance payments and home or car repairs that are infrequent, but they are part of your cost of living as I suggested above.  Generally speaking the fewer adjustments you make to your monthly number, the better.
What About Paying Down Debt or Investing Money?
If you write a check to pay down a debt (above and beyond your usual monthly payment) or to make an investment, pull those figures OUT of your monthly spending average.  That's not money you really spent on living expenses.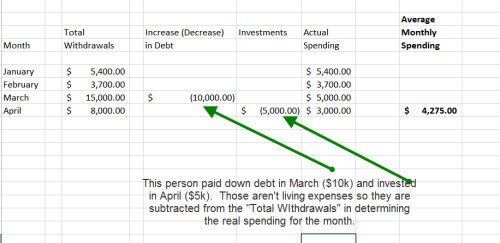 On the other hand, if your credit balance goes UP because you didn't pay your bill in full, you spent more than your statement will show.  In that case, you need to add that increase in debt to your spending for the month.  (And if you are adding debt to your credit card balance frequently – use that as a loud warning that things have got to change fast.  That's a dangerous direction to head in.)
What About Multiple Checking Accounts?
If you have multiple checking accounts, this gets tricky.  That's because people who have many checking accounts typically move money from one to the other.  This is one reason why I strongly suggest you only have one checking account if you can possibly do so.  If you absolutely need more than one, keep them separate and try not to move money between accounts.  If you can do that, you can run this exercise on all your accounts and just add up the total withdrawals.
This process will take you all of 5 minutes a month to complete –even if you have the complications I referenced above.  Just take this data and create an excel spreadsheet and keep a running average of what you spend per month.  To start with, pull out your last 12 monthly checking account statements and create your spreadsheet.
If you see that your average spending is too high and might prevent you from reaching your goals, it's time to either cut back or earn more. If you decide to cut your spending, you might decide to go back to tracking every expense.  I don't have a huge problem with that.   But you may not need to do that.   I don't.
We track our average spending as I said.  My wife and I look at the number each month and if it's out of line we usually know why.   If not, we look at the checkbook and credit card bill and figure it out.  If we have to change our spending, that's all the information we need in order to do so.
We've been using this "5 Minutes A Month Budgeting Nirvana Plan" for several years and it's fantastic.  It saves lots of time and it actually gets done.  Many people say they want to track everything and end up doing nothing.  This is a great compromise and as I said, far more useful.
This gives us the information we need in order to keep on track financially.
Do you think this exercise would be helpful to you? Why or why not?
Neal Frankle is a Certified Financial Planner in Los Angeles Planner.  He is also the Chief Editor of WealthPilgrim.com.