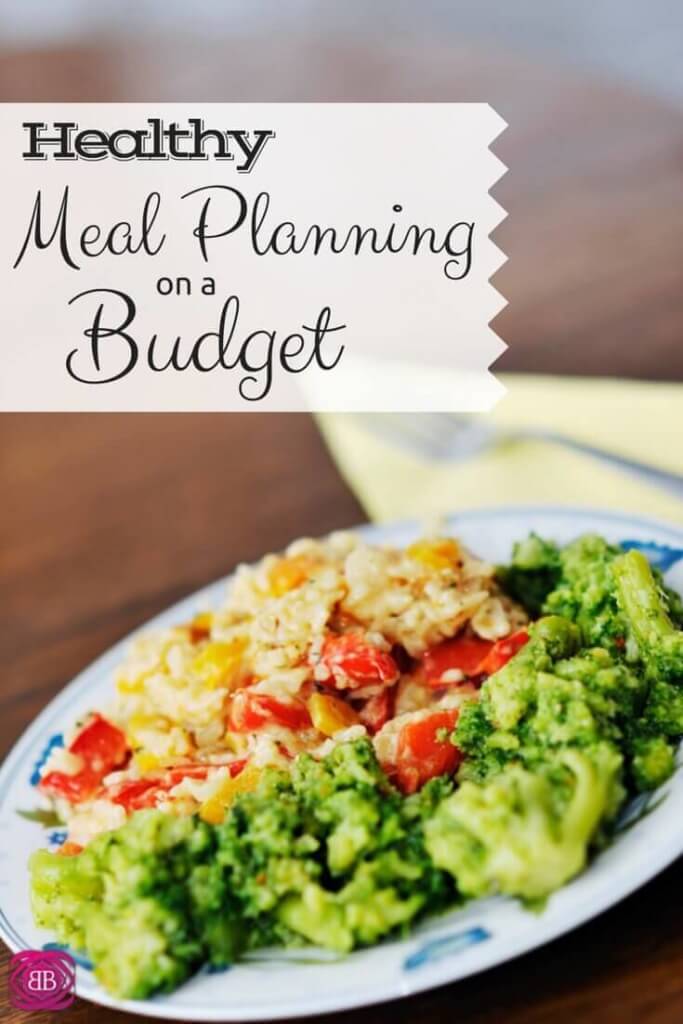 This post is by my staff writer, Kayla, who is an expert on healthy meal planning on a budget.
Trying to be frugal and also healthy when it comes to your family's meals can seem difficult. After all, some of the cheapest foods at the grocery store are the junk food right?
Well that's what the government claims is going on the southern part of the United States, where poverty and obesity levels are the highest. Due to the high poverty rates and the lack of access to fresh healthy foods, people in this part of the country are relying on prepared foods and highly refined carbohydrates for the majority of their meal staples. Unfortunately, healthy meal planning on a budget is a foreign concept to some of these people. But I'd argue that buying raw foodstuffs rather than processed, prepared, and packaged foods is both the best way to save money and eat as healthy as possible.
Healthy meal planning on a budget takes some practice and skill, especially when you are first getting started, but afterwards, it should be pretty easy to maintain as a lifetime skill. Here are some tips to get you started:
Healthy Meal Planning on a Budget
Obviously before you can start meal planning, you need to first have a realistic budget in place for all of your household spending. If you don't already have a budget in place, it will be difficult for you to know how much you can and should be spending on groceries and food for your family. Budgeting software, like You Need a Budget, is a great place to start if you've never lived on a budget before. It can help you track your spending, set realistic spending limits for future months, set goals, and more. You can also use a pen and paper too if you don't want to use software. 😉
Once you've got a grocery goal set for the month, you need to break it down by the week so you know how much you can spend once you start working on your healthy meal plan.
Set Up a Meal Plan
If you've never worked on or lived off of a meal plan before, you might find it difficult to stick to at first. In my opinion, the key to healthy meal planning on a budget is to have the right balance of variety and similarity. There needs to be enough variety that you aren't bored with your meals and end up ditching the plan to go out to eat, but there needs to be enough similarity that you don't end up wasting a lot of perishable food goods due to not using them up soon enough.
So, here are several different strategies to make healthy meal planning on a budget work:
Cook Once for Multiple Meals
One way to operate a healthy meal plan to save time and money is to try a plan that institutes cooking once and getting several meals out of it. This will minimize your time spent in the kitchen and will also help you use up all of your ingredients so you can cut down on food waste.
In this type of plan, you start with only a couple of protein sources for each week and plan your meals around them. For instance, your meal plan may include eating roasted chicken with vegetables on Monday. Then on Tuesday you take the leftover chicken from Monday's whole chicken carcass and shred it up to make another chicken meal, like chicken tacos or chicken stir fry. If you have leftover chicken and vegetables, perhaps you could make a batch of chicken and vegetable soup.
If you get bored with leftovers and want an extra treat during the week, you can try signing up for a service like Try The World, where the company will mail you sweets and other unique products every two months from different countries. This would spice up your meal plan while still keeping you under budget since the cost is spread out.
Use It Up
The use it up meal plan might be a good one to start off with if you have a lot of excess goods stocked up in your pantry. This plan takes into account all the items you have on hand to help you create meals without having to buy very many groceries. After you've eaten away at your pantry overstock, then you can always change to a different type of meal plan. Another great time to implement the use it up meal plan is if you run short on your budget at the end of the month. Using only items you have on hand instead of shopping for new ingredients might help you to stay on track with your budget when you might otherwise gone over.
Combine Coupons and Sales
A third great way to implement healthy meal planning on a budget is to take into account coupons and store sales as you plan your meals for the week. With this method, you will need to make your meal plan weekly rather than monthly as most grocery stores don't publish what will be on sale throughout the month. Instead they publish a weekly ad stating which items are on sale.
Flipping through sale ads and finding coupons to go along with it can be time consuming, so if time is a limiting factor in your life, this may not be the best meal plan for you.
Stick to It
Once you've selected a meal plan, no matter if it's one of the three meal planning options I presented, a hybrid plan, or another method altogether, you need to stick to your budget for a couple of months before you evaluate whether or not healthy meal planning on a budget is the right choice for you. Like any budget, you need to give it time to work and you need to give yourself time to adjust to it. No meal plan or budget will work properly if you don't give them a chance to.
In addition, it's smart to build in some cheat meals and a meal out at a restaurant occasionally. We're all human and we all get busy and may not have time to make the meal we have planned for that particular night. Having a meal plan that is somewhat flexible to fit in with your lifestyle is important if you plan to stick to healthy meal planning on a budget for a long period of time. For instance, I build in some popcorn and milkshake nights for evenings when I feel especially tired, don't want to cook, or when I want to veg out in front of the TV during dinner. It's okay to have these things built into your budget and your meal plan to help ensure success over the long term.
Ultimately, healthy meal planning on a budget isn't rocket science. It does take some time to figure out at first, especially if you've never lived on a budget or a meal plan before. But once you get used to it, it should be easy and it's a great way to save money while eating healthily.
Do you practice healthy meal planning on a budget? What works best for your family?