Hey blog peeps! What's up in yo hood? How's yo day? Why am I so gangsta right now?
Let's get to the updates…
Blog Update
I can't believe I forgot to tell y'all something kind of awesome!!
Last month I made more income from my side hustles than I did from my day job! First time ever! EVER! 🙂
It might not be a regular thing since I had two big contracts come through in June that were upfront payments for 3 months of work. However, I'm still happy about it. It was really fun to add up the numbers and see that the blog + writing income jumped past my monthly salary by $130.00.
You can kind of see the progression of my side hustle income below, which helps to show that working on a website and writing for other websites is not a get rich quick scheme. As any other blogger will tell you, it takes a significant amount of time and energy. The jump in income in June was very representative of the hours I put in. Plus, I worked A LOT at my day job during the month of June, so last month was a little cray cray — but the reward was oh so sweet!
I'm trying this new thing where I get up at 6:00 A.M. to write. So far, I'm able to squeak out one post in the morning. If I can make that two, I think I'll do a lot better with balancing both full time jobs. Now if only I can organize my commenting and get more in, that would be awesome. Does anyone have any advice on how to streamline commenting? Right now, I have all blogs I subscribe to coming to my e-mail, and I try to comment as they come in. I'm not always successful with the commenting, but I do read them all. Do you have tips or tricks to share so that I can be more consistent?
Life Update
I'm trying to do more of my writing at the pool because sometimes I don't go out and enjoy Grenada. 😉 I snapped this picture on Instagram, and you can see the reflection of my iPad in my sunglasses. It's a tough life, but someone has to do it.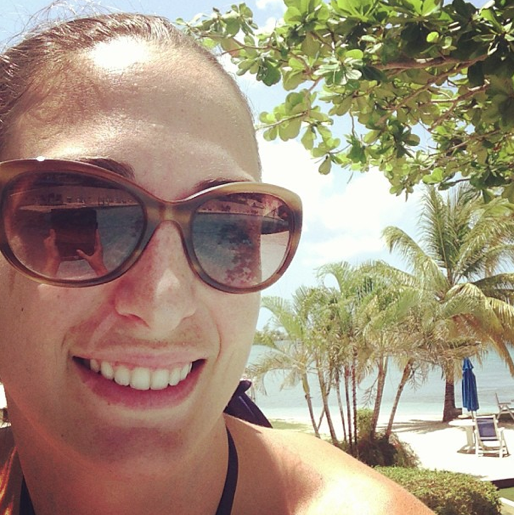 Posts That I Wrote For Others
You can totally hire me as a staff writer. These awesome peeps did:
How To Know You're In The Right Career – GoGirl Finance
5 Clever Ways to Save On Summer Vacation – MoneyLife&More
The Spender and the Saver – YoungAdultMoney
Posts I Loved By Others
DC reviewed Wal-Mart's cell phone plan. So helpful!
Michelle kicked her student loans in the face. Rock on!
Wendy & Jeremy AKA the coolest blog couple ever put in an offer on another condo. Should we give them a celebrity couple name, like Weremy or Jendy? Might have to work on that one… (Holly don't be jealous of the title since Greg had to quit the blog :D)
Nick talks about the need for an emergency fund.
Tonya shared her budget, and she inspired me to share mine. Come back Monday to see all the details!
KK asked about who manages the money in your family. In mine, that would be me. 🙂
This post from Joe about if Martha Stewart were to "Martha Stewart" her finances made me laugh out loud.
Mentions
A big thanks to Holly, Travis, Michelle, & Alexa for mentioning me this past week. If you mentioned me, and I completely missed it, please let me know!
Get Addicted to Social Media With Me
Have a great weekend, everyone, and if you haven't entered yet, don't forget to try to win $480 right here. Only 9 days left until the giveaway closes. Peace out!