Valentine's Day is coming up very soon, and although hubs and I don't really do huge, romantic gestures on Valentine's Day, we did actually get engaged on Valentine's Day in 2009 (cue the awwww) Don't we look baby-faced? Correct that. I look exactly the same, and Hubs looks baby-faced.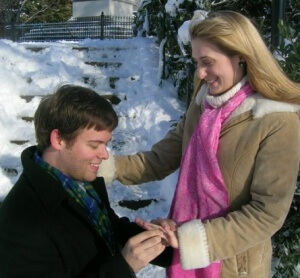 Now I know many people who read personal finance blogs are totally against spending a lot of money on Valentine's Day or on engagements in general, but who says you have to? My ring belonged to my great grandmother and although hubs planned a really sweet day, it wasn't like he had a helicopter pick us up or anything (a la The Bachelor.)
I certainly didn't expect hubs to buy me a ring from Tiffanys or one that he couldn't afford. I was perfectly fine with what he had to offer. I just wanted to marry him! So, if you're at that point where you want to get engaged, don't feel all the pressure of buying a 2 carat diamond and planning exactly where you need to be standing to get the perfect instagram shot. Enjoy the moment, and for goodness sake search for sales and good deals on the ring!
I want to thank JamesAllen.com for sending us some eye candy to look at for Valentine's Day. I mean, who doesn't enjoy looking at a little bling? Online retailers are often less expensive than traditional jewelers, and as long as they are reputable, you can certainly find a beautiful ring at a discount. Many retailers will be offering sales around this time of year (JamesAllen, for example, is having a 15% off Valentine's Day sale.)
So, ladies, now's the time to leave your boyfriend some subtle, or not so subtle, hints about which engagement rings are your favorites. I won't mind if you link to this post as a wink wink, nudge nudge…
Here are some I thought were pretty:
This ring has a pretty, simple style that fits well with today's trends for jewelry. I like how it has several smaller diamonds set within the band of the ring.
If you're into round diamonds instead of a square/princess cut, this halo style diamond ring is stunning. I love the unique band as well!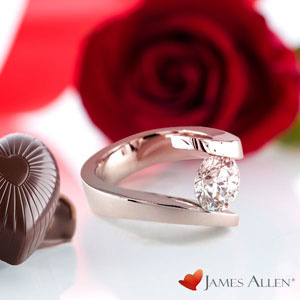 This is called a tension set engagement ring. Isn't it unique?
Mixing metals has become a huge trend lately and is a great way to make sure that no matter if you receive yellow or white gold jewelry in the future, it will also go great with your engagement ring.
This last ring has kind of an old-school feel, which I obviously like since I wear an antique ring. It's a good way to get that vintage look while still having a brand new ring.
So, if you're a couch potato and know you're supposed to be proposing sometime soon, go on and do a little research. I'm sure you can find something in your price range that your other half will love.
If you do choose to buy online, please do your research, purchase from a website with great reviews and a money back guarantee.
When did you get engaged? Or, when were you hoping to? (Come on, we won't tell.)