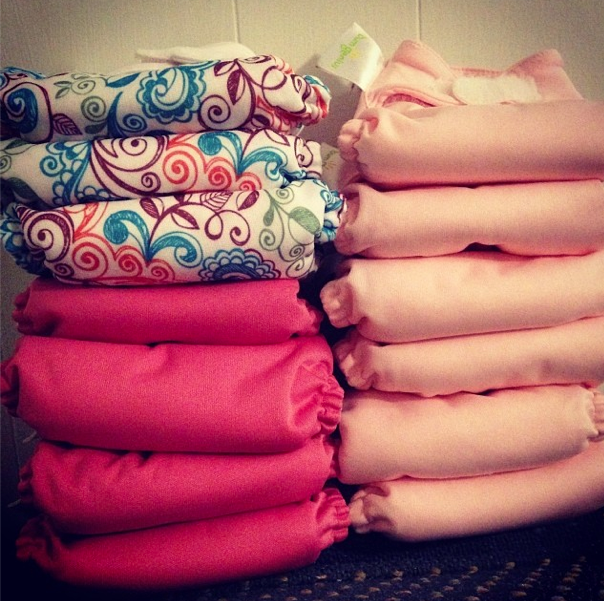 I'm planning on spending $0 on diapers for my twins during their first three months of life.
No, I haven't gone crazy despite the rumors you may have heard. 😉
I'm just doing some smart shopping, and although I will have to make an upfront investment, I plan on getting it all back.
So, I won't get free diapers immediately, but once I work my magic, the total cost should be $0 at the end.
Let me explain:
The hubs and I have decided to use cloth diapers for the twins for a variety of reasons.
Reason #1 first and foremost is that twins are outrageously expensive.
I'm not sure if any of you have experience with twins, but in addition to the double cribs and double clothes, I have double doctors. Every 2-3 weeks, I go see an additional high risk physician who does a really detailed ultrasound. It's kind of like the anatomy scan most people get at 20 weeks to check everything, except the high risk doctor does an anatomy scan every single time I see him.
Without insurance, each one of these high risk ultrasounds would have run us $1,400.00, but it's about $300 after insurance. Still, we will probably have about 8 of them before it's all said and done, so you can imagine the math is not pretty (although we're very, very grateful for the exceptional care and attention the twins have been given.)
So, because of all of those high costs, I've had to find other ways to pay for the twins' gear once they get here, and one of the ways I've decided to do that is with cloth diapering.
Not too many of my real life friends use cloth diapers, but lots of moms in the online world do. Although it's not for everyone, I think it will work great for us.
The Numbers
Cloth diapers for newborns run about $13 each. This is the size you use when they are first born until they are about 3 months old. Given that twins tend to be smaller than singletons, it's possible they will be able to wear them even longer.
I've scoured the Internet and received a few as gifts and have built up a stash of 30 newborn diapers or 15 for each kiddo.
Because I received 5 of them as a baby shower gift and purchased the other 25 gently used myself, I only paid $7.33 per diaper. Right now, on eBay, sets of these diapers are going for $8/diaper gently used.
So, if you haven't guessed already, I plan on using them and then selling them right back online for a total cost of $0. Hubs is even challenging me to try to make a profit.
Now, it might seem bizarre to buy gently used diapers or even kind of gross to some of you, and that's cool. To each their own, right?
However, I promise I wouldn't put anything questionable on my kiddos, and I was really pleasantly surprised when I received the gently used diapers that I bought off of eBay in the mail. They looked brand new. There were no stains, no tears, and no marks of any kind. These people could have put the packaging back on and called them new, and I would have had no clue. I made sure to buy them from people who quit cloth diapering after just a few weeks and who guaranteed there were no stains, just so I wouldn't have to mess with all that.
I'm just going to prep them and wash them, and the twins' bums won't know any differently.
Again, it's not for everyone, but the truth is, you can't sell back disposable diapers when you use them. That would be pretty nasty. But, you can definitely sell back gently used cloth diapers online like the adorable ones I got in the picture above.
I will keep y'all updated on how it all goes, but I'm pretty excited about the financial savings so far. You know I'll keep it real and tell you if it was all worth it in the end.
Have any of you ever considered using cloth diapers? Did anyone else score free diapers for their kiddos?