Well, I just got back from FinCon 2019, and I have to tell you: It was a whirlwind! I am slowly getting back into work mode and mom mode, but I wanted to write down everything so I didn't forget!
Wednesday at FinCon19
This year, the timing of FinCon was particularly tricky. I dropped my twins off for their first day of kindergarten on Wednesday morning and then headed to the airport. I was looking forward to FinCon as I do every year, but I was almost in tears on the plane. It killed me to leave my twins on such an important day. I was glad I was able to meet their teachers, see their classrooms, and go to their orientation.
But, if I'm being honest, I really wanted to be there to help them with the transition of the first few days! I knew I had to make FinCon worthwhile and valuable, though, because I was apart from them – and I think I succeeded there!
The first night, I went to a dinner hosted by a venture capital firm. I met some really amazing new people and got to spend time with several friends like Bobbi and Cameron. I've been interested in venture capital lately because I love being surrounded by other entrepreneurs and helping them get off the ground. The creative process that businesses go through in their early stages is one of my favorite parts. I've been fascinated by the process, and I got a lot of my questions answered about how to get into that type of business one day.
I also spent time with Tanja Hester before that. She and I were selected as the Big Ideas speakers this year. And, fun fact, we have known each other for almost 10 years. We both had home/DIY focused blogs in the beginning and both transitioned to personal finance. So, we go way, way back. It was fun to share this opportunity with her.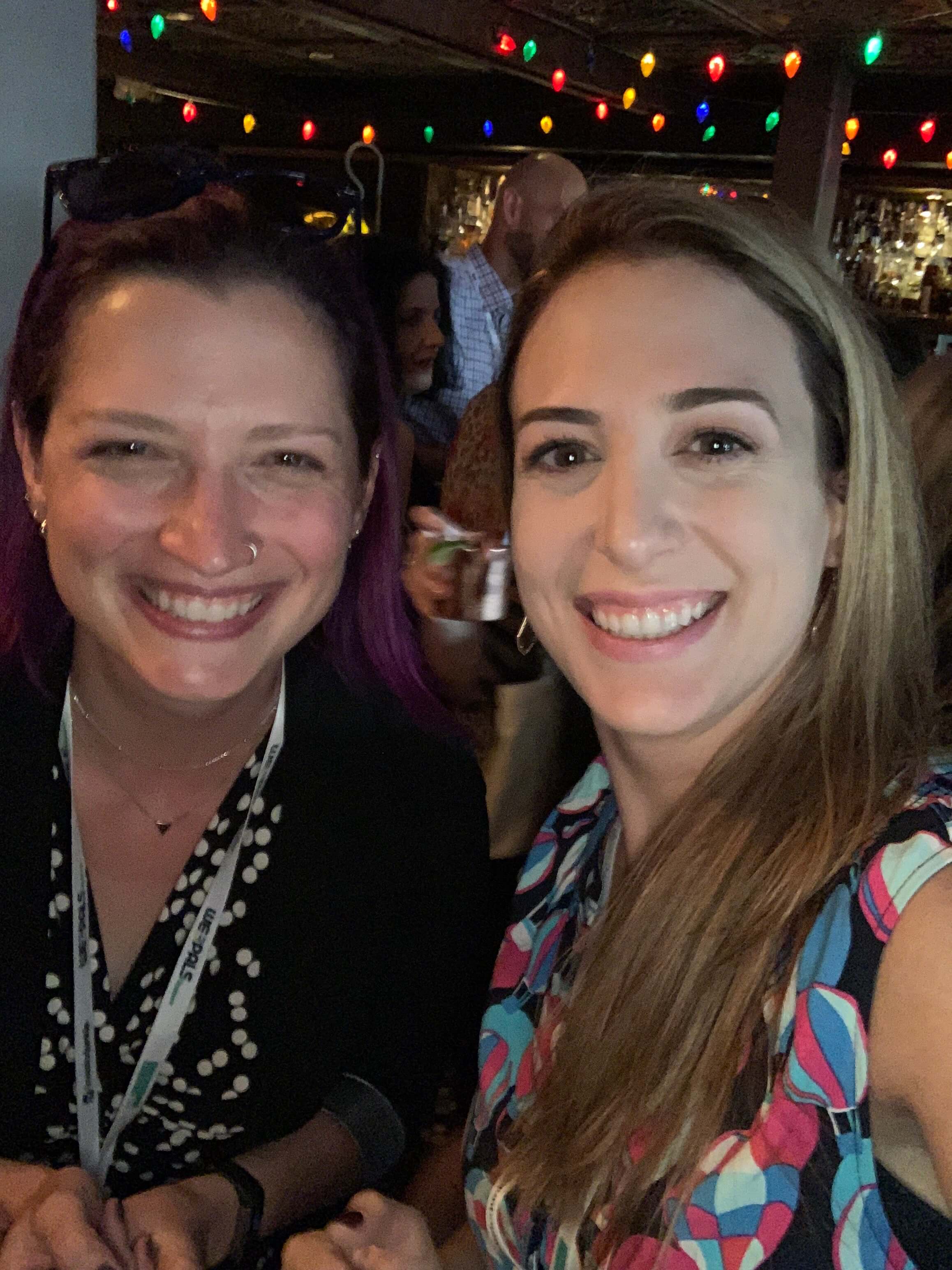 Thursday at FinCon19
On Thursday, I went to hear Tanja and Ramit Sethi speak for the opening keynote. And, they did not disappoint. Tanja was brilliant and thought provoking. Ramit was the same. Ramit encouraged the audience to think about what they love to spend money on and then think about what we'd do if we had 4x the money to spend on it. He encouraged us not to think linearly.
So, for example, if you like eating out, don't think about eating out 4x more if you had 4x the money. Instead, think of elevating the experience and making your life richer, like getting a private chef or traveling just to try certain, award winning restaurants. I loved his talk because it challenged me.
While I was at their talk, I was able to see the room that I would be speaking in on Saturday. I'm not going to lie, seeing how big the room was and what 2,000 people all together actually looked like made me nervous. And, I even sent this text to my husband and he was exactly 0 help, lol.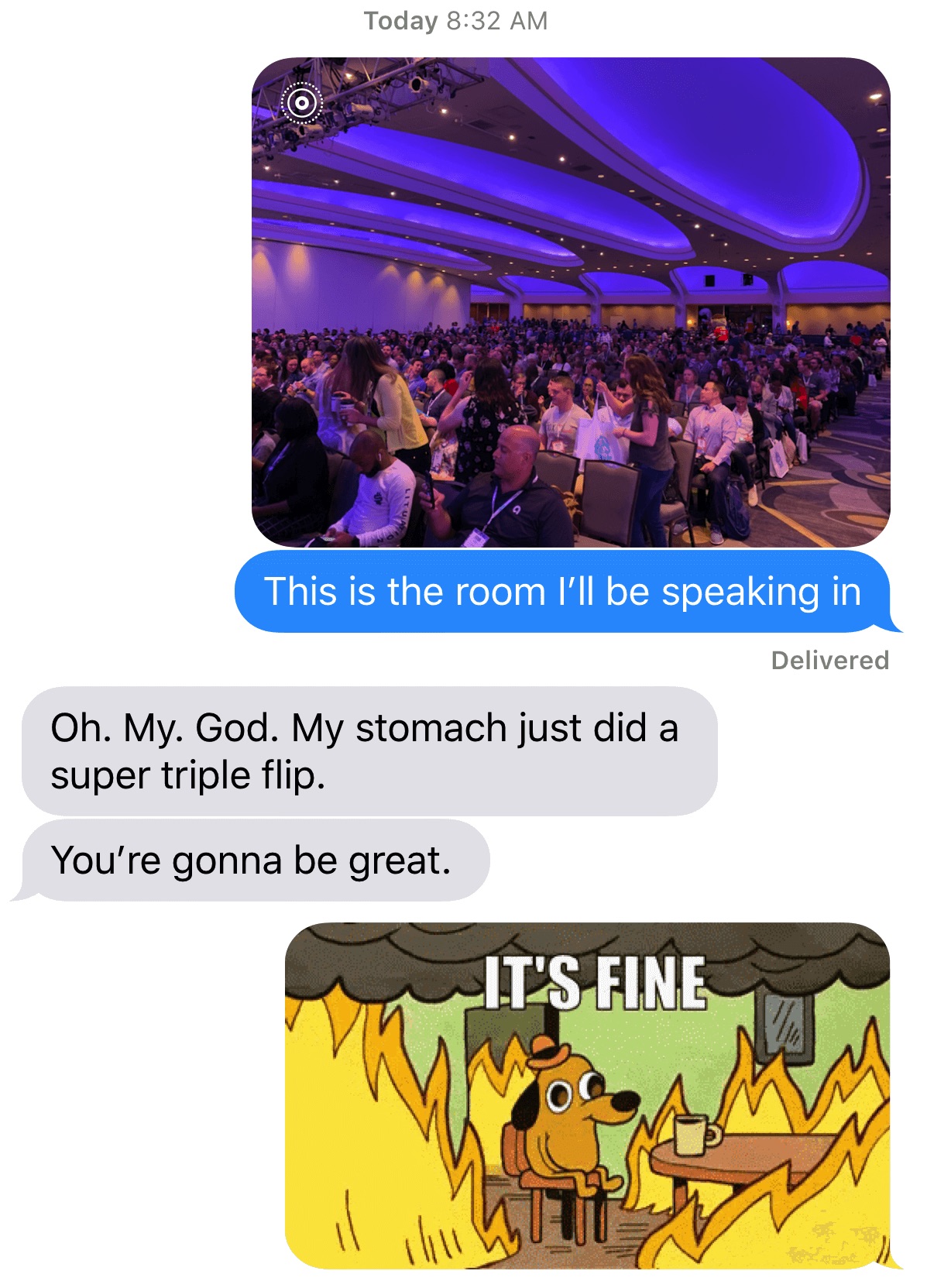 I was also in charge of taking over the FinCon instagram account all day on Thursday. So, I made sure to feature as many other FinConners as I could find. I talked to people who had been to FinCon several times and people who were experiencing it for the first time. There might have been some dance moves, and I might have encouraged a whole lot of people to do the wave. It was super fun, and I appreciated the opportunity to be in charge of the account for the day!
I did ProNetworking and had what felt like fifty million meetings but was really only about 9 on Thursday. This is where bloggers/influencers meet with brands to talk about working together. It made me glad I never had to speed date, but it was also a useful way to talk to some hard-to-reach brands. Highly recommend if you're interested in blogging as a full time job.
My business partner, Andrew, arrived Thursday afternoon so I spent time talking to him and then had to head to the annual Fidelity dinner for women. This is where we talk about issues unique to women in personal finance. It was a great discussion and so valuable.
I spent some time that night finally meeting Chris Peach's wonderful wife, Andrea, as well as talking to several other bloggers while bar hopping. I left early though solely to preserve my voice so I could speak on Saturday. Every year I lose my voice at FinCon because we go out and I talk too loud, so I made the choice this year to rest, eat healthy, and not stay out too late so I could be successful during my Big Idea Talk.
Friday at FinCon19
On Friday, I spent most of the day in meetings and also with Andrew so we could map out a plan for some joint projects we have. We both marveled at how easy it is to get work done in person rather than over Skype. This is the beauty of FinCon, getting to see people and talk to them face to face without the wall of the Internet in the way.
I also got to meet two bloggers  in person who went to my high school, LSMSA! They are MinimalistMD and Young and the Invested. It was a unique, shared experience for us to be there together.
Friday night, the DollarSprout team treated all of their freelancers and full time staff to dinner. It was very generous of them and great to get to know them better. They are wonderful to work with and write for, and I was glad to speak to them in person.
Super late Friday night, like 10:00 pm, my husband arrived in D.C. on a late night flight. I was so, so excited to see him. He's never been to FinCon, even though I've been 6 times. He knew all of my blogging friends over the years only by their blog names, and so over a two day period, he was able to put faces to names. It was really fun.
He is a physician and was finally able to meet some of the physician financial bloggers like Physician on Fire and The Physician Philosopher, which was a highlight for him. He kept telling me how inspiring my friends were. He met people I've known for years like Grayson, Holly & Greg, Jake, Deacon, Eric, Monica, Lance, Cameron, Lauren, Tom & Ariana, Whitney, Allison, Chonce, Melanie, and more that I can't even think of right now. Oh and we both got to meet Erica, Michelle (Jake's wife), Kumiko, as well as my friend Amanda who I've been talking to regularly for the past year but have never met in person. I also finally got to meet Francisco, Camilo's identical twin, from The Finance Twins.
Saturday at FinCon19
Saturday was a big day for me. Getting asked to do a Big Idea talk meant the world to me. I practiced for weeks and weeks ahead of time. I recorded myself speaking over and over again, and I listened to my own talk on my phone, in the car, while washing dishes, to an annoying degree, until it was sealed in my memory. I also practiced in the shoes I wore over and over again, walking back and forth on the carpet in my room. I figured if I could walk on carpet in stilettos then I could handle the stage without falling on my face.
I treated myself to a blow out that morning, one of only two I've ever paid for myself. I drank a mimosa while getting the blowout, and it helped me relax. I also had lunch with my husband, who was so nervous for me all day. He kept asking me if there would be a podium (no) and if I had flashcards (also no.) 😉
Eerily, I did not feel nervous at all while getting my mic on and doing a sound check, even as all the seats started to fill up and suddenly the room felt very big. Several friends came up to me and wished me luck before it started, which was so nice to get their positive energy. I put headphones in while people sat down and listened to my favorite song, High Hopes, to pep me up for the talk. Also, I took a bathroom selfie beforehand, as one does.
Finally, right as I was about to go on stage, the nerves hit and my legs started to shake, but I didn't have much time to worry about it because Bethany introduced me and about 30 seconds later, I had to walk out. It was a powerful moment for me – one that showed me I can do hard things.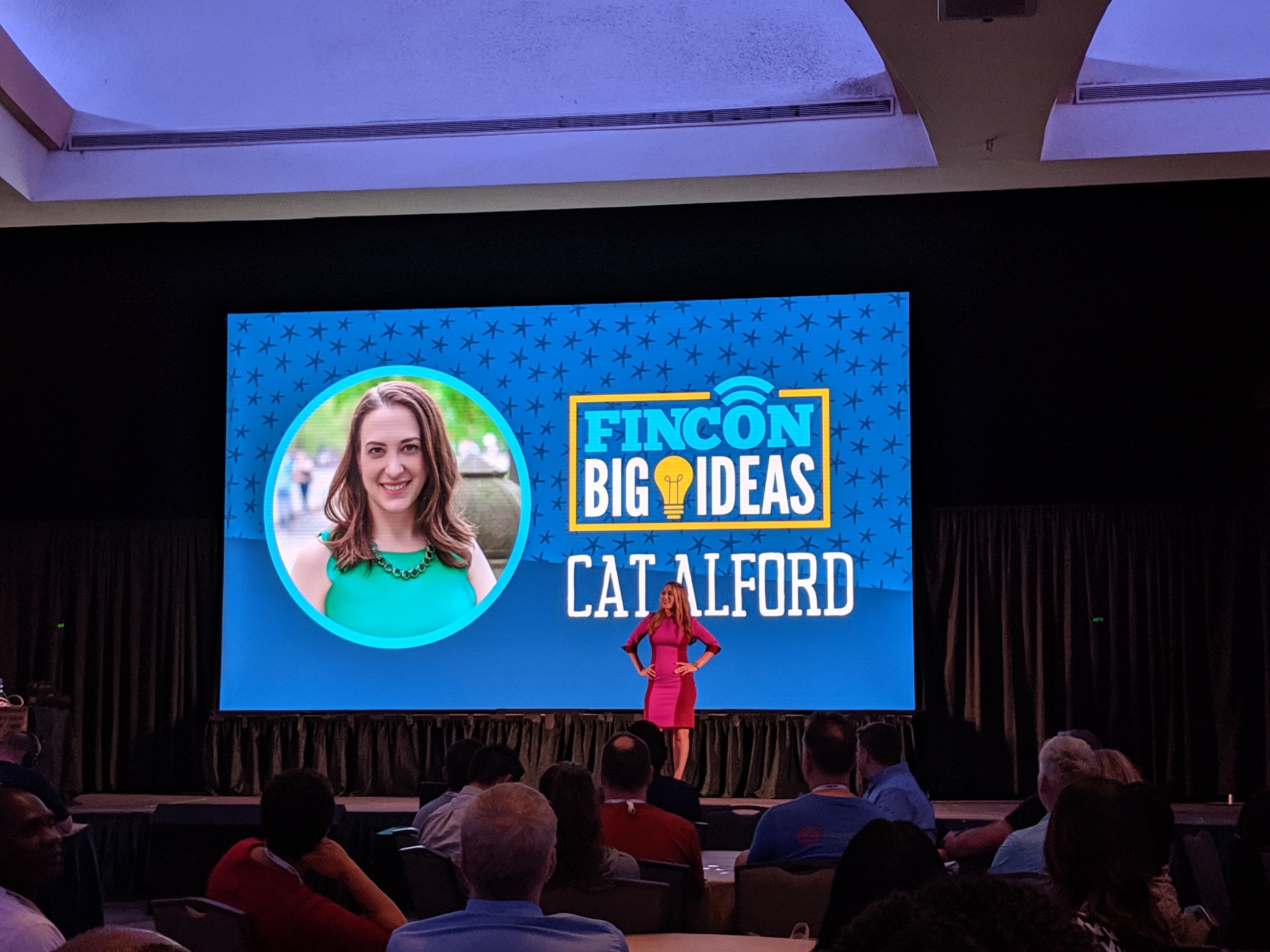 I was grateful for all the practice and preparation I did because the speech just came out of me on auto pilot just as I'd practiced about 100 times before. The energy from the crowd upped my own energy, and before I knew it, I was finished to a loud applause.
When I sat down, my husband actually had tears in his eyes, which I have to tell, you I've only seen about 5x in 15 years. He's a pretty tough guy and is not known to show a lot of emotion (a great quality in a surgeon, btw!) So, I couldn't believe it – truly. I asked what the emotion was behind the tears, and he said, "I'm just so proud of you." I can't even tell you what a rare, perfect moment that was for me. It was worth pushing through the fear and getting up and talking in front of 2,000 people just for that. He is my #1 and has helped support me so much on my entrepreneurial journey.
Also, I want you to know it meant so much to me that so many people came up to me afterwards saying the talk motivated them, caused them to take action, and that it was great. I poured a lot of time, energy, and attention into it, and I was so glad I was able to help people. That is my goal every day in this business – help as many people as possible. To everyone who shared clips on instagram and sent me messages – thank you so much. Your support means a lot.
Perhaps the best compliment I got was from PT, who created the conference. He told me I did a great job but more importantly that I deserved to be up there. I think we can all relate to what imposter syndrome feels like. There were many times I wondered why I was the one giving that talk, when I had much more successful friends at the conference. But, having him say that I deserved it and that I did well erased those thoughts. So, thank you PT!
The final keynote soon gave way to the afterparty, which was Red, White, and Blue themed because the conference was in DC! I changed into a fun dress and danced the night away. We hung out with friends, including Andy, who is our real life friend at home! It was the perfect ending to FinCon, and I just loved having my husband there to enjoy all the fun with me.
The next morning, we flew home and I got to get a big hug from my twins. I already bought my ticket to the next FinCon, and I'm counting down the days!
Did you attend FinCon19? What was your favorite part?
Also, here are some other FinCon19 Recaps:
Tred Lightly Retire Early Recap