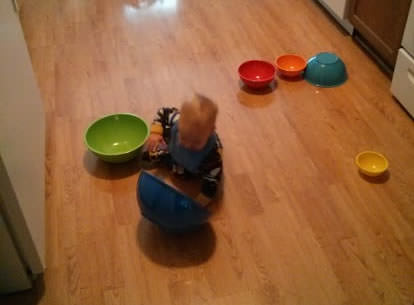 Happy Monday, everyone! I'm so excited that my friend Grayson from DebtRoundup and SproutWealth is stopping in today to share all his knowledge on being a financially savvy baby daddy.
I know you'll enjoy this one! Thanks, Grayson!
It has been a little over a year since I became a baby daddy. My son was our first and he really changed my world.  I would go from sleeping in and relaxing in my spare time to waking up early and changing diapers in my spare time.
Though it doesn't sound that exciting, I am really happy where I am at right now.  I wouldn't change anything, except for how much time I get to spend with my son.  With a year under my belt, I figured I would share a little about how my original perception changed about being a father and our financial situation.
In the Beginning
I am a big planner, so when my wife told me she was pregnant, my mind started to get to work.  I was near the end of my debt repayment, so I first had to make sure that I would be able to pay off my credit cards and have some time to save.  Unfortunately, I did the math and only had a 4 month gap between paying off the card and my son arriving.  Not much, but I would have to accept it.
One of the biggest shocks came when we started to shop for baby products.  Are you freaking kidding me? Why does all of the stuff cost so much?  Why do babies need so much stuff in order to function?  After my wife went on her first spending spree, I realized that whatever book she was reading needed to be destroyed.  It was just telling her to spend, spend, and spend a little more. Not cool and certainly not in my budget.
It started to worry me about how we were going to deal with all of the expenses.  One word of advice for new parents, you don't need most of the crap that books tell you to get.  A newborn doesn't do much, but sleep, eat, poop, and sleep more.
A New Baby Daddy
My son was born two days after Christmas.  It was the best belated Christmas present anyone could ask for. The days at the hospital was a whirlwind to say the least.  It was so hard to concentrate on anything because I was so sleep deprived. I was learning everything on the fly.  It was probably good that I couldn't think about much, because once we got home, that hospital bill was already getting pushed through the system.
If you are planning on having a baby, I hope you have good insurance.  That whole process, even if it goes smoothly, is extremely expensive.  We were lucky that my employer provided us with great insurance, but we still had to drop a few grand on the whole thing.  That was the first hint on how much it was going to cost to be a parent.
I still can't understand why we go through so many diapers, wipes, food, formula, and clothes.  You go out and buy a cool set of clothes and then after a month, your child has outgrown them.  We learned after the first month or two that we needed to shop consignment.  We are lucky that there are quite a few around our area. My wife has become a baby consignment ninja.  She pops in and jumps out with goodies in hand and only spend a few bucks.  Nice!
A Year In
The first year of my son's life went by so quickly.  There is a reason why people tell you to cherish the early years.  I get it now.  You can't get those days back.  My wife and I had to decide to put my son into daycare due to where we were financially.  The daycare has been great, but boy is it expensive.  That is one place where you don't want to skimp on services.  A good daycare in our area costs anywhere from $1,000 to $1,500 per month.  With this, our finances are a little harder to control.  I have already told my wife that if we have another child, then she could leave her job, which is something she would like to do.
Since I know that my wife would love to stay at home, I have been on a quest to make more money.  There is only so much you can save, so I needed to figure out how to bring in more income.  I do a lot of freelancing work and keep myself busy.  I have a desire to reach the goal to allow my wife to reach her goal.  That is motivation enough for me.  Even though I work on the side, I still make sure to spend time with my family.  I came up with a method early on that I wouldn't connect or get on my computer unless my son was sleeping. I have been using this for months and will continue it.
From the moment my wife got pregnant to a few months after my son's first birthday, I have learned so much.  I learned that no one is truly financially ready to be a parent, but that shouldn't stop you from making sure your finances are in the best place they can be.  I also learned that there are other things more important than money.  Being a great father and husband is one of them.  I will continue to learn more about being a father and putting my finances in the best state that I can.  I am excited for my ongoing journey and want to wish Cat the best during hers.
Aw, thanks Grayson. 🙂 Loved this post! Readers, if you have any tips on parenthood and money, I'd love to hear them in the comments below! And, if you have time after commenting, please feel free to check out the twins' birth story here.