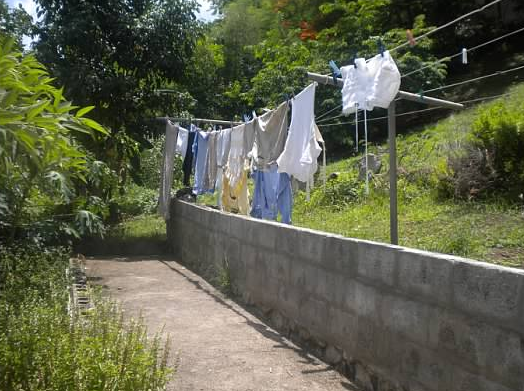 Hanging clothes on the line to save money is definitely becoming popular again.
With so many people still hit with the effects of the recession, hanging clothes is one way to save a few bucks.
Or is it?
Doing laundry in Grenada is quite the process.
Our washing machine is outside, and when I first got here, I actually had to fill up 5 gallon buckets of water and pour them into the washing machine to make it work.
Then, I had to re-fill the buckets for the rinse cycle, and repeat the process.
We do not have a dryer, so I hang the clothes on the line to dry. I did this for a solid year. After that time, my landlord installed a hose that's connected to one of our rain water barrels. So now, when it's time to wash, I just put the hose in the washing machine, and that does the trick. I still have to line dry.
Washing clothes in Grenada is actually really physically taxing, and it takes all day. I am so used to it now that it really doesn't bother me that much. I've gotten a lot faster at hanging clothes up, and it's made me really appreciate the women who washed clothes well before washers and dryers were invented!
Also, it's made me think more about re-wearing clothes and about doing something good for the environment.
Yet, when I go back to the States, I always tease the hubs that I want a washer and dryer that costs as much as a car after all this.
Seriously, let it be known that all frugality goes out the window when I get to pick out my next washer and dryer! I hope it grows mechanical arms and folds clothes for me.
The Cost of Drying Clothes
According to the cost calculator on this website, it's about $0.49 a load for me to dry clothes in the U.S. at $0.12 per kilowatt hour.  So, that's about $82.00 per year.
However, in Grenada, the cost per kwh is actually $0.35! (We pay the same amount in electricity for 270 sq. ft. as we did for 1,400 sq. ft. in the U.S.!) So, the savings in Grenada for line drying is more like $240.00 per year.
Does it save money? Yes. But, in my opinion:
It's Not Worth It
Honestly, $240.00 is a lot of money, but I would dry every single load of laundry in a dryer if I had one.
The reason is that line drying clothes takes up valuable time. I spend one day out of every weekend doing laundry. Sure, I'm writing posts and completing other freelance tasks in between hanging up clothes, but I'm not as productive on those days.
I honestly don't mind doing it. I would rather do laundry than wash dishes any day, that's for sure! But, in the U.S. at only $82.00 per year, I'd gladly babysit for two nights or write two extra posts or sell two pieces of clothing every year if it means getting to use a dryer!
So, to me, line drying is absolutely not worth it because you can take the time you would spend line drying clothes and double or triple your money doing a different, more interesting task.
Would you (or do you) line dry clothes to save $82.00 a year?