I've gotten a few requests for a day in the life post, so here it is! And wow, I didn't realize how long it would be or how much there is packed into a day so sorry for the book! In the past few years of blogging, I've written several of these:
Day in the Life 1: Park Ranger & Grad Student
Day in the Life 2: Moved to Grenada, No Job Yet
Day in the Life 3: Working full time in Grenada and Freelancing at Night
Day in the life 4: Self-Employed but No Kids Yet
so now I bring you Day in the Life #5:
4:58 AM: I hear my daughter crying. Ugh. So early. I go to the fridge and grab two bottles. Experience tells me that even if my son is sleeping he will wake up eventually too. I might as well wake him up and feed them at the same time. I keep the room dark, change their diapers, burp them, and put them back down. Miraculously, they are quiet, so I get back into bed.
8:30 AM: Babies crying…Wow, did I just sleep until 8:30? Miracle upon miracles – can we please do this every day, kids? I change them, feed them, grab coffee, and watch them play in the living room. I try hard not to do any work while they are awake. Sometimes I talk to them while they play or get on the floor and play with them. For now, I just sip my coffee and watch them do their thing.
10:00 AM: Nap time. I set them both down, turn on their white noise, and peace out of there. I told one of my clients I would do a phone meeting with him between 10:00 and 10:30. I want to make sure the kids are actually asleep before I call him though so I take some time to look at the recipe that I'm planning on making tonight. I, of course, forgot to soak the black beans it requires over night. Luckily, I have time to do it, so I go into the kitchen and put the black beans in a big pot of water. The kitchen has dishes everywhere that need to be put away. I ignore them, but I do change the loads in the laundry, and throw the clean laundry on the couch.
10:25 AM: I call my client. We talk for 30 minutes about my plan for his social media marketing. I marvel that someone is paying me to do research on Pinterest. I love my job.
11:00 AM: Call is over. I don't know how much longer the twins will sleep, but I try to get through my e-mails. I've been meaning to respond to my friend Kali for two days on some important strategizing we're doing for both of our businesses.
11:21 AM: I am finishing up my whale of an e-mail and my son starts crying. Shhhh, I think. Just a few more sentences, son.
11:23 AM: Hit send on the e-mail and go to pick up my son. His sister is still sleeping and I let her. I take the time to enjoy an individual moment with my son and snuggle him a bit on my bed.
11:58 AM: My daughter is awake. I put both kids in their high chairs for some solid food which I'll follow up with a bottle. They gobble it all down. My son then kills an 8 oz bottle. My daughter wants nothing to do with her bottle. Fair enough. She's tiny. Perhaps she is full.
12:15 PM: The twins are content and playing on the floor. Huh, maybe I should eat something. I heat up left overs and come sit on the sofa. They seem happy, so I think hey maybe I can watch a show on Hulu while I eat. Ah, small luxuries. They let me get through 7 minutes of Heart of Dixie and about half my food before they start protesting. I decide to pick them up and change them out of their pajamas and into normal clothes. It's noon after all.
12:30 PM Playing, playing, playing…then inconsolable crying.
12:40 PM Hmmm. The crying won't stop. Is it too early for another nap? Sort of. I wonder if I can get away with it. I feel like my work day is crap already. Only one phone call and one e-mail sent. I am so behind. Negative thoughts about how I'll never catch up enter my mind but I try to take a deep breath and handle the two children in front of me. I decide to put both kids down, turn on white noise, and leave the room. They are quiet.
12:52 PM I start looking at the financial news online to get ideas for topics for my client who is based in England. I want to e-mail him potential topics soon before he goes to sleep since he is several hours ahead of me. I come across tons of articles about Bitcoin doing crazy things. Typical. So I send him three topic ideas around that. I also ask him if I can write two posts this weekend instead of one if the topics are good enough. I'd love to get paid for an extra post. Fingers crossed.
1:00 PM No no no no no. Why are the babies crying? Gah. I knew it was too early for a nap. I peek in on them and am greeted with two massive smiles. Huh. It's pretty clear they do not want to go to sleep just yet. So I take them both out of their cribs, put them back in the living room, shut my computer, and change the loads of laundry again. I throw the clean clothes on the sofa. The pile is getting bigger.
1:45 PM Even though both babies seem happy and alert, I try to put them down for a nap again. I put them in their cribs, put on the white noise, and leave (while crossing my fingers.)
2:00 PM Things seem quiet so I decide to take a bath and change out of my pajamas. I mean, it's 2:00 ya know? I put just a little bit of makeup on, brush my hair, look around and realize the bathroom is a disaster. So, I clean up the bathroom and then think maybe I should clean the bedroom too while I'm at it. I listen to Farnoosh Torabi's first episode of her podcast featuring Tony Robbins as I clean, and I go to town putting things away in the bedroom, making the bed, etc.
2:30 PM Beanette starts crying. It's way too early for her to get up from her nap. So I go in there quietly and pat her on the back. She quiets down a little bit so I leave. Bean is passed out asleep. I hear her whining while I clean but it's not a full out scream so I just wait it out.
2:55 PM Beanette's cries get louder. She hasn't slept at all. I remember she didn't want her bottle earlier. So, I give her that. She kills it, and then falls asleep.
3:00 PM All of her crying etc. wakes her brother up from his nap. He's been sleeping for over an hour so I take him out and put him in the living room. I give him his own bottle.
3:15 PM: I'm trying not to feel disappointed. They've been so great at napping together at the same time all week, and today it's just not happening. I usually try to knock out one post while they take their second nap, but now that Bean is awake, that opportunity is over. Instead, I put on the movie While You Were Sleeping for background noise while I fold all the clothes I threw on the couch earlier. Bean crawls around and does his thing. I put all the clothes away, quietly making my way through the nursery so I don't wake up Beanette. I feel good that the living room, bathroom, and bedroom will look somewhat clean when hubs walks through the door.
4:30 PM: The princess is awake. I put her in the living room and watch the babies play together. A wave of exhaustion washes over me. I push through it and check my e-mail on my phone and see a writing job alert that I would be perfect for. I break my rule of not working in front of the babies because I know the earlier I apply, the better chance I will have of getting it. I quickly send off an application for it. Then I send off an e-mail to another writer who already works for them and ask her to put in a good word for me.
5:00 PM:  I put both kids in their high chairs to eat puffs, and I start on dinner. My phone dings with an alert from PayPal. Someone paid me today. Relief. Even though I've been self employed for over a year, I still have a persistent fear that it will all fall apart. I flip through Facebook while I'm cooking because God forbid I only do one thing at one time. I see a super interesting article about a guy who eventually had to put his overachieving wife in a psych hospital. Poetic. This should make interesting dinner conversation.
5:30 PM: The man of the hour is home. The babies are elated to see their Daddy, as am I. I ask him if he minds if I just go sit in our room by myself for a few minutes for some peace and quiet while he finishes making dinner. He says yes. I lie on my bed and aimlessly look at Facebook on my phone in peace. Hubs brings me caramel apples, puts them on the bed, and quietly leaves. I love that man.
6:00 PM: We eat our dinner, mango and black bean salad, and share it with the babies. My son, the pickier eater of the two, loves it, which makes me so excited. I tell hubs about the article I read earlier about the wife who had to be put in a psych ward. We marvel at the whole thing.
6:30 PM: Hubs and I bathe both babies and put them in their jammies. We turn the lights low in their room, read to them, and give them bottles.
6:45 PM: We turn the white noise on, turn out the lights, leave the room, and shut the door. They are so exhausted from their short naps today, they go to sleep without so much as a cry.
6:46 PM: I am on the sofa with my laptop making up for lost time. With work that is. I start working on a sponsored post that has to go live the next day. I wanted to get it done earlier in the day, but since the twins didn't nap at the same time for the second nap, it has to be done now. Hubs sits next to me and studies on the iPad. His next board exam is on the horizon, so he's doing practice questions.
7:15 PM: My neighbor across the street who does my hair from her basement salon texts me and says she has some availability to do my hair tonight if I want to come over after her kids go to sleep. Hmmmm. My work day has been kind of crap but my hair is kind of crap too. I decide to go for the hair.
7:30 PM: I ask hubs to get out our cash envelopes to see how to pay for my hair. I realize it's the 15th of the month anyway, so it's a good time to go through our budget. We're very under budget on the "Help with Kiddos" envelope so far, so we decide I can use money from that for my hair. We also talk about how we need to get on selling some baby items. We have several $100 items around the house that need to go.
8:00 PM – 8:30 PM: I knock out e-mails to several potential coaching students. (I just opened up another round of coaching! So excited!)
8:30 PM – 10:30 PM: I enjoy getting my hair done, sipping prosecco, and reading trash magazines. I decide to chop 10 inches off of my hair because why not?
10:45 PM: Hubs is asleep on the sofa when I get home. I noticed he washed all of the bottles, filled them all with formula, and washed all of the dishes. He get's a gold star because it's one less thing I have to do tonight.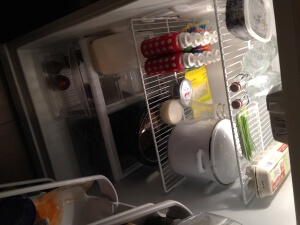 10:50 PM I wake him up so that he can move from the couch to our bed. In his half-sleepy state, he tells me that my haircut makes my face look prettier. I decide to take that as a compliment and tuck him into bed.
11:00 PM – 12:45 AM: I upload a selfie to Facebook because I mean, gotta show my friends that I lost 10 inches of hair. I procrastinate a little bit online but by 11:15 PM I'm working on finishing the sponsored post that has to go live tomorrow. I spend extra time making a custom image for Pinterest. I try to get through more e-mails. There are 201 unread ones. I know some are fluff or junk so I try to delete those and get the number down. I forward several of them to my VA. I start to not be able to think straight because I'm so tired so I decide to get in my jammies and go to bed.
1:03 AM: Goodnight.
1:04 AM: As I drift off, I realize I hadn't checked on the babies since I put them down at almost 7PM. I get out of bed to go into the nursery. They are both breathing (yay!) and so, so beautiful. I get back in bed.
1:05 AM: Now really, goodnight.