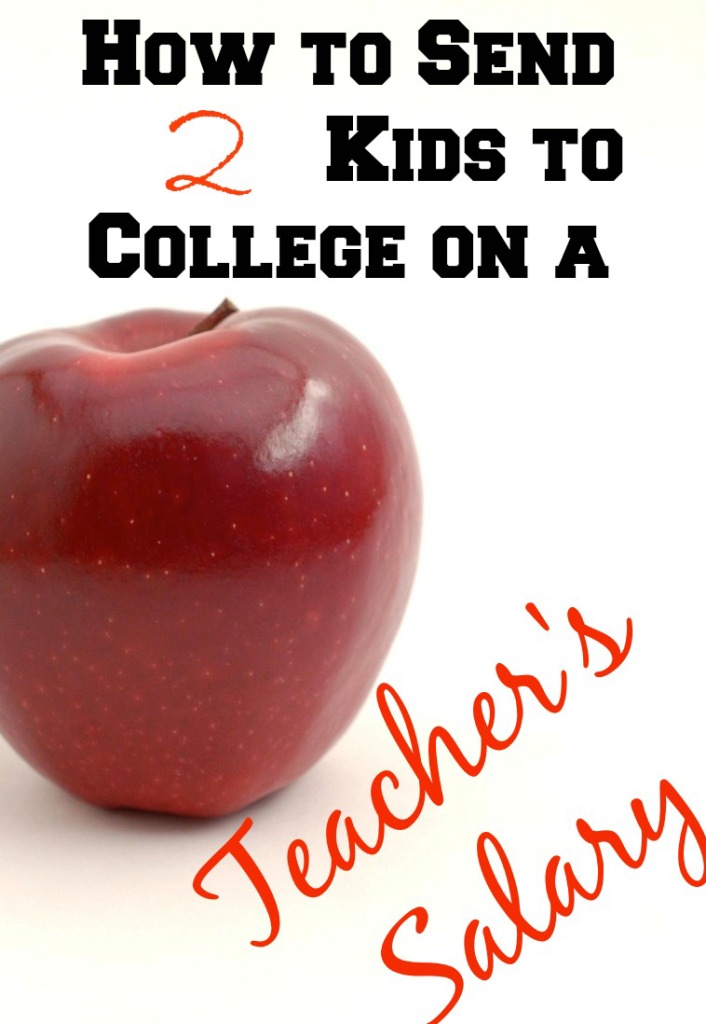 Please welcome my friend Jenna to the blog, who has a great story about how her parents sent her and her twin sister to college even though they both made low incomes.
Twenty-six years ago, my parents were in for the shock of their lives. Five months after saying I do, my parents found out they were pregnant – with twins!
Higher education has always been very important to both of my parents. My mom and dad were the first people in their families to go to college. They even went on to complete master's degrees.
It wasn't easy for either of them to make it through college. Both struggled to pay for tuition and even switched schools. Even though it was difficult, it was a valuable experience that helped them create a better life for themselves. It was important for them to help my sister and me through college in whatever way they could.
They Never Had High Salaries
With jobs as a teacher and a mental health professional, my parents never had high salaries. College was important, but the question was, how was our family going to pay for it?
Setting Expectations
Our parents told us from the very beginning that paying for college was going to be a team effort. They were going to support us as much as possible, but it was also very clear we were going to have to do our part with regular jobs and scholarships to be able to afford college.
This was a crucial piece of the puzzle. All four of us – my mom, my dad, my sister and I – were on the same page.
Scholarships
Paying for college was much easier with the help of scholarships. We were grateful to receive two types of scholarships, merit and need based scholarships.
My sister and I were complete nerds in school. We were incredibly grateful to each receive a 100% tuition scholarship. Not only that, we applied for additional scholarships to cover living expenses. There is a ton of scholarship money out there!
We also applied for need-based scholarships by submitting the FAFSA application. One of my best friends didn't know about FAFSA and ended up using private loans for her first year of college. Missing this one piece of the puzzle can make a huge difference.
Part-Time & Full-Time Jobs
Paying for college would have been much more difficult without our part-time jobs during the school year and full-time jobs during the summer. While our parents did help us with a small monthly allowance throughout college, it was just enough to cover living expenses. Our jobs gave us the opportunity to really take advantage of the college experience.
Our sophomore year, my sister and I even saved up enough money to take a trip to Ireland. We hopped on the plane and then took buses around Ireland for 10 days in the freezing November weather. Our mom was so scared she cried in the airport, but my sister and I made great memories together.
Our jobs were also a wonderful opportunity to gain valuable work experience. I was able to start a job in undergraduate research in my freshman year. While my sister was unable to find a job in her major, she did gain basic experience as an employee. Sometimes, my sister felt frustrated at not being able to take unpaid internships like her other classmates. However, she did use the money to fund her study-abroad experience. Even better, she used her study abroad experience to start her current dream career!
Loans
My parents used loans to manage cash flow during our college years. They used the loans and their monthly salaries to give us regular allowances. This made it easier to give us the same money every month, even when things changed month to month in their own lives.
We ended up graduating with $10,000 of debt between the two of us. While my sister and I would have gladly paid the loans off ourselves, my mom and dad paid them off within a year of graduation. They told us it was just something they wanted to do.
A Great Experience
While not every moment was easy during the four years, my sister and I had a wonderful college experience. Even with the salaries of a teacher and a mental health professional, by working together as a family, we were able to graduate on time with a strong financial foundation. I am grateful to those who gave me scholarships, jobs, and of course, the support of my parents.
It helped launch us into the lives we imagined for ourselves. My sister was able to take a low-paying international job right after graduation to get valuable experience. I was able to save right out of school and then pursue my career as a freelance writer.
Do you worry about putting your kids through college? How do you plan to tackle college costs?
Jenna VanLeeuwen is a freelance writer who blogs with her twin sister Brooke about managing money to create the life you want over at PF Twins. You can find her around the web on Twitter and Pinterest.
Editor's note: Thanks so much Jenna for your contribution to the site. Your parents sound like an amazing support system and how awesome that they knocked out your student loans for you. I agree that students should have jobs in college to get valuable work experience and to generate their own spending money. I also love that your parents gave you just what you needed and it was your choice to work so you could travel, etc. Such great inspiration for me as a twin parent. Thanks again, Jenna!