What do you get when 30 bloggers loooove their readers and want to give them something awesome?
Oh ya know, just $900!
It's true; we've been very sneaky and working behind the scenes to bring you our biggest giveaway yet, and unlike last time, there are 3 chances to win! The first prize is $500, the second prize is $300, and the third prize is $100.
Are you excited yet? Good!
Now we can get to the topic at hand, which is to write about the best vacation I've ever had:
Our Cheap Backpacking Adventure, Baby!
It's funny, my best vacation was also one of my cheapest, because I spent it backpacking with my boyfriend in college, who later turned into – you guessed it – the one and only hubs. 😀
As I've written about before, I was able to study abroad back in the college days. The hubs (then the boyfriend) met me at the end of my school session, and we hung out in London for a day then hopped on a train to Paris.
Oh my gosh, it was beautiful there! We stayed on the outskirts of Paris, so the hotel was really, really cheap, and those Parisians have great public transportation so we just rode their railway system all around, stopping to eat as many crepes as our stomachs would allow. We hit up the Louvre on student day, which means our tickets were cheaper, and of course we saw the Eiffel Tower!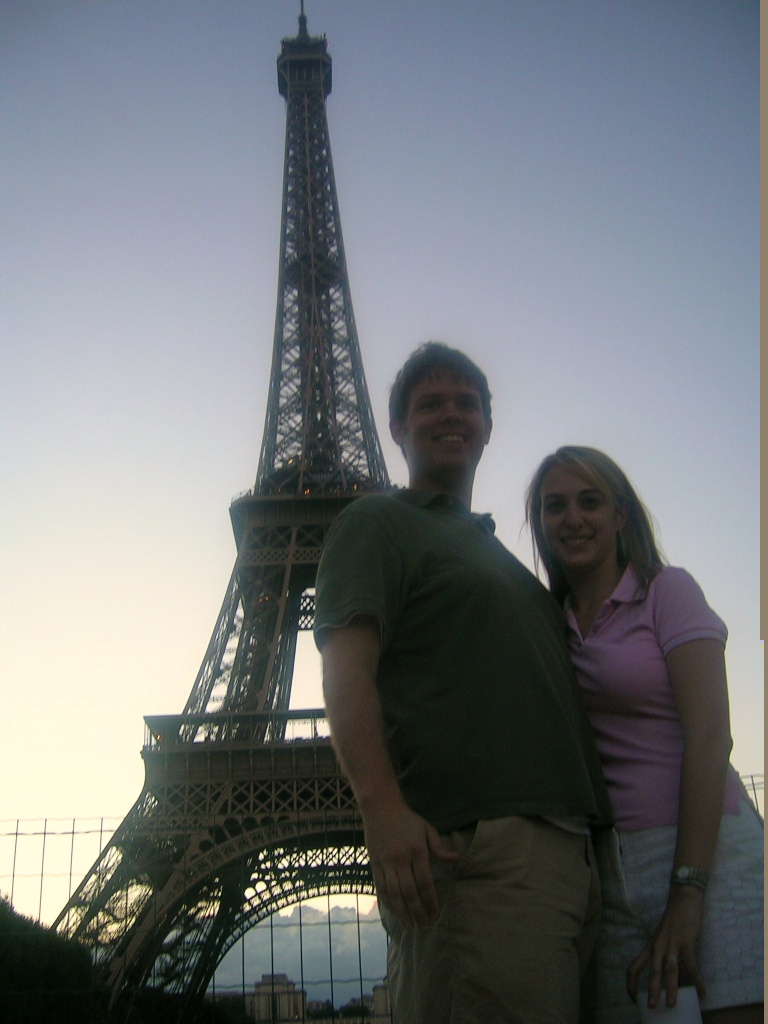 After that, we took a small, cheap flight to Venice, and that was also really fun. Just like in Paris, we stayed in the outside of the city to save some money in a town called Mirano (not to be confused with Murano, where they make all the glass.) We got super duper lost on a bus that we thought was taking us into the city of Venice. Instead, we rode it the whole way until it stopped in a supermarket parking lot, haha! A little old man tried to help us but he didn't speak of lick of English, and we didn't speak a lick of Italian, so we ended up getting a cab instead.
After Venice, we took a train to Florence, where the hubs complained I bought too many shoes. 😀 Seriously, peeps, Florence was a hagglers paradise. I bargained with the street vendors for just about everything including an awesome wallet that the hubs still uses to this day and some gorgeous leather gloves for me. Ah, bliss.
Lastly, we took the train to Cinque Terre, a cluster of 5 cute Italian towns where one is more amazing than the next. You take a little tram in between each one or you can hike the whole thing, which we did. Our hotel was so cheap, maybe $60 a night or less and it overlooked this amazing vineyard. This is where we also got the legendary chocolate croissants that we still talk about to this day and inadvertently ordered an entire fish, eyeballs and everything.
Our journey ended in Rome, where we spent time with some of my grandparents' friends, threw some coins in the Trevi Fountain, and caught a flight back home to the States.
All in all I'm still amazed that we saw as much as we did in those 2-3 weeks, and I don't even think that we spent more than 2k including flights since we constantly stayed outside of the big cities and ate at little tiny restaurants. It is definitely one of my fondest memories and really cemented the fact that the hubs and I were meant to be travel buddies for life. He proposed a few months after we got back from that trip, and now look at where he's taken me to live, lol! Gotta love it!
So, now it's your turn to win some moolah so you can go on an awesome trip too!
Enter below & Good Luck!
Please note: This contest is open worldwide, paid via PayPal, and optional (aka I won't force you to enter since that means more chances for the others to win. Muahaha!) Oh, and you can find the terms and conditions right there in the RaffleCopter widget.