Let's talk about something that really is delicious….. cake!
My overall style for my wedding was very classic and traditional. It made it easy for me to decide that from the get go, because I can easily be lured by fun and funky options that could have clashed with some of my choices. For example, I saw tons of invitations I loved and thought were so cool but in the end opted for a simple white one. Then I saw all kinds of fabulous topsy turvy cakes, but I just kept repeating to myself, "Keep it simple!" Otherwise, the choices would have overwhelmed me.
Anyway, without further ado, here is our cake: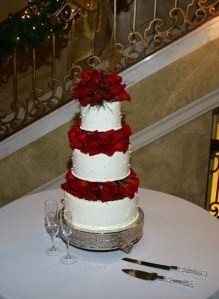 I'm a little biased, but I was really excited about my cake. To me, it looked like it cost twice as much because of it's height. So, a good budget trick is to put flowers in between the layers. It cost the same as a regular three tiered cake that might look like this….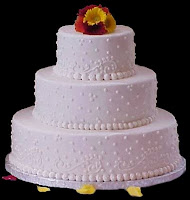 …only it looked more expensive because it was so tall.
Also, those flowers on the top of my cake weren't wasted. They were actually the bouquet I threw to all the single ladies, so that's a good way not to pay twice for those!
And, because I want you to think I'm a crazy Louisianaian, here is the groom's cake made to look like the table at a crawfish boil. For that sweet sentimental touch, the pastry chef actually recreated our football tickets from the first LSU game we ever went to together. I kept the original tickets because it was one of our first dates. 🙂
So, that's the story of our cakes with a few budget tips thrown in if you're getting ready for some nuptuals!
Any other married folks out there with good ideas for keeping the wedding cake beautiful and budget friendly? How's about fun designs for a groom's cake? Spill the beans!