Well, I think this is what they call nesting, folks.
I want to organize every single item in the world. I want to label every item in my house. I even went and bought a jewelry organizer so I could put my earrings into separate little containers, because having them clank around my jewelry box was all of a sudden driving me crazy.
I also want to get rid of just about everything I own. The hubs better run and hide or at least hide his stuff, because I have a pile of clothes and shoes that I've already started to give away. Come and visit me and you will leave with a pair of shoes that I have all of a sudden decided I don't need.
And then the baby stuff, wow.
I'm ready to decorate the nursery. I'm ready to do it asap, just in case they come early. The hubs brought home paint swatches yesterday because I really needed them like my life depended on it. They are all taped up in the nursery now, just waiting for me to pick one. I also want to pack my hospital bag like, yesterday, because what if I need it?
Basically, I am the energizer bunny of organization. Careful, or you might get sorted and alphabetized too.
My Budget Friendly Nursery Theme
I've mentioned a few times before that I really love decorating and home decor. I could read about 10 design magazines in a row without getting bored. I haven't always had the finances or the ability to make my house look the way I want, but at least for the beans' nursery, I can get close.
I've decided to decorate the nursery with a travel/global theme. One of the things we really hope for our children is that they will be open minded about the world and have a love of seeing new places. We also hope they will have a strong cultural competence and a curiosity about how other people live. We want them to know about other religions, other traditions, and other ways of life.
So, we'll be decorating their room with photos of us from the places we've been, which will of course include a lot of mementos from Grenada and from very dear friends who live around the world. It will also have maps of different places that I have traveled or my parents have traveled. It will be gender neutral and very modern, with clean lines. Nothing fru fru up in here!
This is the initial inspiration collage that I put together to show the hubs: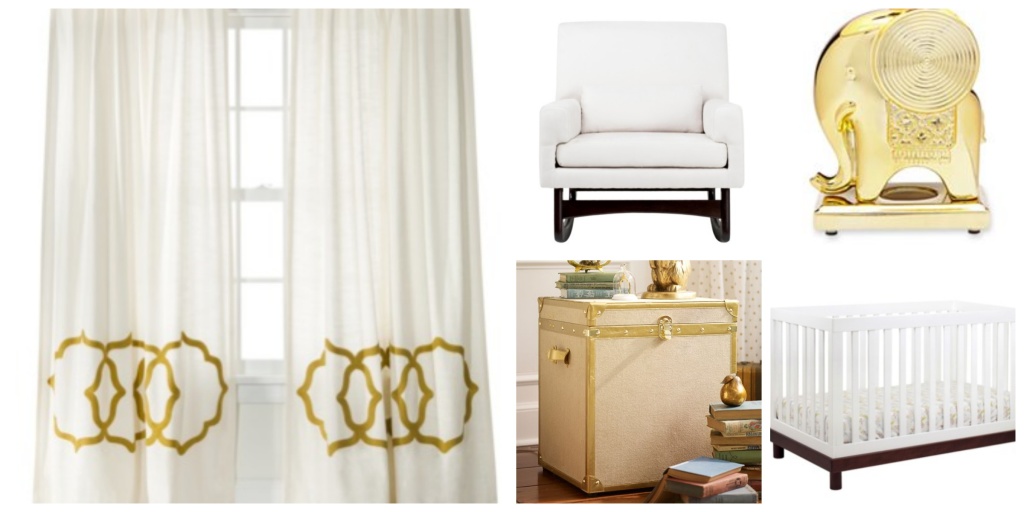 Of course, things will change and not everything is budget friendly in that picture. It will just serve as inspiration or a jumping off point to look for other things. We did buy them each one of those little gold elephants in the picture though. It was the first item we bought them. They are piggy banks that reminded the hubs of his trip to India this past summer, which sort of started the whole global theme.
I've been doing a lot of my shopping and eye-candy searching online for this nursery. I am still a little overwhelmed when I go to the mall here, thanks to a bit of culture shock after living in Grenada. It's just too much for me. So, I've been looking at Target and Walmart online and using websites like Chippmunk to make sure there aren't any coupons I'm missing. I also keep getting e-mails from JCPenney, where I got the elephant piggy banks, and Diapers.com and all those sorts of places which I'm looking through to try to get the best deals.
Ultimately, I'm ready to start putting things together. It's hard to believe that in around 100 days (give or take), we will be parents to two children. I'm getting more and more ready but definitely hope that they cook in there as long as possible!
Is anyone else in an organizing/nesting mood?