Welcome to the second installment of Budget Buddy, where I feature some budget friendly and fabulous creations by my lovely readers. You can read the first Budget Buddy post here.
I had to share these gorgeous and super inexpensive ornaments that I saw when pursing the blog Simply Domestic. Kim's daughter is in college and wanted to give Christmas gifts to all of the lovely ladies that live on her hall in the dorm. So, where else do crafty ladies go?
 *Cue Angelic Music* Michael's, of course!
Kim and her daughter snagged all of their supplies there, from the clear ornaments to the shredded paper, and the letter stickers. They filled each ornament with paper (using a chopstick to help out).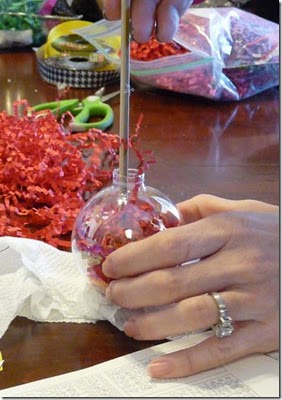 They added a letter sticker and ribbon to make it cute and personalized:
and created some adorable packaging for a great final presentation:
Kind of makes you want to live in a dorm again, huh? You know, without the wearing-flip-flops-in-the-shower-thing.
Didn't Kim do a great job? Her final price came to just under $1 per girl! Can't beat that with a stick. And of course, to read the original post just click here, and don't forget to head on over to Simply Domestic and tell her what a fabulous job she did!