I invited the lovely Tanja of
Postmodern Hostess
to be my Budget Buddy way back when I started having guest posters every Friday. Why? Well, she is a class act. Seriously, everything she does from decorating to party planning is executed with such grace and refinement. She has impeccable taste, a great eye for design, and she sure does know how to throw a party.
I asked Tanja to post on something budget friendly, and she came back with incredible advice on how to keep your Thanksgiving dinner this year stress free and budget friendly. I just know you're going to love her.
So, without further ado, Tanja:
Thanks, Cat! I'm excited to be guesting over here at Budget Blonde, where I always find lots of great money-saving ideas. It's the least I can do to return the favor!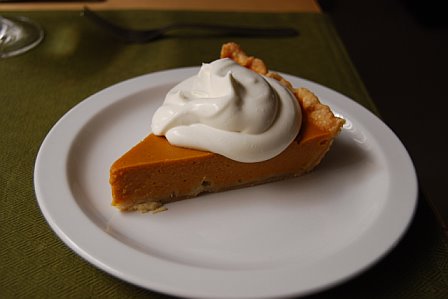 Thanksgiving is by far my favorite holiday.
I love every aspect of it – the planning, researching new recipes to add to the rotation, the cooking, and the hosting. And since my husband Mark and I live pretty far away from our families (like more than 2000 miles far), we've developed a tradition of putting together a pretty involved Thanksgiving dinner on our own, often for visiting friends, but sometimes just for the two of us. You can see some of our past Thanksgivings here, here and here.
I've learned a thing or two along the way, and the biggest lesson is: cooking a Thanksgiving feast can be EXPENSIVE. But it doesn't have to be. And I'm not talking about limiting yourself to a Butterball and some Stovetop stuffing out of a box. You can still do a legit, foodie-style Thanksgiving on a budget, and maybe even save enough money to splurge on some truffle butter.
Here are my best tips for doing a gourmet Thanksgiving without breaking the bank:
1.       Plan ahead.

Honestly, I really could stop at this tip, because virtually all of the cost savings come from planning. 
Put together your whole menu now (with a caveat for #3 below), and next year maybe start even earlier. Once you have your menu figured out, list out all the ingredients you'll need along with the quantities (overbuying is an easy way to waste money), and then group them into three lists: non-perishable items, fresh foods you can buy a few days in advance, and fresh foods you have to buy only a day or so before Thanksgiving. I always find it surprising how many items on the list can be purchased way in advance, even including some of the produce like pumpkin or squash, and most dairy items.
Once you've got your list, get to know your sales flyers.
Look at what your local grocery stores have on sale this week that you'll need for the meal. (Most stores put their flyers online, if you don't get them in the mail.) For the non-perishable items, there's no reason not to buy them now, especially if they're on a great sale. Stores are simply never going to put everything you need on sale at the same time, because they hope you'll come to the store and pay full price for most of the things you buy. But if you start now, you can take advantage of three whole sale cycles before Thanksgiving, since sales run Wednesday to Tuesday. 
Over the course of those three cycles, you should be able to get most of what's on your list on sale instead of paying full price for three quarters of your purchase if you shop all at one time. Bonus points: Shop at multiple stores to take advantage of more sales. If you don't like perusing the sales flyers, take your whole list to the grocery store, and buy only what's on sale. If you go today, late next week, and the day before Thanksgiving, that's still three different sales cycles. Next week is a great time to buy the stuff on your advance fresh items list, but again, only buy what's on sale, and then absolute worst case, if the item isn't on sale when you shop right before Thanksgiving, then you haven't cost yourself any more. But if you buy it at full price and then see it on sale next week, you'll kick yourself!
2.       Let others contribute.
While I do not condone dictating to people what they should bring (like this woman does), many guests will offer to bring something, and it's great to take them up on the offer. I always like to ask if they have something in particular they'd like to bring, and if not, I will suggest something simple, like one of the side dishes, or a bottle of wine. (Or, if they are vegetarian, to bring something they would enjoy eating.) Tip: Make sure you know in advance what they're bringing and if it will need any time on the stove or in the oven, so that you can plan accordingly.
3.       Be flexible.
This is the big caveat to the menu. Some things you won't be willing to compromise on. We wouldn't substitute a chicken for a turkey, and you shouldn't either. But if you love cooking Brussels Sprouts, and they're five dollars a pound, it might be time to think about your dollar-a-pound friend broccoli. 
There are plenty of substitutions you can make that won't affect your overall meal but might impact your bottom line. Or if you love stuffing, maybe you don't need to make a version that includes pricey ingredients like oysters or fresh pork sausage. (I make this crazy good sage stuffing every year, and it's by far my favorite part of the meal… not to mention cheap!)
Bonus points: Make your own turkey stock from dollar a pound turkey wings a week or two in advance, and freeze it. It's cheaper than store-bought stock, and about a thousand times more delicious. Just ask the butcher to hack the wings into pieces at the store. I learned the hard way that trying to hack into them with a cleaver will send turkey blood splatting everywhere. (Not as hilarious as it sounds.)
4.       Shop early.
I mean this both in the sense of shopping in advance, of course, but also shopping really early in the day. Especially in the few days leading up to Thanksgiving, the stores can get super packed and chaotic. Carve out an hour before work one day (like the Monday or Tuesday before Thanksgiving), and get your last bit of shopping done. We have all had the experience of feeling overwhelmed at the store by the crowds or the chaos, and that's when I tend to adopt the "Just-grab-whatever-because-I-want-to-get-the-hell-out-of-here" approach to my shopping. By going in the early hours, before most people have even thought about shopping, you can enjoy well-stocked shelves, plentiful produce, and – most importantly – no time pressure or urge to just grab whatever is closest.
Here's proof: Two days before Thanksgiving last year, albeit at 7:15 a.m.
5.       Stick to the list.
After planning ahead, this is the most important tip. Don't give in to those impulse buys that look tasty at the store. You have put together a wonderful menu, and it's going to be delicious without whatever the store is trying to get you to add to your cart. And don't overbuy in terms of quantity. You'll already have tons of leftovers, so you don't want a bunch of extra food crowding your fridge and pantry.
6.       Keep décor minimal.
If you're like me, you see seasonal décor items, and think that they will absolutely make your whole party. But I promise you: no one will even remember if you had the most adorable Thanksgiving dishes, or the most incredible cornucopia display (well, okay, they might if they are bloggers!). They will remember that the food was awesome (and maybe what one or two of the dishes were, if you're lucky), and that the company was even better. I have to keep reminding myself of this every year, but so far I've been able to limit our décor purchases to green placemats and a few orange candles. A small bouquet of fall-colored flowers and the colorful foods are all the table really needs.
Actually, there usually isn't even room for the flowers!
7.       Don't let leftovers go to waste.
Wasting food is a waste of money. And it's just bad karma. So if you don't think you'll eat everything before it spoils, send it home with guests. This is a nice practice either way, and will make them love you forever. 
None of those tips are crazy, right? With just a little advance planning, you can save a ton of money on your Thanksgiving feast, and still wow your guests and yourself. That's definitely something to be thankful for!
____
Wow, thanks so much, Tanja! Does she not give amazing advice, y'all? I really appreciate the time she took to put together such an amazing and thorough budget friendly check list for Thanksgiving! If you implement any of her ideas, please let her know.
You can find her on
her blog
,
pinterest
, and of course under my favorite blogs on my right sidebar. 🙂
Happy weekend, everyone!