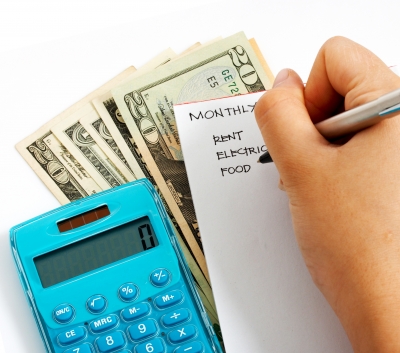 It's kind of hard to believe that I've never really shared a budget breakdown on this blog.
I guess I've been comfortable telling you about all of my money mistakes and my credit card debt (that I eventually paid off.) I've even blabbed about the six figure student loan debt that the hubs and I face daily, and I have tracked my spending for a week and shown you too.
I am really comfortable writing about my debt because I feel like it helps other people to read about it. However, I'm worried that showing you my budget breakdown might not have the same effect.
I guess, if I'm being honest, I'm worried that you will think my budget breakdown is lame or that I am not managing my spending well. However, Tonya just shared her budget breakdown, and everyone was super supportive, so that inspired me to post mine for better or for worse!
I guess it's important for me to note that my budget breakdown has gone through a lot of revisions, and this particular one really works for my little fam right now. Of course, there are a few things I want to highlight before showing you the numbers:
1. Grenada Is Different
One thing I hope you'll keep in mind is that I live in a developing country that makes a ton of money off of the American and Canadian students here. You'll notice my car rent is $500 a month, and that is not a typo. It is a 1995 Honda CRV, and I'm sorry to say, that is not a typo either.
I know that amount for a car rental sounds legitimately crazy to most of you, but that's what it costs to do business here. Yes, I could have paid around $350 like several of my friends to rent a more beat up vehicle, but they often have car trouble, switching out rental cars as often as they switch out their underwear.
As a professional who has to be at work on time every day, I can't have a beater, so I pay a little more and my car starts every day! Quite the luxury, right?! 🙂
I could also be taking the free bus, which I did for the whole first year and a half of living here. However, I did the math: Ever since I started working full time and since my freelance writing projects started increasing, I would actually be losing money by taking the bus, because of the hours of time lost spent waiting on them, riding them, and switching between them if I needed to go to the store. And speaking of the store…
2. Food Is Crazy Expensive
I know I've mentioned this a few times around the web, but I really can't stress how much food costs here in Grenada. $550 in groceries for two people is my budget for a month that has 5 weeks. I usually spend a little less than that for a shorter month, but I want to stress that this is a grocery bill with no extras. No chips. No soft drinks. No pickles. No candy – none of that.
We eat mostly chicken with veggies on the side, a few crock pot meals, and big pots of spaghetti or soup. I used to buy local chicken for cheaper, but I got really rotten ones one day and pretty much stood there gagging in my kitchen for a solid 30 minutes. So, now I do buy the imported chicken, which costs more.
It really is a constant battle when it comes to food here. I know that some couples who live here, even those with kids, probably spend less than us, but they likely do not buy as many organic products as we do. I buy those types of products because the hubs lost over 50 lbs. here, and we're both so much healthier. I want to keep it that way, since the hubs is going to be a doctor and all. We actually used to spend $1,000 a month just on groceries and eating out (aka the hubs grabbing late night food while studying), and I've cut that way down to what it is now.
3. It's Not Going To Cost That Much More To Live In Brooklyn
We are most likely moving to Brooklyn next April after the hubs takes his board exams. So, I got a wild hair and decided to do a budget breakdown for Brooklyn too based on what I'm seeing in terms of rental prices online and what my friends who live there have told me.
Basically, I really love budgeting, and the idea of making a Brooklyn budget breakdown (say that three times fast!) is my idea of a good time. So, I included it below as a comparison. Nerdy, I know – but oh so fun too.
Can I just say that it's kind of crazy that Brooklyn, one of the most expensive cities in the US, will only require a budget increase of about $200.00 a month. Wow! I can live with that, but it really shows how much it costs to live in Grenada when you look at it in that way.
4. I Didn't Tell You My Income In My Budget Breakdown
I totally love reading about people's incomes just as much as the next person, but I'm still not comfortable with sharing that part. I have way too many friends in Grenada who read this blog, and in such a small community, it would be hard to have something so personal be so public.
So, take the budget below with the understanding that a large portion of my income is variable due to the nature of my writing/blog business. So, some months, I've made more than the total amount listed there, and many months I've made below the amount listed.
In sum, this budget is, in many ways, an ideal scenario. If I don't make enough income to meet the requirements of this budget, the category that gets cut is usually student loan repayment, though I always try to make up for it later if I have a particularly good month.
It's all a fine balance really, a numbers game, but I think it's better to actually have a budget set up, even if it's not perfect!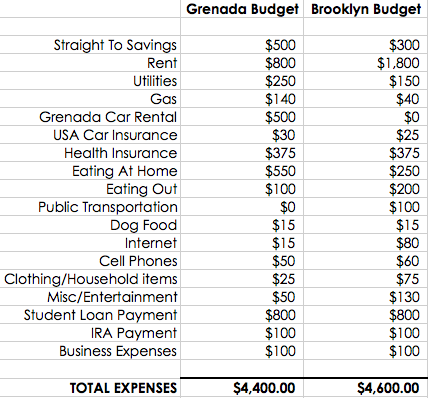 So, what do you think about the budget breakdown above? And how's about that budget breakdown for Brooklyn? Anyone else live in a place that is expensive?
Photo Credit: FreeDigitalPhotos.net